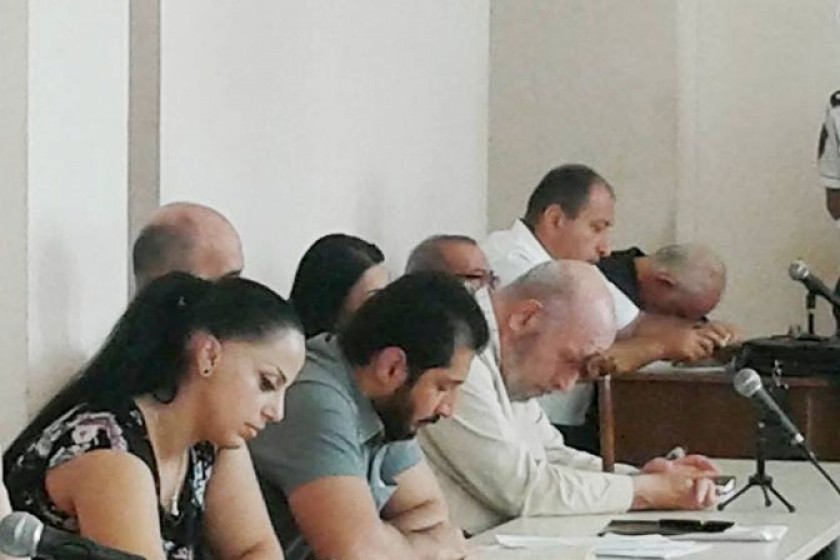 Armenia: Defendants in 2015 Conspiracy to Overthrow Government Deny All Charges
Nine individuals arrested in 2015 on charges of illegal arms possession and planning to overthrow the government in Armenia, today proclaimed their innocence in a Yerevan court.
It was on November 25, 2015 that Armenia's National Security Service (NSS) reported that it has uncovered a criminal gang in Yerevan that was planning to overthrow the government.
On that day, law enforcement raided a house in a Yerevan house, arresting nine individuals. Police claimed to have uncovered a large cache of illegal weapons.
On December 19, 2015, Armenia's National Security Service (NSS) reported that Vahan Shirkhanyan, a former deputy defense minister of Armenia, was arrested on suspicion that he aided and abetted Artour Vardanyan, arrested earlier for organizing the criminal gang.
According to the NSS, the group was planning to shoot the president's plane down from a house owned by a group member near Zvartnots Airport.
Haroutyun Saribegyan, who according to the indictment suggested the idea of shooting down the president's plane, not only denied the accusation, but claimed that he had never seen the other defendants before today.
"I don't know any of these people. I fought in the Artsakh War with my two brothers. One was never heard of and we two were wounded. I've never come out against my nation," Saribegyan said in court today, adding that his house was quite far from the airport.
The alleged ringleader, Artour Vardanyan, confessed that the weapons belonged to him, but denied the criminal conspiracy charge. He described the charge of planning to overthrow the government as ludicrous.
"Why would I seize power if it already belongs to me," Vardanyan said, referring to Article 2 of the constitution (power belongs to the people).
Anton Totondjyan, accused of financing the group, also denied the charge.
Former Deputy Defense Minister Shirkhanyan declared that he had no connection to anyone or anything in the case.