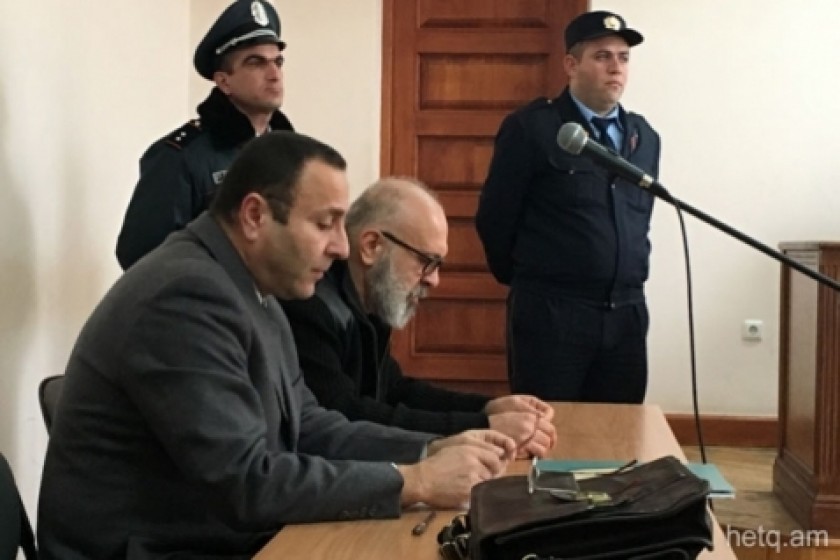 Police Release Yegnukian Family Members and Others Detained Today in Yerevan
Relatives and supporters of Garo Yegnukian (now on trial for complicity in the seizure of a Yerevan police building in July 2016 by the armed Sasna Dzrer group) detained earlier today at Republic Square in Yerevan for attempting to display photos of and distribute leaflets about political prisoners in Armenia to those attending the 6th Pan-Armenian Armenia-Diaspora Conference now taking place in Yerevan, have been released.
Those detained were Garo Yegnukian's children Hagop, Hripsimeh and Elmon, his wife Rouzanna, and Aghavni Sahakyan and Geghetsik Tonoyan from the Armenian Women's Front (AWF).
According to Syuzan Simonyan, an AWF member, when the above individuals asked police why they had been detained, the police responded that they been tipped off that Rouzanna Yegnukian and her children intended to place a bomb in the square.
Police refused to provide more specifics to Hetq.
Tigran Hayrapetyan, the Yegnukian family lawyer, told Hetq that it took the police four hours to search the detainees after being transferred to a local police station.
The lawyer points out that if the police actually believed that Rouzanna and her kids were carrying a bomb to place in Yerevan's central square, they wouldn't have waited four hours to search them.