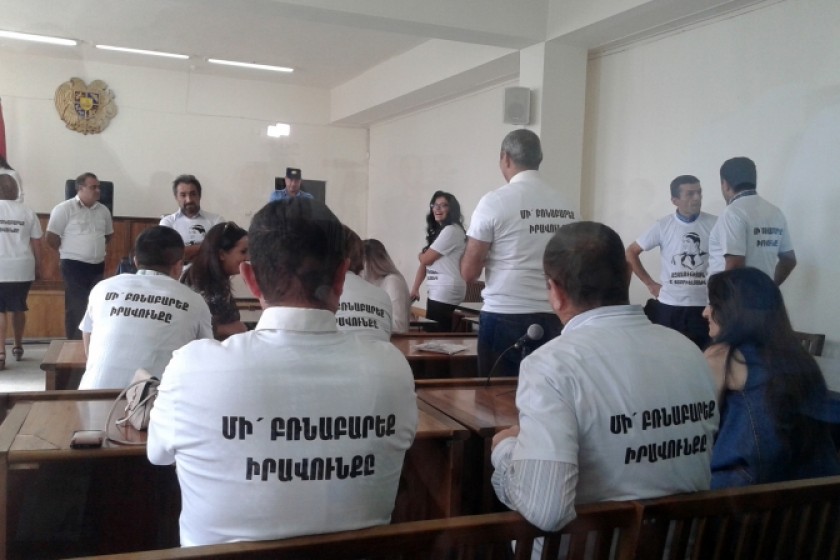 Sasna Dzrer Defense Attorneys Stage "Shirt Protest": "Don't violate the law"
Protesting what they describe as illegal search and seizure procedures by court bailiffs, defense attorneys for members of the Sasna Dzrer group charged with seizing a Yerevan police building in July 2016, and for holding hostages, showed up at today's court session wearing shirts emblazoned with the words "Don't violate the law" and "Freedom to Artoush Gabrielyan".
When the attorneys arrived this morning at Yerevan's Avan and Nor Nork Administrative Court, some were banned from entering after refusing to be searched.
They left, but appeared soon after wearing the shirts. This time, they submitted to a search and had their bags confiscated.
Receiving word that the attorneys had worn the shirts and were returning to the court, the judge quickly called a postponement, declaring that the attorneys were absent.
On September 13, defense attorneys for the eighteen Sasna Dzrer defendants staged a boycott on the trial, again claiming arbitrary personal and property searches by bailiffs.
Artoush Gabrielyan is the presiding judge in the case, and has been ridiculed for following the political dictates of higher-ups and for artificially fomenting tension in his court.