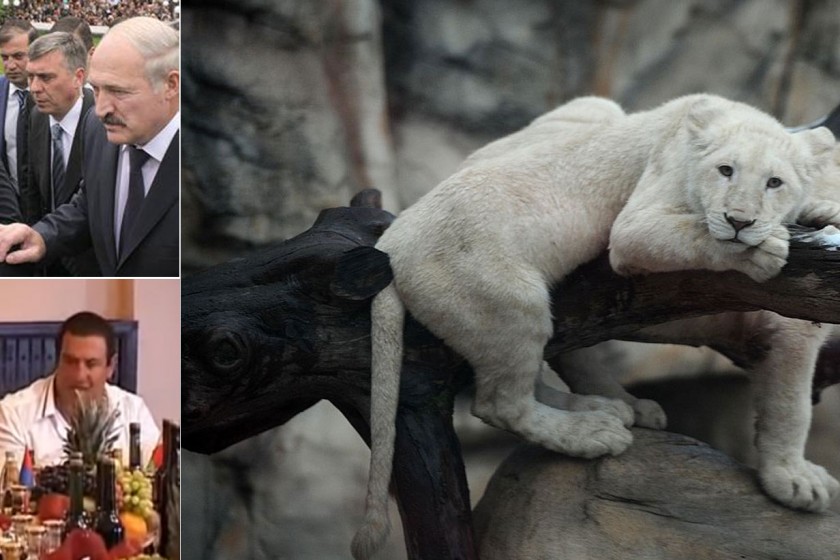 Gagik Tsarukyan's White Lions : Gifts to Belarus President Lukashenko and Family
Two rare white lions, residing at the Minsk Zoo since December 2016, have charmed visitors old and young alike.
The juvenile lions, it turns out, came from Armenia. More specifically, businessman and erstwhile politician Gagik Tsarukyan gifted them to the son of Belarus President Alexander Lukashenko.
Hetq has discovered that on October 18, 2016, four rare lions were transported from Armenia to Belarus. These lions had been shipped to Armenia in April of the same year, ostensibly from South Africa.
White Lions are not albinos but are leucistic. A rare color mutation results in white lions, most of which today reside in zoos. The Global White Lion Protection Trust (WLT) initiated a world-first re-establishment of white lions within their natural habitat in 2004, based on successful reintroduction techniques.
In reply to a Hetq inquiry, Armenia's Ministry of Nature Protection provided copies of CITES import and export permits for the animals.
According to the export permit, the four lions were delivered to Vielasipiedny Alley 6, in Minsk. It's the same address for "Армянский стандарт" (Armenian Standard), a joint limited liability company that bottles brandy from Armenia in Belarus.
Founded in 2011, it's a joint investment project between Tsarukyan's Yerevan Ararat Brandy-Wine-Vodka Factory (YABWVF) and the Republican production-trade unitary enterprise "Belarustorg" of Directorate of Affairs of the President of the Republic of Belarus. Tsarukyan owns 69% of the stock.
It's no secret that Tsarukyan and Lukashenko are close friends. During one of his trips to Yerevan, Lukashenko and his son Nikolay visited the YABWVF. The company Armenian Standard opened in Minsk soon afterwards.

Lukashenko and son at the YABWVF
In 2014, Tsarukyan registered a new company, MultiGroup Investible, to make future investments in Belarus.
Tsarukyan still serves as a member of the Armenian parliament (he heads the aptly named Tsarukyan Faction). In his latest financial disclosure, we read that he had a 70 million Belarusian ruble (US$3.6 million) investment in Armenian Standard.
One day after the lions were sent to Belarus, on October 23, Tsarukyan, as the president of Armenia's Olympics Committee, headed a delegation to Minsk to attend the 45th General Assembly of the European Olympic Committee.
Belarus President Alexander Lukashenko hosted Tsarukyan at a reception. It is said the two had a private conversation about strengthening athletic ties between the two countries.
It was during this visit that Tsarukyan presented the two young white lions to Lukashenko. The official release on the meeting mentions nothing of the kind.
One month later, 12-year-old Nikolay Lukashenko donated two of the juvenile lions to the Minsk Zoo.
Wild white lions are listed as endangered, and their trade is highly restricted.
The permit copies provided by Armenia's Ministry of Nature Protection notes the cubs' chip numbers, signifying they were born and raised in captivity
We don't know what's happened to the two other white lion cubs. Perhaps, the Lukashenko family has kept them.
What's interesting, and more than a bit odd, is that the CITES Trade Database shows no lions being imported by Armenia. It also shows no lions being exported to Armenia from South Africa.
The Yerevan Zoo has no white lions. A web search shows a white lion cub can fetch up to US$140,00.
Lion photos taken from the Minsk Zoo website