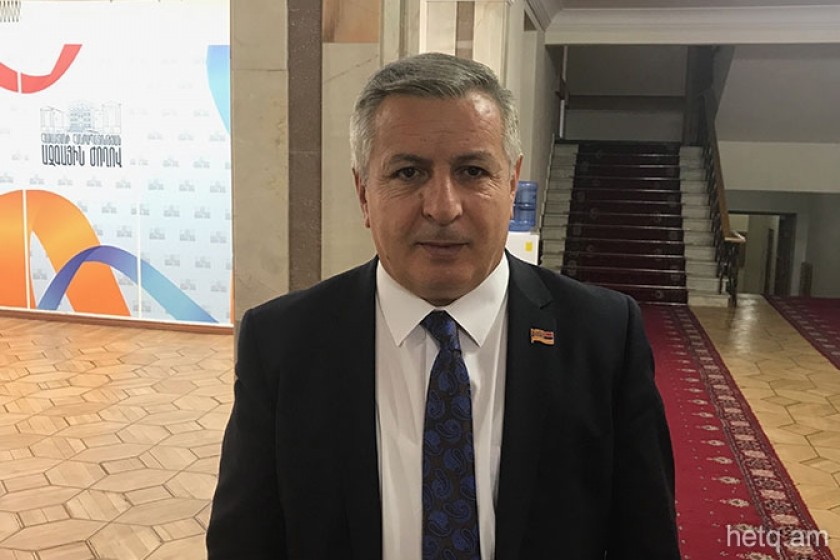 MP Sergey Bagratyan Criticizes 2018 Budget Bill; Won't Improve Standard of Living
Tsarukyan Alliance MP Sergey Bagratyan sounded a dire warning at today's parliamentary hearing on Armenia's 2018 estimated budget, saying that the country's economy needed immediate fixing.
Bagratyan said that the estimated $2.7 billion budget would not raise living standards in Armenia and that the government's 4.5% estimated economic growth target wouldn't be achieved.
The MP said such a budget had nothing to offer in terms of social sector improvement, despite government claims.
As a first step, Bagratyan called for the elimination of economic monopolies, but avoided naming names. He argued the problem was system wide.
"Nothing will change by removing this or that individual monopolist. If the government said that it was going after these monopolists, even half of them, the people's standard of living would appreciably rise within a month," Bagratyan said.
Describing the emigration now taking place as a result of bad economic policy, Bagratyan said Armenia was losing its genetic richness; the young people.
"Look around you. Everyone has problems. It's so obvious, there's no need for a special study. All these budgetary resources can't ensure a satisfactory standard of living," Bagratyan said, adding that nothing has changed for the better in the lives of the people during the last two years.
The MP questioned the government's estimated 4.5% economic growth figure, saying that international organizations place it at less than 3%.
While the Tsarukyan Alliance still doesn't know if it will vote in favor of the estimated budget bill, Bagratyan said he's inclined not to since it can't guarantee economic progress.