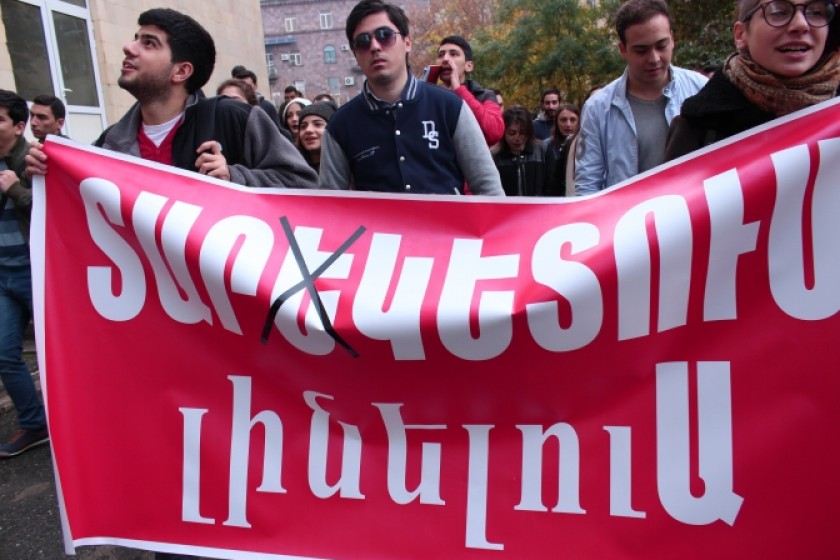 Draft Deferments Must Stay: Students Continue Yerevan State University Boycott
By Nelly Petrosyan
Scores of students continue to boycott classes at Yerevan State University, and are marching to protest recent legislation to end college military draft deferments.
University administrators had locked the doors of the Romance and German Linguistics Department to prevent protesters from entering and recruiting more students to their cause.
The bill, drafted by the Ministry of Defense and passed by the parliament late last month, will no longer allow university students to perform their compulsory two-year military service after completing their undergraduate, graduate or post-graduate education.
According to the new law, draft deferments will only be given to those students who consent to undergo parallel military training and serve in the army as officers for three years after graduation.
"Closing the doors is a type of pressure exerted on the students. It's unfathomable. The Ministry of Education and Science has been in a coma for the past several weeks," said Vahan Kostanyan, an Oriental Studies student.
The defense ministry argues that the bill would do away with a key loophole for evading military service and decrease corruption risks among military and university officials.
The protesting students have refused a defense ministry invitation to discuss the matter, arguing that they hadn't received assurances that all media outlets would be present.
Davit Petrosyan, a member of the "In the Name of the Development of Science" initiative told Hetq that when they spoke to Ministry of Defense Spokesman Artzrun Hovhannisyan, he told them that all news outlets would be present. Later, they discovered that some hadn't been invited.
The students want the debate to be broadcast live.
Levon Choukhakyan, a student at the Faculty of International Relations, and who fought in the "4 Day War" in April 2016, says that the government is using veterans of that battle to drive a wedge in the student body.
"They are trying to take the image of the Armenian soldier and make it seem that we are oppose to it. No. We are for serving in the military. We have served. Here, our aim is to maintain the deferment concept. This law must not disrupt the education of one who must serve the state with their knowledge," Levon said.
When asked if the students are planning to march towards the defense ministry, radio physics student Gevorg Babayan said they no, but that they would be marching on the education ministry.
The protesters point to the lack of any statement by the university's student council, deriding it as a passive body.