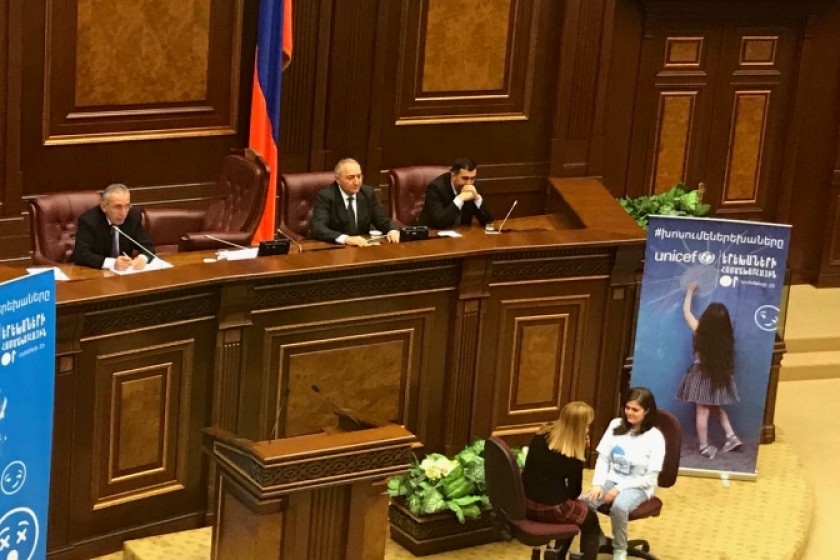 Armenian Parliament - Children Speak Out Against Violence, Discrimination
Today, to mark Universal Children's Day, Armenia's parliament allowed children from around the country the opportunity to ascend the podium and speak out on issues that concern them.
The UNICEF initiative, 2017: It's a #Kids Take Over, invites children around the world to voice their support for millions of their peers who are unschooled, unprotected and uprooted.
Here's some excerpts:
Ruben Ohanyan (16-year-old tenth-grader from Etchmiadzin)
"I'm not a forty-year teacher, but I know a simple truth. We children understand many things without being beaten. Those who believe that beating is an effective method, are mistaken."
Ruben was referring to an incident when a teacher beat a pupil so badly that the boy's eye was permanently damaged.
"Saying what happened was absurd, isn't enough. In essence, this teacher was able to work since the news outlets never covered the case. Afterwards, I found nothing about criminal accountability. The very same thing could happen to each of us if we don't know our rights. What does it mean when a parent can discipline their child with a slap. Dear elders, understand that by using violence, you will solve nothing,"
Ani Asatouryan, a student at Yerevan's Aregnazan Educational Complex, spoke about the plight of special needs children in Armenia when it comes to locating schools that will accept them.
"I am sixteen. I love to sing, even though I don't have a great voice, and ride horses. When my father and I went to the Khachatur Abovyan Teachers' High School, to continue my education, they told me that they do not accept special needs students, since they don't have the proper facilities. I could have been accepted through the intervention of an acquaintance, but after hearing those words, I didn't want to step foot in the place.
Ani said that teachers must change how they interact with children with special needs.
"We are also children. We're not abnormal or sick. We shouldn't be differentiated from the others."
When asked what new laws she would like to see passed in the parliament, Anis replied, "First, the parliament must monitor the issue of special needs education in Armenia and see that the standards are raised. For example, Ani suggested that teachers start to ask special needs kids if they are pleased with their work.
"I dream of teaching special needs children. I'm sure I can do it. I want to show that we can achieve much more than we are given," said Ani.
Listening from his seat, a misty-eyed National Assembly President Ara Babloyan addressed Ani. "You, little one, will become a special needs teacher. I'm certain of it."
Hakob Hakobyan, who chairs the Standing Committee on Social and Health Issues, thanked the children for a very informative lesson on raising kids.