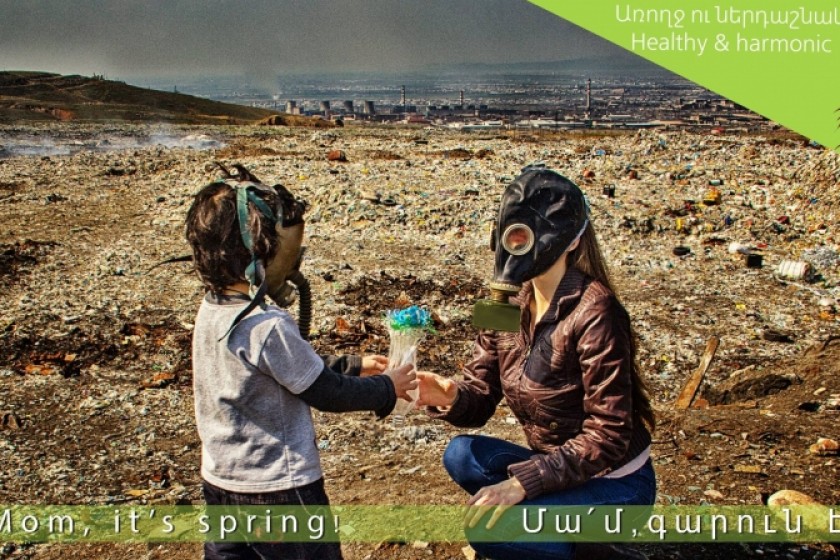 New European-Financed Landfill in Armenia Should Include Recycling Component, Says AEF
After the Armenian Environmental Front (AEF) published an article on the construction of a new landfill in Armenia, it wrote an open letter to European Bank for Reconstruction and Development (EBRD), European Investment Fund (EIB) and EU Neighbourhood Investment Facility calling on them to include a waste recycling component in the landfill construction project.
The European Investment Bank has responded to our letter, stating the following:
"The Yerevan Solid Waste Project concerns the construction of a sanitary landfill, closure of the existing unsanitary landfill and the implementation of waste diversion measures in the capital of Armenia and surrounding regions, serving a population of 1.9 million. The project is co-financed by a EUR 8 million EBRD loan with a EUR 1.9 million technical assistance grant, a EUR 8 million grant from the EU Neighbourhood Investment Facility (NIF), a EUR 2m grant from the Eastern Europe Energy Efficiency Environment Partnership (E5P) and a EUR 0.5m grant from the Municipal Project Support Facility (MPSF). The EIB is expected to provide up to EUR 14.6 million to support the project, depending on the financial needs to be identified by the procurement plan, with a first tranche of EUR 8 million loan signed in 2015 in support for the first phase of the project.
As a general principle of EIB financing, the Bank aims to ensure that all projects it finances comply with its relevant financial, economic, environmental, social, procurement and other criteria, in line with the EIB Environmental and Social Standards and the applicable EU and national regulations. […]
To address your environmental sustainability concerns more specifically, we take this opportunity to clarify that the project comprises a waste diversion component that may include separate collection equipment, recycling centres, material recovery facility and composting facility. The scope of this component is still under discussion with the Municipality of Yerevan. […] Finally, the project comprises landfill gas collection systems both for the existing and new landfill, and it is foreseen that energy will be recovered from the collected landfill gas."
The European Bank for Reconstruction and Development also replied recently (Nov. 22, 2017), stating that:
"In 2011 the Armenian Government and the Yerevan Municipality approached the (European Bank for Reconstruction and Development (EBRD) with a request to finance the construction of a landfill in Yerevan [...]. [...] waste sorting facilities were considered as an option but were not regarded as feasible at the time. Hence, initially the Project, which was approved in 2015, was limited to constructing a landfill designed to EU standards. However, later waste diversion measures (which are expected to include e.g. waste collection containers and vehicles for separate collection of recyclable materials and bio-waste, recycling centre(s), material recovery and composting facilities) were included in the Project through a loan by the co-financing institution European Investment Bank (EIB). The scope of this component is currently under discussion with the Yerevan Municipality." EBRD also added that "the landfill gas will be collected at both the existing and the new landfill, and if found feasible, energy recovery from the collected landfill gas will be considered."
It is clear from these replies that our concerns expressed in our research are not groundless and that the most important component in this landfill construction project fulfilled with grants and loans, i.e. waste recycling component, may be absent, since this component is currently under discussion with the municipality. The energy generation from landfill gasses is also under question. Not including these components, however, means there will be a need to attract new loans and grants in the future to build corresponding facilities. This is a huge burden for Armenia's loan history.
The Armenian Environmental Front however calls on both the Yerevan Municipality and the financial supporters of this project to include the component of waste recycling in this construction project in order to finally have waste recycled in Armenia. For the sake of taking Armenia through the sustainable path, we also call for including the energy generation component in this project.
We have also written a letter to Armenia's prime minister on this issue: the content of the letter below.
"To Prime Minister K. Karapetyan,
With this letter, we ask to inform us when waste recycling will be implemented in Armenia.
Our initiative has prepared a research regarding projects in Armenia and particularly in Yerevan regarding waste management. You can find the research here ("In 21st century international banks fund landfills with no recycling facilities").
We found out that despite the plans to construct new landfills in Yerevan and nearby communities these projects do not contain the green and sustainable component, i.e. recycling and generating energy from waste gas.
However, these landfills are built for a temporary period and with loans, therefore in a few years there will be need for new landfills and therefore new loans which will be a big burden for Armenia.
We therefore ask you to inform us why there is no recycling in Armenia until now, and when it will be implemented. After all, economic benefits from waste recycling cannot be measured only by direct financial benefits. Instead health protection, prevention of water and soil pollution and other long-term benefits are way more fundamental."