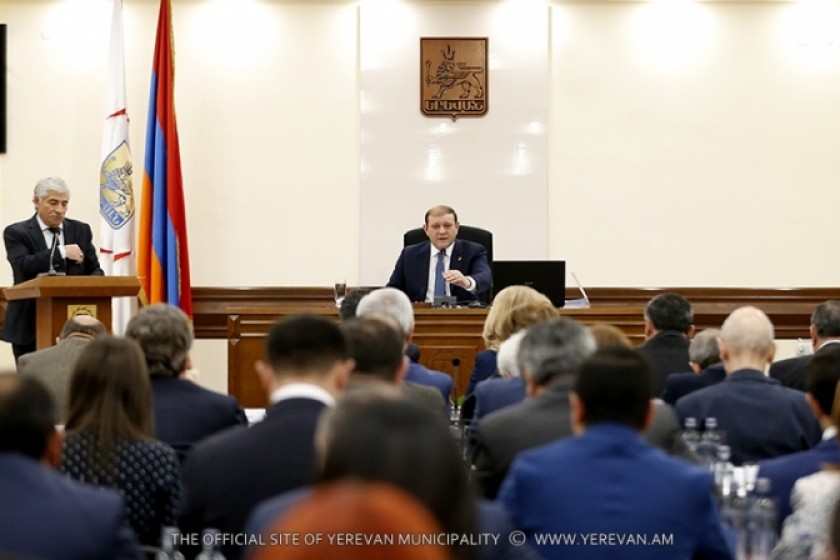 King Vramshapouh Street? Yerevan Municipal Council Nixes Renaming of Four Streets
The Yerevan Municipal Council today rejected Yelk Alliance proposals to rename four streets in the Armenian capital.
Proposals were made to change Arsen Amiryan Street to King Vramshapouh; Mikhail Frunze Street to Heroes of April; Sargis Kasyan Street to Catholicos Vazgen I; and Anastas Mikoyan Street to Kirk Kerkorian.
The council has a majority of ruling Republican Party of Armenia members.
The Yerkir Tsirani faction, led by Zarouhie Postanjyan, boycotted the vote, arguing that all the streets to be renamed must be in downtown Yerevan.
The Yelk Alliance (YA) said that the names of these and other street need to be changed to reflect post-Soviet reality, and that other post-Soviet nations have reassessed their past, redefining who were heroes and who weren't.
The YA claimed that Sargis Kasyan was at the center of destroying the first republic, and that Mikhail Frunze led a delegation coordinating Soviet-Turkish relations, and had cordial relations with Mustapha Kemal Ataturk.
"His statute was even placed in Istanbul's Taksim Square next to Ataturk's," YA member Tigran Avinyan stated. [Frunze's statute was indeed incorporated into the Republic Monument ordered by Ataturk]
Avinyan said that it had received a petition from residents of Yerevan's Shengavit District to change the name of Frunze Street, and described Anastas Mikoyan as "committing crimes against humanity".
As for Arsen Amiryan, the YA claimed his only claim to fame is that he was a member of the Baku Commune.
"We are not opposed to having a street in Yerevan names after Catholicos Vazgen," replied Yerevan Mayor Taron Margaryan. "But have you asked the opinion of Etchmiadzin?"
Avinyan said that the YA had spoken to the spokesperson of the current catholicos and that Etchmiadzin isn't opposed to the renaming, but that they'd prefer to have a larger street renamed in honor of Catholicos Vazgen I.
Mayor Margaryan said he needed more than the verbal consent of the church, adding that the Republican Party of Armenia was in favor of renaming a major a thoroughfare in Yerevan after Caholicos Vazgen I.
Nevertheless, the council's cultural committee said it was generally opposed to the renaming of streets.
If you found a typo you can notify us by selecting the text area and pressing CTRL+Enter