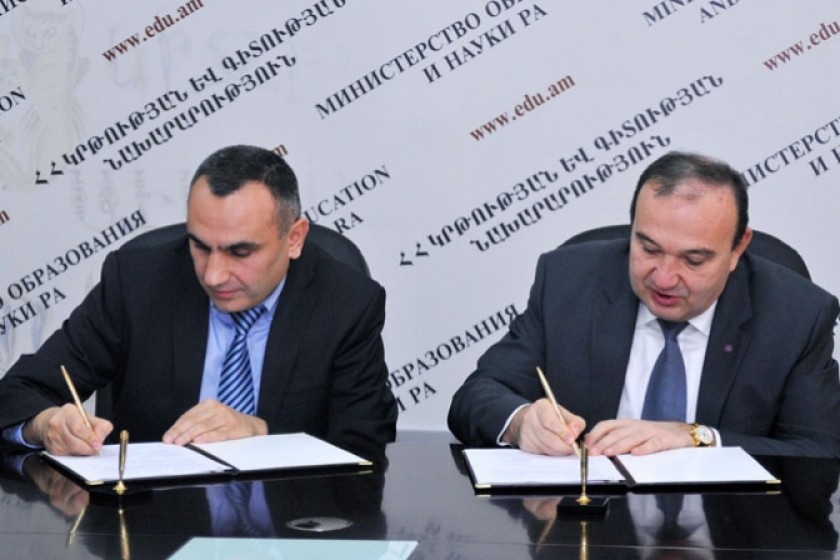 Fund for Armenian Relief to Renovate Republican Special Education Complex No2
Armenian Minister of Education and Science Levon Mkrtchyan and the Fund for Armenian Relief (FAR) Armenian branch Director Bagrat Sargsyan signed a Memorandum on cooperation in the field of inclusive education.
The Ministry of Education and Science reports that the Memorandum envisages reconstruction and upgrading of the Republican Special Education Complex N2 with the support of the FAR.
"We appreciate the support of broader layers of society and organizations with experience, especially in the field of inclusive education. The more such examples are, the more likely it is to switch to overall inclusion and integration of children in need of special education, "said the Minister of Education and Science.
FAR becomes responsible for renovation of professional classrooms in the educational building of the Complex No2 in 2018-2023. It is envisaged to add new professional classrooms that will provide a wide range of opportunities for children with special educational needs, according to their preferences, as well as re-equip classrooms and practical workshops for students who do not need special learning conditions.
The memorandum also envisages a thorough reconstruction and upgrading of the industrial building of the educational complex with modern equipment, creation of new modern workshops, a physiotherapeutic rehabilitation center that will enable to improve the health of children with mental and motoring problems.