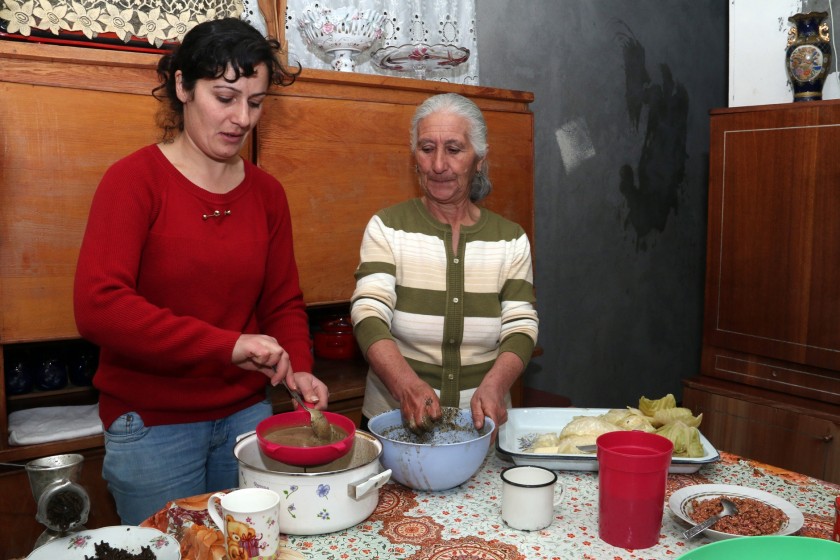 Hemp Kufteh: Only the Flavor is Addictive in This Traditional Alashkert Lenten Dish
Hemp kufteh? The words alone spark immediate interest.
But for people in Martuni, it's a well-known dish that only they prepare. The hemp kufteh (dolma) dish comes from Alashkert, and the recipe has been passed down the generations.
Armenians from Alashkert (now across the border in Turkey) brought the dish with them when they emigrated to the shores of Sevan in the 19th century.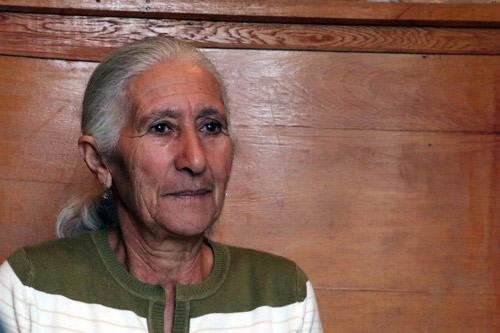 Lida Haroyan, 67, who was born and still lives in Martuni's Zolakar village, makes the traditional Alashkert dish. Her brother, 68-year-old Samvel Baroyan, a mountain climber, loves the dish. Once, everyone with roots going back to Alashkert prepared the hemp kufteh. Starting in the 1960s, according to Samvel, it became more of a specialty dish. It was also a staple on any holiday table.
Haroyan says that people leaving for seasonal work in Russia are also known to take the hemp kufteh with them. It's that good.
The name of the dish implies that hemp is the main ingredient of the dish, mainly eaten in November.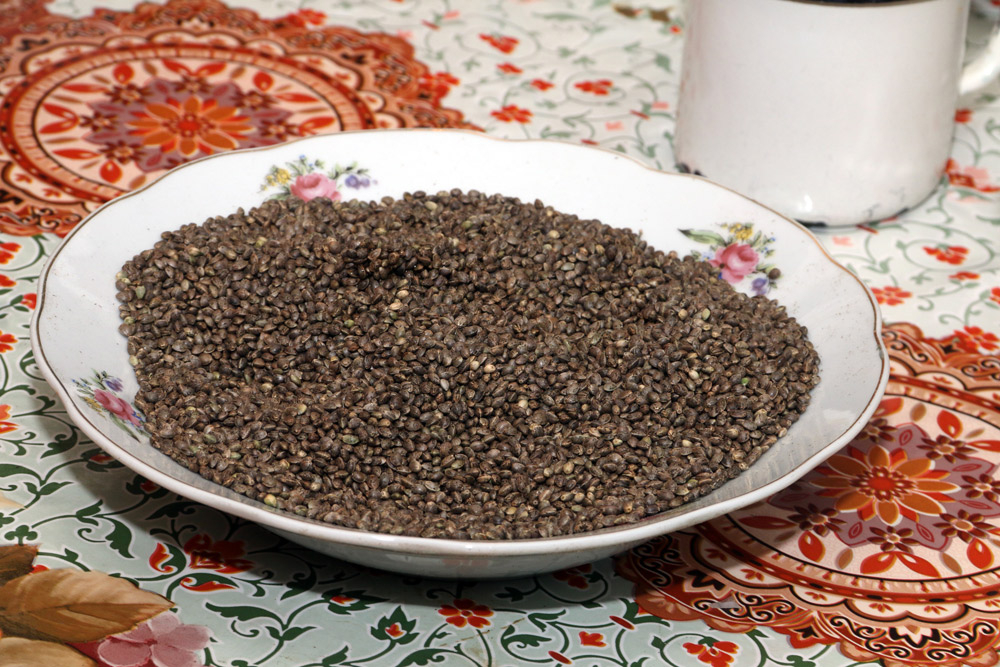 Samvel says that police have, on occasion, burnt local hemp bushes, believing residents were manufacturing narcotics. (Both hemp and marijuana come from the same cannabis species, but are genetically distinct and are further distinguished by use, chemical makeup, and cultivation methods.)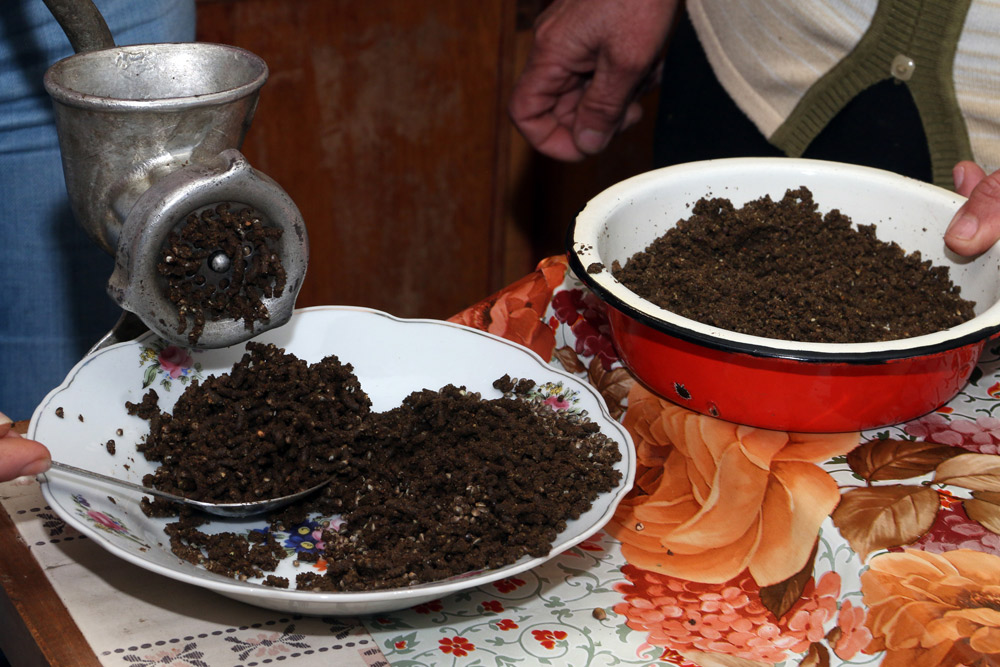 The hemp seeds must first be lightly toasted and then ground 8-10 times to extract the oil. The remaining black mass must then be mashed with warm water. The stuff must then be wrung out, separating the juice from the hemp mash.
It's necessary to select a head of cabbage that's not sweet to make the dish. Samvel says it's best to select a head whose knob is small and dark.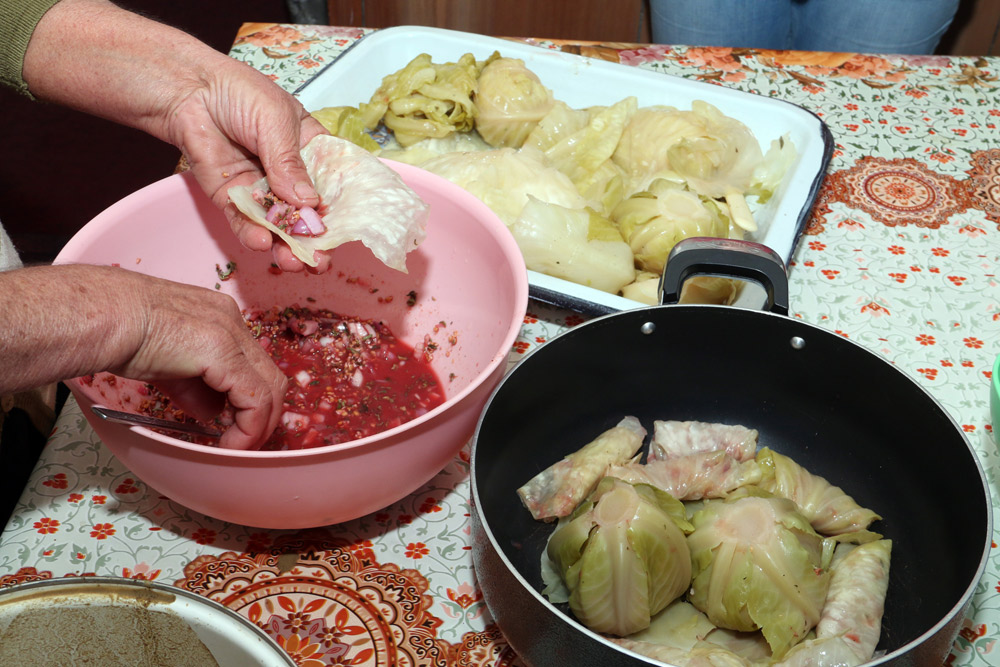 "We pick out the small dark cabbage heads during the harvest and set them aside. We then boil them for pickling," says Haroyan. Her brother adds that these morsels are placed in front of "prestigious" guests.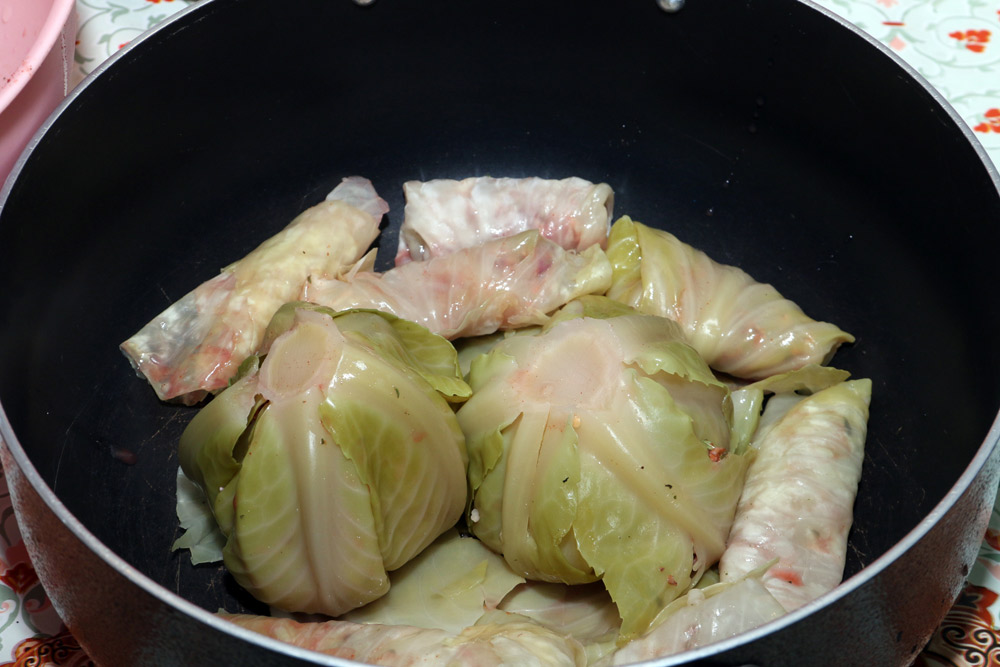 The mashed hemp is mixed with wheat to make the filling for the cabbage leaves. Onion, ground red pepper and wild thyme are used as seasonings. There's a big difference between thyme that grows wild and the garden variety.
Clay pots, suspended above the tonir, were once used to cook the dish.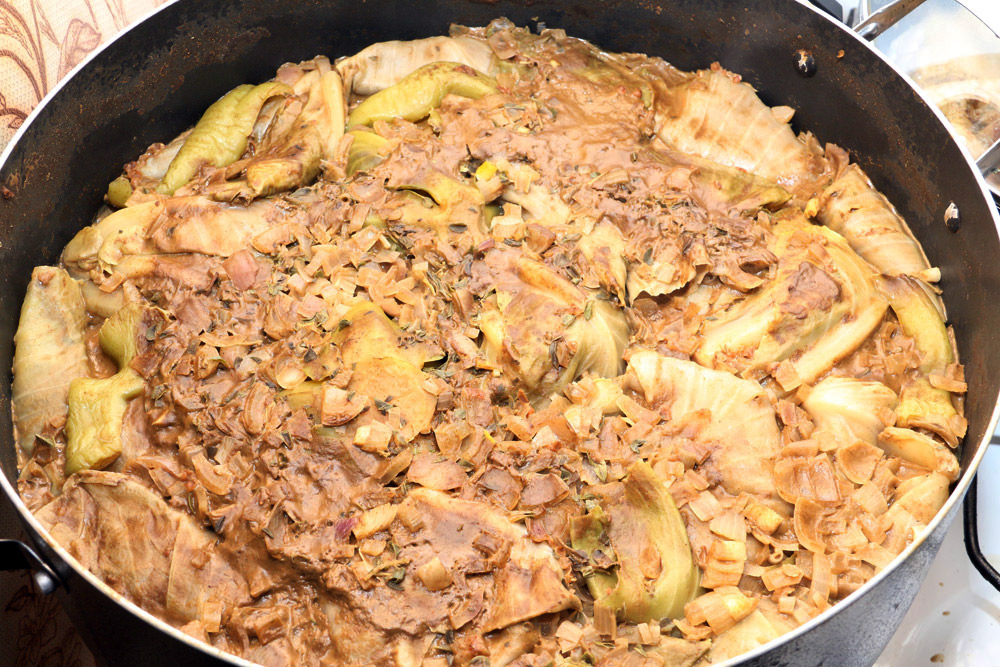 As a rule, the dish is served cold. Those that favor eating it warm, like Samvel, say you savor the full taste of the dish that way.
Lida Haroyan says she learnt to make the dish, once eaten mostly during Lent, from her grandmother. She confesses her grandma's hemp kufteh was better.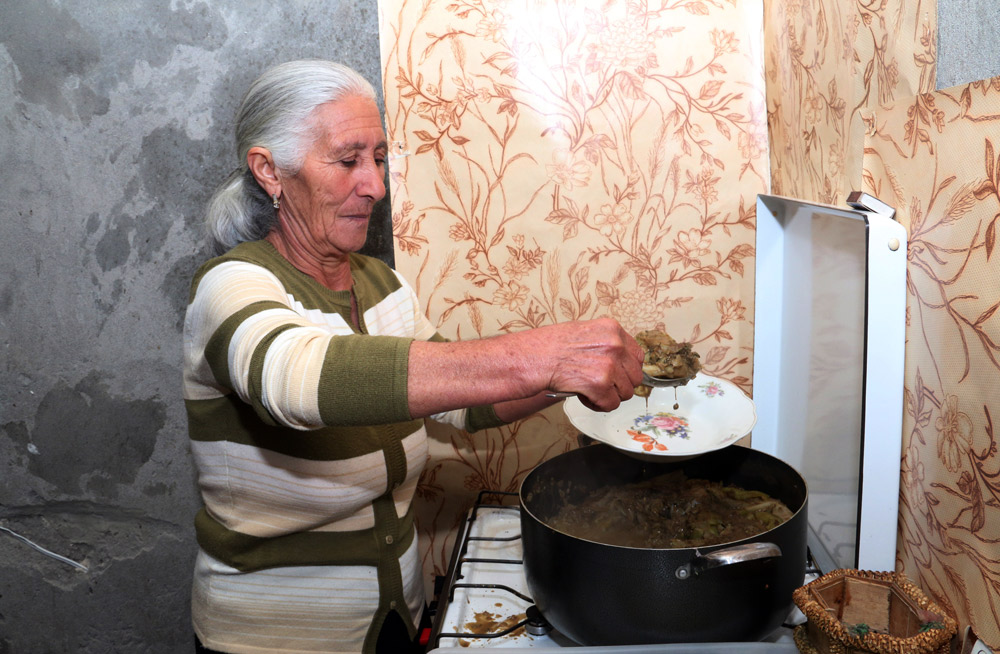 Throughout our conversation, Haroyan is assisting her daughter-in-law Lilit, who doesn't like hemp kufteh.
Lida Haroyan lives with her two sons, their families, and her daughter – ten in all.
She relates that when she got married, she never spoke to her mother-in-law for 28 years. It was the tradition back then. The two only spoke after Haroyan's husband passed away.
Haroyan says she never liked the arrangement. "It wasn't right. Now, isn't it better that my daughters-in-law speak to me?"
The woman says times were tougher when she was growing up, but they were happy nevertheless.
"Young people today are sad. We didn't enjoy the abundance of today, but we were happy. Weddings were entertaining with all the music and comings and goings. That's how I was married," says Haroyan.
Her brother Samvel, who lives in Yerevan, visits Zolakar often. He pines for the old days, arguing that much has changed in the village over the years.
Young women and wives now sit in front of the television watching India soap operas, Samvel says, munching on sunflowers. They no longer milk the cows or bake bread. There's not much different between city and village life.
Photos: Hakob Poghosyan; Video: Hakob Poghosyan, Saro Baghdasaryan
If you found a typo you can notify us by selecting the text area and pressing CTRL+Enter