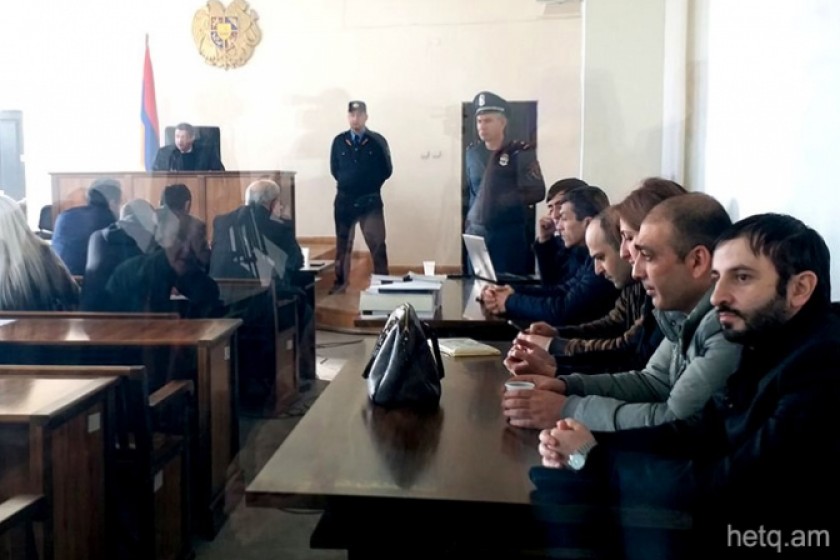 Sasna Dzrer Defendant: "I'll die before stopping my hunger strike"
Smbat Barseghyan, a defendant in one the three Sasna Dzrer trials now underway in a Yerevan, today declared in court that it was due to the "chaotic situation in Armenia" that he and others are facing charges of seizing a Yerevan police station in July 2016.
Barseghyan noted the economy and poverty in the country as reasons for reverting to arms. He even mentioned the 1915 Armenian Genocide as justification for the Sasna Dzrer group's actions, arguing that the country was also facing a demographic disaster.
Pavel Manukyan, another defendant, told the court that the government had turned the law of the land into a play thing, to be conveniently used to silence its opponents.
"When they want, they'll take the ground from under your feet and hit you on the head," said Manukyan, who continued by accusing State Prosecutor Petros Petrosyan of state treason.
These declarations were made during a discussion regarding a court decision to reprimand Hayk Aloumyan, Smbat Barseghyan's defense attorney, for improper conduct.
Judge Mesrop Makyan had just issued the reprimand, arguing that Aloumyan had failed to appear at today's court session.
Barseghyan, in Aloumyan's defense, said he had dispensed with his attorney's services at the previous trial session. (Barseghyan had been removed from the court for four hours, and said that, in his absence, Aloumyan shouldn't defend him.)
Aloumyan failed to show up at today's session for the same reason.
Judge Makyan said he would lift the sanction against Barseghyan, allowing him to return to court. After hearing this, Barseghyan agreed to being represented by Aloumyan.
Armen Pilyan's defense attorney, Armineh Fanyan, told the court that her client had been on hunger strike for the past ten days and was being kept in solitary confinement.
Pilyan, who is demanding to be transferred to another correctional facility for medical supervision, told the court he'd continue the hunger strike until his demands are met.
"I'll die before stopping my hunger strike. My demand is to be transferred to the Armavir Correctional Facility," Pilyan declared in court.
The next trial session was scheduled for January 10.
P.S. The above is one of the three Sasna Dzrer trials now underway in Yerevan courts. On July 17, 2016, Manukyan and others seized the Erebouni police station in Yerevan and held it for two weeks before laying down their arms and surrendering.
If you found a typo you can notify us by selecting the text area and pressing CTRL+Enter