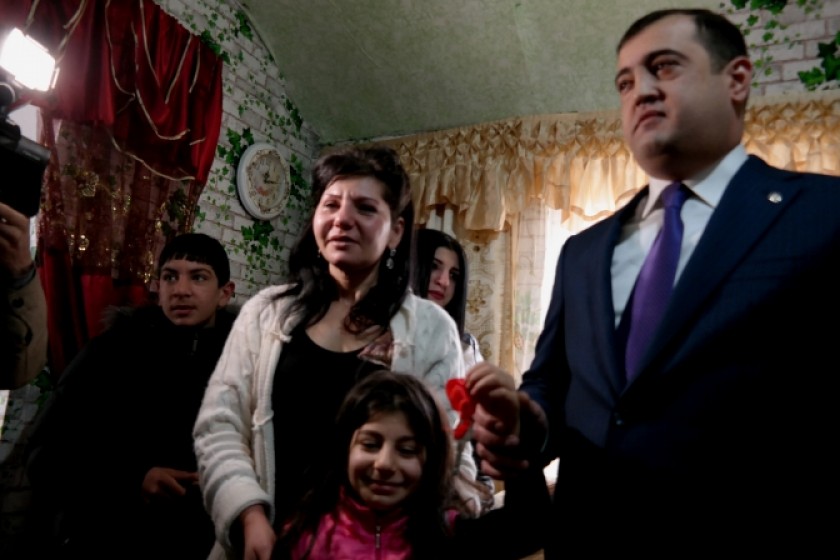 Kamchatka to Gyumri: An Unexpected New Year's Gift for Family of Five
The five-member Hakobyan family of Gyumri have received a great gift on New Year's Eve.
They received the keys to a two-room apartment from Artur Khachatryan, President of the Union of Kamchatka Armenians, in the Russian Far East.
Kamchatka Armenians held a fundraiser to purchase the new domicile for the Khachatryans, now living in a temporary cabin in Gyumri, Armenia's second largest city.
Also on hand to watch the family entering their new home was Armenian Minister of Diaspora Affairs Hranoush Hakobyan.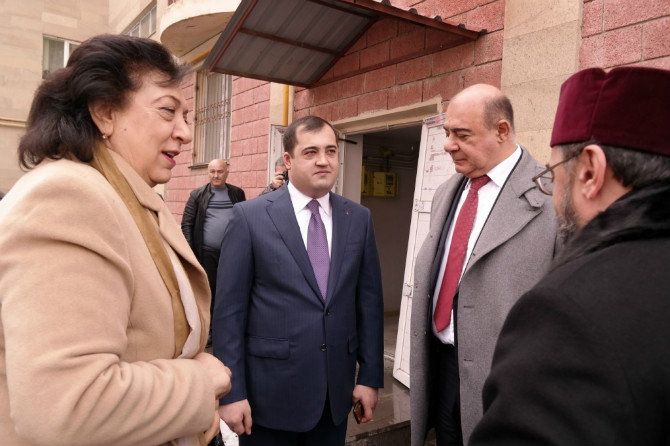 32-year-old Artur Khachatryan was born in Kamchatka, but his parents come from Gyumri. Mixing the Gyumri dialect with Russian, Khachatryan says he's always wanted to be of assistance to the less fortunate back in Gyumri.
He lost close family members in the 1988 Spitak Earthquake, and laments the fact that there are still some 2,000 families living in domiciles that were supposed to be temporary havens for those left homeless.
Khachatryan hopes that other Armenians living in Russia will follow their example.
Khachatryan told Gharib Harutyunyan, who heads the Gyumri Without Makeshift Shelters Foundation, that he is ready to contribute to housing homeless Gyumri residents if nine other benefactors are located.
"If each donates $1,000, that would be enough to purchase an apartment," says Khachatryan.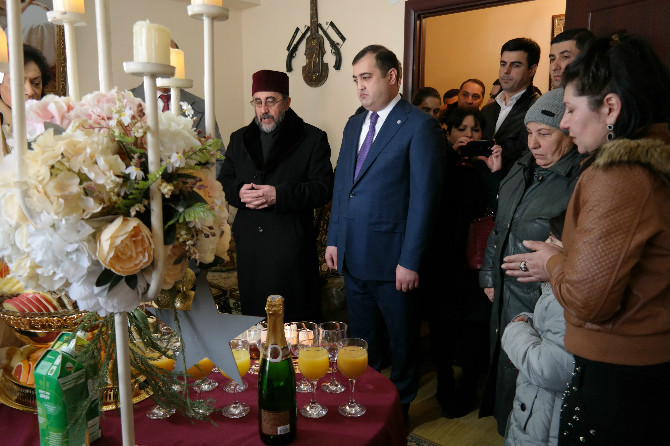 The Hakobyans were selected because they have a family member serving in the Armenia military. Kamchatka Armenians told the Gyumri Municipality to take this into account when selecting a recipient family.
37-year-old Ruzanna Hakobyan lost her husband in 2010. Her eldest son is in the army. She has another son and two daughters.
The only one working is her 19-year-old daughter.
"We've been living in this cabin for eight years. We first paid rent, but the owner later let us stay for free because we no longer could pay. I'm quite emotional right now. Yes, municipal officials visited and saw the conditions we were living in. But it never crossed my mind that we'd receive this gift for New Year's. May the other families, now living in tomiks (huts), be granted such happiness," says Ruzanna.