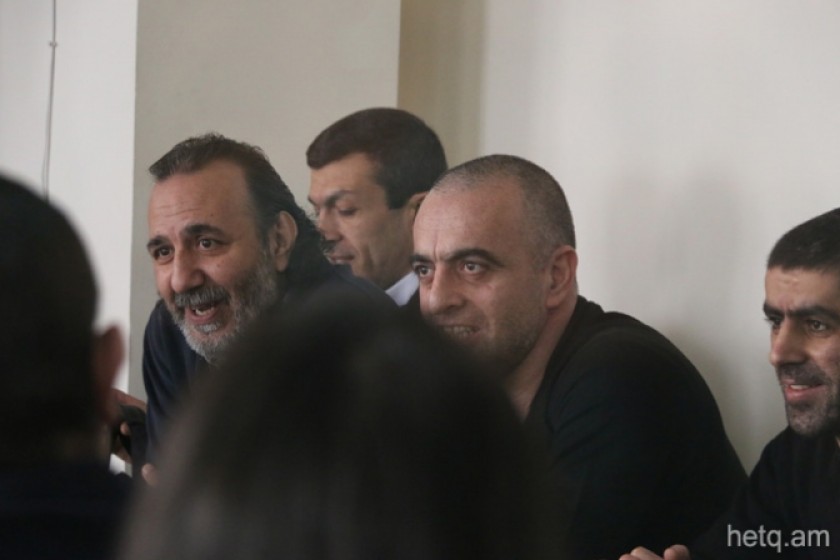 Sasna Dzrer Defendants Boycott Trial in Solidarity with Comrades on Hunger Strike
The three trials now underway in Yerevan, in which members of the Sasna Dzrer group are facing charges of illegal arms possession and hostage taking stemming from their armed seizure of a Yerevan police building in July 2016, have hardly progressed at all in several months.
Defendants and their lawyers have boycotted court sessions, judges have issued reprimands in response, while those following the cases have had a difficult time keeping up with developments.
At today's trial at Yerevan's Avan and Nor Nork Administrative Court, defendant Armen Lamparyan declared that he was boycotting the session to show solidarity with two other Sasna Dzrer defendants (Armen Bilyan and Smbat Barseghyan) who've been on hunger strike.
Lamparyan was joined by the other defendants at the trial, and all said they were refusing legal support.
The defendants then rose and left the courtroom.
Judge Artoush Gabrielyan then issued a sanction, barring the defendants from entering the courtroom for two hours.
Gabrielyan said that he would get public defenders for the defendants if need be.
Armen Bilyan, on hunger strike for 25 days, is demanding transfer to the Armavir Correctional Facility for medical attention.
Smbat Barseghyan, on hunger strike for 21 days, is also demanding transfer to Armavir.