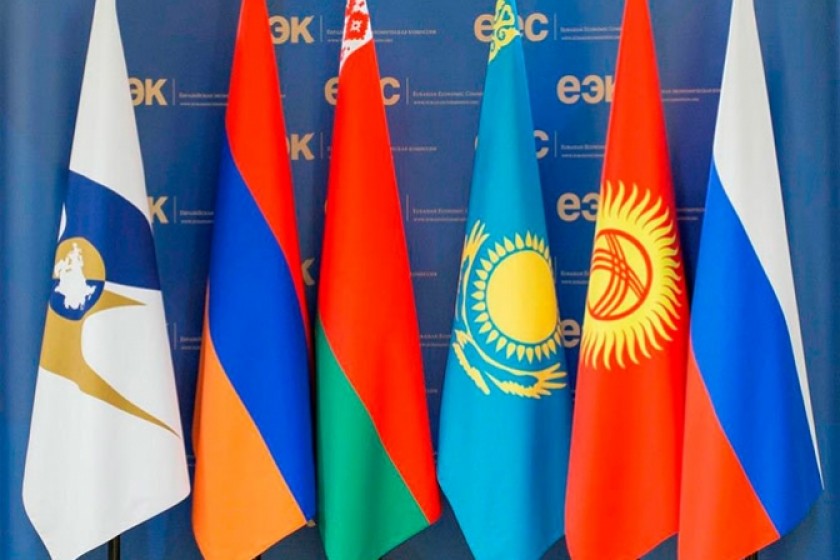 Three Years After Joining the EAEU: What's Been the Impact on Armenia's Economy?
On September 3, 2013, during a meeting with Russian President Vladimir Putin, Armenian President Serzh Sargsyan declared that Armenia wished to join the Customs Union; which later became the Eurasian Economic Union (EAEU).
By January 2015, Armenia had joined the EAEU, along with Belarus, Kazakhstan and Russia, as a fully-fledged member. It was announced that by joining the EAEU, and gaining access to a market of 170 million, Armenia had also assumed some obligations. Kyrgyzstan joined the EAEU later. Today, the EAEU represents a market of 180 million people.
Debates started in Armenia, following the September 2013 announcement made by President Sargsyan, as to how beneficial a move this would be for Armenia. The debate rages just as intensely today.
One of the main questions asked is what would have happened had Armenia not joined the EAEU. In 2015, the first year of Armenia's EAEU membership, some economic indicators in the country fell. That year saw a worsening of the economic situation in Russia, mostly due to sanctions imposed by the West and the drop in international petroleum prices.
In this regard, the Armenian government says that the economic situation in the country would have been worse had Armenia not joined the EAEU. To assess the impact of Armenia's joining the EAEU on the country's economy, Armenia's Ministry of International Economic Integration and Reforms contracted with a consulting firm called Senior Solutions. A report was published based on data from the first half of 2015.
While specific conclusions were not made, overall thrust of the report was that Armenia's economy would have suffered if it hadn't joined the EAEU. One argument made to bolster this was that the price of Russian natural gas to Armenia would have risen if the country wasn't an EAEU member.
Those opposed to Armenia's membership in the EAEU argue that the move merely increased the country's economic and political dependency on Russia, and thus made Armenian more sensitive to the economic ups and downs in Russia.
There are arguments and counter-arguments to be made by both sides in the debate over Armenia's membership in the EAEU.
Hrant Bagratyan, an economist and former Armenian prime minister, believes that Armenia should have never joined the EAEU without clarification on custom duties. He says that customs fees should have been selected that would have created, in terms of foreign economic links, a level playing field for Armenia to trade with Russia, the European Union, the United States, Iran and Georgia. Bagratyan believes that by joining the EAEU, Armenia lost the possibility of working with several countries based on customs privileges.
Tatoul Manaseryan, an economist who heads the Ayluntrank Research Center, believes that Armenia's EAEU membership has provided new possibilities for the country. "For example, Armenia can serve as a bridge between the EAEU and Iran. Iran has a market of 80 million, and we must never rule out the possibility of having a free trade agreement with that country," Manaseryan says.
Let's look at some economic indices after Armenia joined the EAEU
Economic Growth
Economic growth in Armenia during the first two years of EAEU membership was sluggish. According to the National Statistical Service (NSS), economic growth in Armenia in 2015 was 3.2%, dropping 0.2% in 2016. (Economic growth was 3.3% in 2013, and 3.6% in 2014)
Russian President Vladimir Putin's August 2016 statement on economic growth was of interest. During a meeting with Armenian President Sargsyan, Putin noted that after it joined the EAEU Armenia's GDP grew by 10%. This baffled Armenian economists and those following economic developments, since it was never revealed how the 10% figure was arrived at.
There's a second question here. To what extent is economic growth in Armenia conditioned on its EAEU membership? If the impact is great, then it was quite negative in 2015 and particularly in 2016, given that economic growth rates fell. However, to merely link economic growth to the EAEU, would be subjective at best, given that international factors are also at play. Take the role of international copper prices, for example, given that copper is a main export of Armenia. Naturally, there are domestic factors at play as well.
According to official data, economic growth rates rose in 2017. While year-end data is still not available, a growth rate of 7% for 2017 is expected.
Within the EAEU, Armenia mostly trades with Russia
When the Armenian government announced that it wanted to join the EAEU, officials said that doing so would open up a large market for Armenian exporters, and thus, would spur domestic manufacturing. They expected a dramatic rise in exports to Russia. Those expectations have not been met since 2015.
According to the NSS, Armenian exports to Russia in 2015 dropped 20% when compared to 2014. This was mainly the result of a worsening Russian economy and the devaluation of the Russian Ruble. Overall, Armenian exports decreased by 4% in 2015.
Armenian exports rose by 20% in 2016 over 2015, and exports to Russia rose 50%. (When evaluating these increases, we must take into account the low figures of the previous year)
Official sources cite a 25.2% increase in 2017Armenian exports, with exports to Russia increasing by 44.6%.
Armenia hardly trades at all with the other EAEU countries. In 2017, 26.7% of Armenia exports went to Russia, but a mere 0.7% went to Belarus, 0.1% to Kazakhstan and almost nothing went to Kyrgyzstan (the amount is so small, it didn't warrant a separate line in the NSS report).
Thus, while Armenia has been a member of the EAEU for three years, the bulk of its trade is still with Russia.
2017 exports to countries in the Commonwealth of Independent States (CIS), where the impact of Russia should be greatest, amounted to 30% of total Armenian exports. In comparison, 24% of total Armenian exports went to the European Union. (In 2017, exports to the CIS grew by 40.3% over 2016, and exports to the EU grew by 32.2%)
Fluctuating cash remittances
Armenia receives huge sums of cash remittances every year sent by individuals living overseas. Most of these remittances are from Russia, sent by Armenians working there to relatives back in Armenia. Many families in Armenia survive on these remittances.
2015 was a difficult year for these families since remittances from Russia dropped sharply. The devaluation of the Russian Ruble was the main culprit. The wages made by Armenians working in Russia, a portion of which was sent back to Armenia, didn't enjoy the same buying power. In 2015, remittances to Armenia amounted to US$1.6 billion - 23% less than in 2014. Remittances from Russia alone amounted to just over $1 billion – some 35% less than 2014.
The drop in remittances continued in 2016, albeit at a slower pace. For the year, they decreased by 6%. Remittances from Russia amounted to $897 million, a drop of 11% from 2015.
Remittances have rebounded in 2017. Armenia's Central Bank says that the Russian Ruble continues to stabilize given downward inflationary trends.
Individuals residing abroad sent $1.7 billion in remittances via the banks to Armenia in 2017 – an increase of $224 million (16%) over 2016. Remittances from Russia amounted to $1 billion – an increase of $168 million (18.7%).
Armenia's signs European Union Comprehensive and Enhanced Partnership Agreement
Some experts who've spoken out against Armenia's membership in the EAEU have always argued that Armenia would have done better had it joined the European Union.
The EU-Armenia Comprehensive and Enhanced Partnership Agreement (CEPA) was signed on 24 November in the margins of the Eastern Partnership Summit by the High Representative of the European Union for Foreign Affairs and Security Policy & Vice-President of the European Commission, Federica Mogherini, on behalf of the European Union, and by the Minister of Foreign Affairs, Edward Nalbandian, on behalf of the Republic of Armenia.
"The Agreement we have signed today will have a real impact on people's lives, a positive one, both in Armenia and in the European Union. It will allow us to strengthen our cooperation on security matters, in particular through increasing resilience; to improve the investment climate, stimulating growth and jobs; and to find environmentally-friendly solutions to help communities prosper and businesses grow", said the High Representative/Vice-President, Federica Mogherini.
The fourth part of the CEPA deals with economic cooperation between Armenia and the EU, broaching issues of foreign trade, customs matters, energy investment, tax and macro-economic policy, and other related issues.
Experts are at a loss when it comes to predicting what benefits will Armenia derive from the CEPA. It's too early to tell.
Nonetheless, most in Armenia supported signing the CEPA.
This story is produced by Coda Network - a collaboration of independent newsrooms including Coda Story, Ukrayinska Pravda, Spektr, Kloop and Hetq.