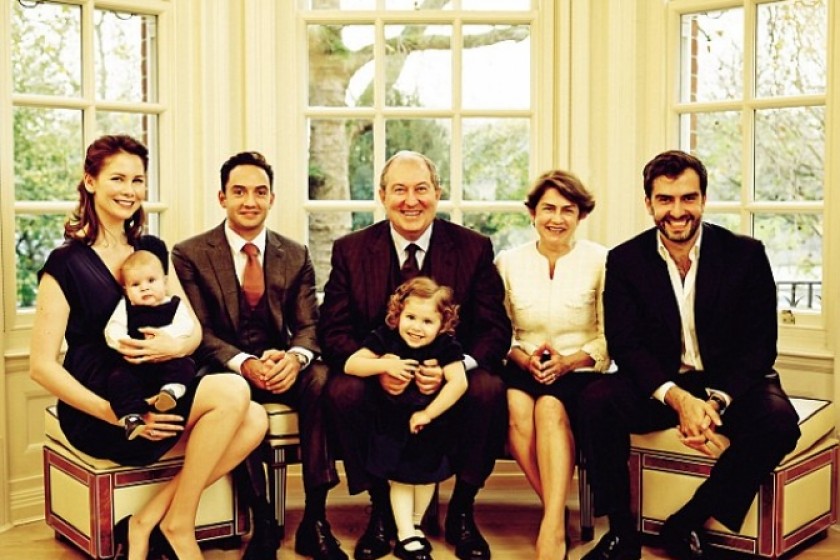 Son and Wife of Armen Sarkissian - Dual Citizens, but No Registration?
In a January 30 interview with Armenia's Shant TV, Armenian Ambassador to Great Britain Armen Sarkissian, nominated by the ruling Republican Party of Armenia as its presidential candidate when the post is vacated this spring, said that his two sons were dual citizens of Britain and Armenia.
Nevertheless, Sargsyan's 37-year-old son Vardan is not listed in Armenia's voter registry. Hayk, Sargsyan's 34-year-old son, is listed in the registry, under the same address as his father.
Does this mean that Vardan isn't a citizen of Armenia? For clarification, Hetq spoke to Mnatsakan Bichakhchyan, who heads the Police Department's Division of Passports and Visas.
He said the Voter Registry contains data on those citizens that have a registered residency address in Armenia. But there are also unregistered individuals in the registry who are also regarded as Armenian citizens. For example, persons who were born in another country, but whose parents were citizens of Armenia.
In addition, individuals registered in another country can also carry an Armenian passport. These people are listed in the State Population Registry (SPR) and not the Voter Registry (VR). Information in the SPR, however, isn't available to the public as is the case with the VR. One can only obtain such information with the consent of the individual in question.
Armen Sarkissian office claims that Vardan is listed in the SPR, not the VR.
Vardan and Hayk were probably first introduced to public scrutiny due to an October 15,2016 article on their mother Nouneh Sarkissian that appeared in the English Daily Mail newspaper.
The paper reads: "Her sons feel British, she says, though they are still proud of their roots."
This got reporters in Armenia asking questions about the family's ties to Armenia.
"I believe my wife answered correctly, saying that, yes, the boys spent the bulk of their formative years in Britain, and since they are British, the answer was correct. But there's a small mistake in the translation. I believe my wife said they are proud Armenians," Armen Sarkissian said in the Shant TV interview.
Nouneh Sarkissian, Armen's wife, also isn't listed in Armenia's Voter Registry. She also holds dual British and Armenian citizenship.
Correction – After the publication of the article it turns out that Armen Sarkissian's wife is indeed registered in Armenia's Voter Registry, but under the name of Nounoufar Sarkissian. Hetq was looking under the name of Nouneh Sarkissian.
Top photo: Nouneh with husband Armen, sons Hayk (left) and Vartan, Vartan's wife Michael Rae and grandchildren Savannah and Armen


If you found a typo you can notify us by selecting the text area and pressing CTRL+Enter