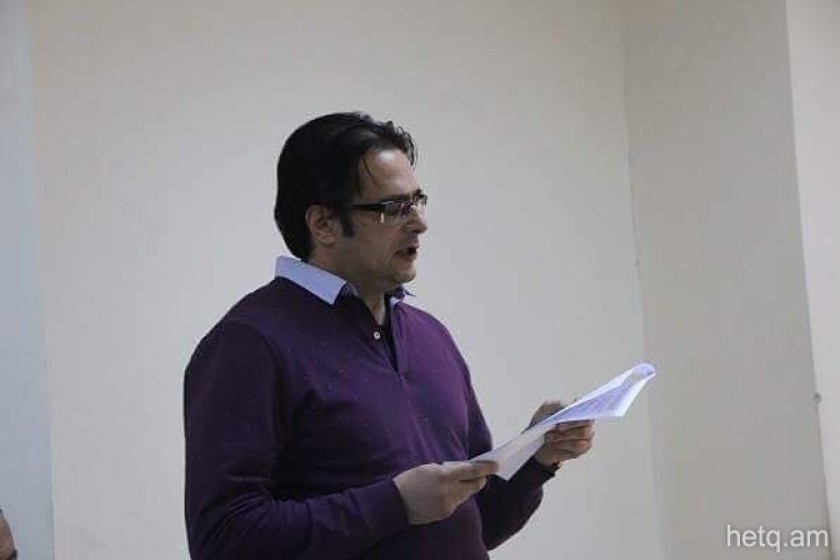 Eyewitness in Ghukasyan Case Tells Court He Didn't See Defendant at Clash Site
At today's trial of Andreas Ghukasyan, who ran for president of Armenia in 2013, and is now accused of fomenting public disorder in the summer of 2016 in conjunction with the takeover of a Yerevan police building by the armed Sasna Dzrer group, a witness testified that police had attacked peaceful demonstrators with clubs without provocation.
"I saw guys with truncheons; around ten guys. They removed the clubs hidden in their clothes," said Tigran Mkrtchyan, who witnessed the clashes between demonstrators and cops on July 29, 2106 in the Sari Tagh neighborhood while on the way to his uncle's house.
Mkrtchyan was injured in the foot by a concussion grenade fired by police and later taken to hospital
Mkrtchyan, who due to his young age testified in the presence of his mother, also told the court that he did not hear the demonstrators taunt the police verbally with expletives.
State Prosecutor Petros Petrosyan motioned the court to publish Mkrtchyan's preliminary testimony when he said that some of the demonstrators threw rocks at the police and yelled curses.
Mkrtchyan told the court today that his earlier testimony was correct and that it's difficult to remember the details of what happened more than two years after the fact.
Nonetheless, Mkrtchyan said today that he didn't see Ghukasyan on the day in question.
Top photo: Andreas Ghukasyan