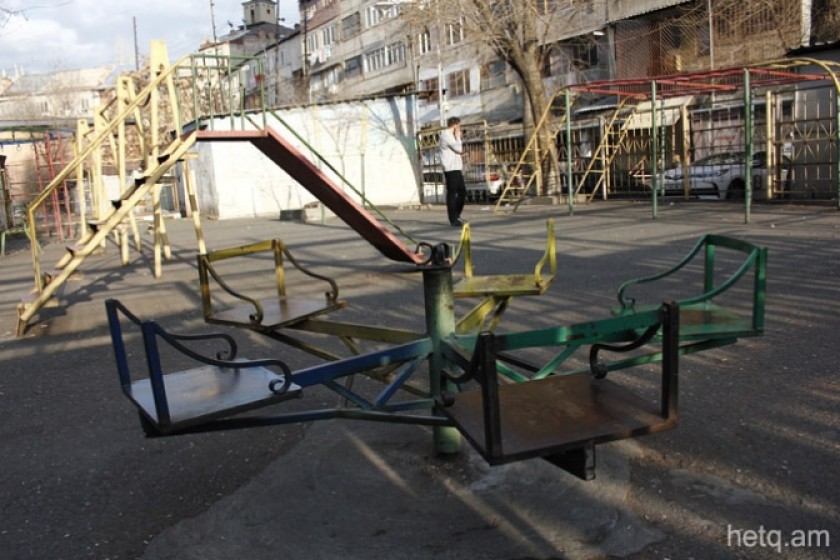 Unsafe Heavy Metal Levels Found in Yerevan Playgrounds
An analysis of soil and sand samples taken from Yerevan playgrounds shows that many contain levels of heavy metal concentrates that pose a health risk.
Higher than safe levels of chromium concentrate were found in 26 of the 29 soil samples.
Higher than safe levels of lead concentrate were found in 8 of the 29 samples taken from Yerevan's Nor Nork, Kanaker-Zeytoun, Arabkir, Erebuni, Nubarashen, Shenkavit and Kentron district playgrounds.
Mari Chakryan, who conducted the "Safe Playground for Your Kids and Mine" project, today released the worrisome findings.
With support from the EU's Eastern Partnership Civil Society Programme, the "Safe Playground for Your Kids and Mine" project started to monitor overall conditions of Yerevan playgrounds late last year.
Last November, Chakryan told Hetq that the project found that Yerevan's thirty of so playgrounds were unsafe for kids, being strewn with litter and the sand boxes are filled with beer bottles and cigarette butts.
Results from the project's second phase are worrisome still.
Chakryan and her team of colleagues and community members took soil and sand samplings from the playgrounds and sent them to the Center for Ecological-Noosphere Studies of Armenia's National Academy of Sciences for analysis.
Chakryan, President of the Public Awareness and Monitoring NGO, wrote to Minister of Health Levon Altunyan to find out what health and safety standards, if any, are being monitored at Yerevan playgrounds.
The ministry responded that the monitoring of such conditions at neighborhood play areas is not in the purview of its inspection agency.
In the aftermath of these findings, Silva Ayvazyan, Coordinator of Yerevan's Aarhus Center, sent a letter of Yerevan Mayor Taron Margaryan, asking if the municipality is required to monitor and renovate playgrounds and whether it tests the soil.
The municipality responded that neighborhood play areas are officially listed and that the local government, in conjunction with district leaders and apartment boards, monitor conditions and repair problems that arise.
The municipality stressed the fact that the safety of children is of paramount importance when playgrounds are built or renovated.
If you found a typo you can notify us by selecting the text area and pressing CTRL+Enter