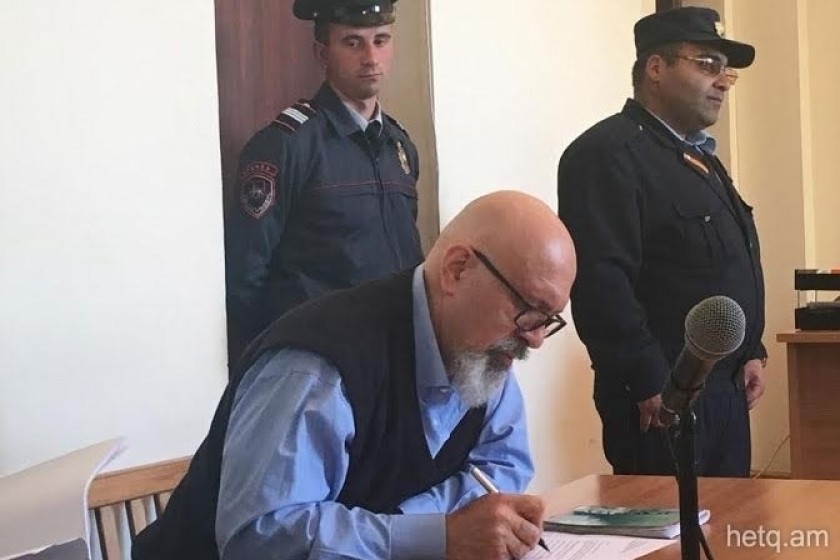 Yegnukian Again Rushed to Hospital; Trial Postponed
Garo Yegnukian, a defendant in the ongoing Sasna Dzrer trial in Yerevan, was rushed to hospital today even before the court session got underway.
Yegnukian's lawyer Tigran Hayrapetyan accused the court of slowly murdering his client.
Hayrapetyan says Yegnukian was brought to court today without any examination of recent medical test results.
"Do you want to kill Yegnukian? Every time he's brought to court, he falls ill, and you're doing nothing about it," Hayrapetyan told the court.
Anoush Mkhitaryan, a public defender in the case, said that Yegnukian's psychological state of mind was causing the bouts of unconsciousness and that it would be a waste of state funds to continue the trial in such conditions.
Judge Artoush Gabrielyan ordered a thirty-minute adjournment to receive the medical test findings.
Gabrielyan later said that Yegnukian's blood pressure had shot up to 170/120.
Since Yegnukian was in no shape to attend the today's session, Judge Gabrielyan postponed the session.
This is not the first time that Yegnukian, detained since July 2016, has fallen ill during his trial.