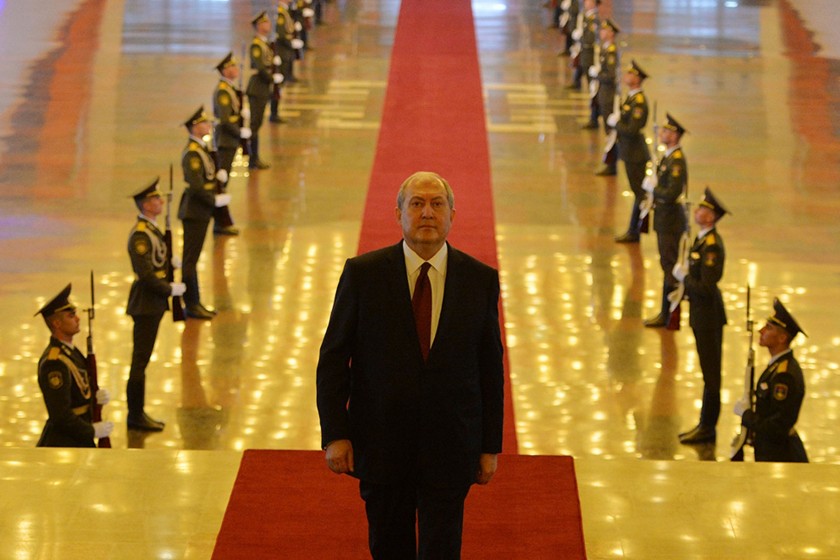 The Business Interests of Armenia's New President: Armen Sargsyan Has Holdings in Europe, Russia, the U.S., China, India, the CIS, and Offshore
Armen Sargsyan, Armenia's former Ambassador to Great Britain, who was sworn in today as Armenia's new president, is a businessman with deep pockets and commercial holdings in Russia, Europe, the United States, various CIS countries, and in offshore zones.
Naturally, Armenia's fourth president mentioned nothing about these business holdings in his financial disclosure filed with the country's Ethics Committee for High-Ranking Officials.
Hetq has attempted to disclose Sargsyan's wide-ranging business interests via our partners and the online research website Investigative Dashboard.
Part 1
On April 25, 2017, then Armenian Ambassador to Great Britain Armen Sargsyan travelled to Kazakhstan to meet with Kazakh Prime Minister Bakytzhan Sagintayev. The meeting had nothing to do with Armenia-Kazakhstan relations. The Armenian government didn't send Sargsyan there on official business.
Rather, Sargsyan showed up in the official capacity as Chairman of the Board of Directors of Inalca Eurasia, a large agribusiness transnational corporation. As we'll see below, Sargsyan went to Kazakhstan to supervise Inalca's planned €100 million investment in that country's meat industry.
When we started to investigate Sargsyan's business activities it was apparent that most of his meetings were linked to various commercial ventures.
Armen Sargsyan claims that he has no business holdings, and that his financial disclosure says as much. Furthermore, he's disclosed that his wife Nunufar hasn't had any revenues since 2013. In a February 28, 2018 interview with Radio Liberty, Sargsyan said that he had transferred all his business shares to a family foundation, and that the foundation now runs his commercial affairs.
It might appear that Sargsyan is one of the few officials throughout the world who works for business companies for free. In reality, for years, he used the post of ambassador to Great Britain to advance his family's business interests. After being discharged as ambassador, Sargsyan immediately renounced his Armenian citizenship and become a British citizen. Possessing an Armenian passport was no longer "convenient" and would pose problems for his future business ventures.
One can find Armen Sargsyan's name in a list of directors or investors of various large corporations and organizations. As a rule, he's listed as a British citizen. Prior to 2015, this is how he appears in the registries of several companies.
It's difficult to say when Sargsyan renounced his British citizenship and again became a citizen of Armenia. In his Radio Liberty interview, Sargsyan says he filed to renounce British citizenship in 2011. (Readers will remember that then Armenian President Robert Kocharian dismissed Armen Sargsyan as Ambassador to Britain on April 20, 2000.)
But Armen Sargsyan has never publicly produced any documentation about his alleged renunciation of British citizenship. All our inquiries to various British agencies on the matter have been turned down based on "personal data privacy". Hetq continues to appeal these decisions, arguing that the matter, in Armenia, is one of "public interest". After all, Armen Sargsyan has been elected Armenia's new president and, if we are to believe him, no longer has any ties to Great Britain.
Italian Meat Producing Giant to Supply CIS Countries
Some of the Sargsyan family's business were founded in Austria. The Austrian Corporate Registry shows that Armen Sargsyan is a member of Inalca Eurasia Holdings GmbH's board of directors. In its 2014-2015 annual report, the company shows €120 million in assets. The company, through its subsidiaries, provides food distribution and meat production activities in Eurasian markets.
Armen Sargsyan became a member of Inalca Eurasia Holding's board of directors on January 24, 2014. Armen's son Hayk, has also served on the board since the company's inception.
The Italian meat producer and exporter Inalca S.p.A. owns 60% of Inalca Eurasia Holdings. Inalca S.p.A., in turn, is 71% owned by Cremonini S.p.A. – one of the three operational sub-holdings of the Cremonini Group, which employs some 11,000 around the world and which saw revenues of €3.7 billion in 2016. (The turnover derives 46% from production activities (beef and cured meat & snacks), 41% from the distribution sector and the remaining 13% from catering)
Cascade International Holding GmbH owns the remaining 40% of Inalca Eurasia. Cascade International was founded in 2007 and is currently owned by Amsterdam-registered Cascade International B.V. (62.5%) and New Zealand-registered Oakura International Ltd. (37.5%). Of interest is that the Dutch Corporate Registry shows Cascade International B.V. as "dissolved" as of 2010.
Bromsgrove Limited, another New Zealand company, owns 100% of Oakura International Ltd. John Wilson Hart, a resident of Auckland, is listed as both Bromsgrove's director and sole shareholder. A tax lawyer, Hart is most likely a front for the real owner.
The Sargsyans, through Powerhouse Holdings Ltd. (a New Zealand company fully owned by Bromsgrove Ltd.) are doing business in Saint Petersburg, Russia.
Powerhouse Ltd. (registered by Hart at the same Auckland address), is owned by Корпорация Ленинград (Corporation Leningrad), a company founded in 2010 that provides corporate management consultation. In 2017, Corporation Leningrad founded another company with Gagik Chakharyan, the Vice-Governor of Primorsky Kray in the Russian Far East.
Despite the attempts of the Sargsyan family to conceal their business operations, there's been an outflow of official documents to the contrary. In a document in our possession, from the Italian Corporate Registry regarding meat producer Inalca S.p.A., we read the following:
"Cascade International Holding GmbH, founded in 2014, is a sub-holding company, created with investment partner Sargsyan, with the aim of conducting joint business in Eurasia, and plans to expand operations in Kazakhstan and Russia."

Meat Production and Export Business in Russia
The Austrian Cascade International Holding, founded by investor Sargsyan, fully owns a subsidiary business in Russia. This company - ООО "Торгово-производственная фирма "Каскад" (Cascade Commercial-Manufacturing Company-CCMC) – has a charter capital of US$52.5 million and was registered in the Russian town of Odintsovo in 2004. Its main business is the leasing and management of real estate, as well as the production of various meat items, the construction of residential and non-residential buildings, vehicle repair, the sale of meat and dairy items, sugar, chocolate, pastries, flour, macaroni, poultry and fish, and cargo and storage services.
One year ago, the Federal Environmental, Industrial and Nuclear Supervision Service of Russia conducting safety tests at Cascade Commercial-Manufacturing and revealed 31 violations. The company and director were fined 220,000 Russian Rubles.
The Cascade Commercial-Manufacturing plant in Odintsovo
Marr Russia, another company registered at the same address as CCMC, is 75% owned by CCMC. The remaining 25% belongs to Marr Russia Managing Director Igor Starostenko. The company sells general food items, beverages and cigarettes at wholesale.
Marr Russia specializes in supply food items to eateries and the production of semi-manufactured goods. It supplies meat, poultry and fish to a number of restaurants in Russia, including the McDonald's chain of outlets. It has a fleet of 100 temperature-controlled vehicles that transport food items throughout Russia and CIS countries. The company has branch offices in St. Petersburg, Rostov on Don, Novosibirsk, Samara and Ekaterinburg.
Marr Russia also signed a 9.5 million Russian Ruble contract to supply foodstuffs to the Russian government.
In 2010, CCMC founded the company Orenbeef in Russia. The company built a slaughterhouse in Orenburg in 2014 which processes 100,000 animals annually.
CCMC founded another company - "АгроСакмара" (AgroSakmara) – in 2016. CCMC owns 99% of the company which raises dairy animals and produces milk.
In November 2017, Inalca Eurasia Holding founded another subsidiary company – AgroSakmara Bashkiria LLC – that plans to build a farm for raising cattle.
Ambassador Armen Sargsyan Holds Talks to Enter the Kazakh Market
In 2016, Inalca Eurasia Holding entered the Kazakhstan market by registering a subsidiary called Inalca Eurasia Kazakhstan LLC.
The Kazakh Ministry of Agriculture announced that Inalca Eurasia would invest €100 million in the country's meat industry and would construct feedlots in three regions to feed 44,000 animals at one time.
On April 25, 2017, Armen Sargsyan, in the capacity of Inalca Eurasia Board of Directors' Chairman and while still serving as Armenia's Ambassador to Great Britain, met with Kazakh Prime Minister Bakytzhan Sagintayev.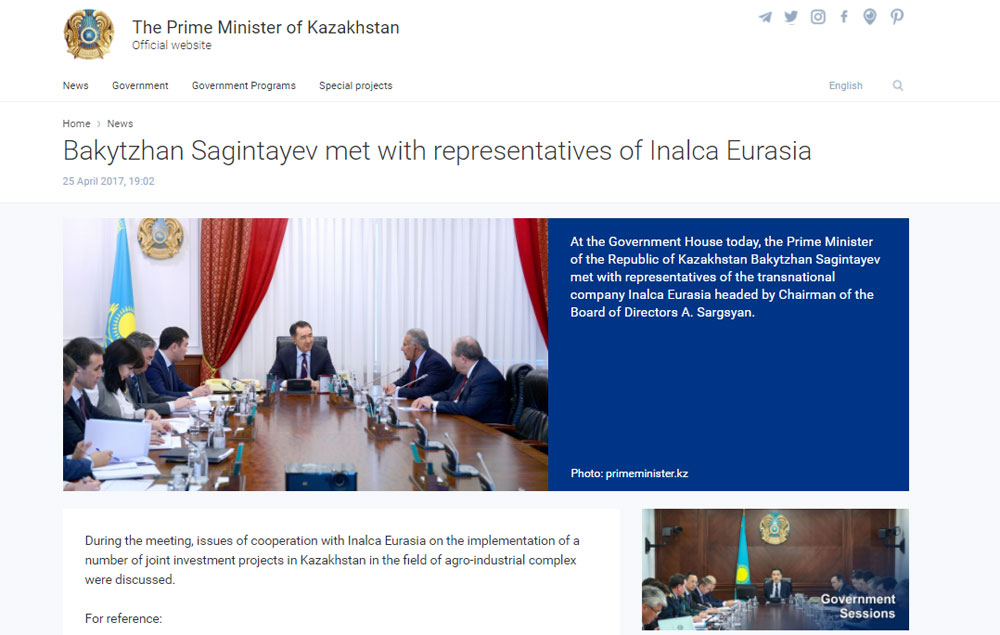 The official press release of Sagintayev's office says that "issues of cooperation with Inalca Eurasia on the implementation of a number of joint investment projects in Kazakhstan in the agro-industrial field were discussed."
Property in Armenia and UK
Armen Sargsyan was appointed Ambassador to Great Britain on September 27, 2013. According to a financial disclosure he filed at the time, he owned three private houses and two apartments. He disclosed €8 million in cash holdings.
In 2017, Sargsyan disclosed €5.5million in cash.
A document provided by Armenia's State Cadastre Registry shows that in 2010 Armen Sargsyan registered a property rights petition for a house at 26 Demirchyan Street, Yerevan, and that it was only on February 1 of this year that his sister, Karine Sargsyan, received the sole right to use the property. The private house has a two-car garage. Armen Sargsyan's son Hayk is also registered at this address.
11 Cheyne Walk, London
Armen Sargsyan is registered at this London address, located along the banks of the River Thames, in one of the poshest neighborhoods of the British capital.
Sargsyan's family members also live at the house which sold for £ 2.4 million in 1999. Ownership was transferred to an offshore company in 2000.
Hetq's British colleagues were able to get hold of a property document showing that the house is owned Peterman Properties Limited, registered in the British Virgin Islands. That's all the information we've been able to ascertain.
Eurasia House International, where Armen Sargsyan served as director starting in 2002, is also registered at the same address. The company was dissolved in June 2015.
Here, we should note that Dariga Nazarbayeva, daughter of the Kazakh president, served as the company's joint director from 2002-2005. She served as an assistant to the Kazakh prime minister from 2015-2016 and has presided over the organizing committee for Armen Sargsyan annual Eurasian Media Forum in Astana since 2002.
The extent of Armen Sargsyan's British dealings doesn't end here. He also served as director at Cambridge Pharmaceuticals Ltd. from its incorporation in December 2003 until 2008.
France: Real Estate Business
It's no accident that Armen Sargsyan handed over the right to use the Yerevan house to his sister Karine, given that she plays a vital role in the family's business activities.
In 2010, Armen and Karine Sargsyan registered a company called VH Estate in Paris. Karine, and her daughter Tatevik, owns the shares of this real estate agency, but Armen participates in its management.
The company, registered at 3 Rue Montalivet, Paris, offers a variety of notary and other services to individuals and companies.
Karineh Sargsyan assumed the post of Cascade International Holding executive director in April 2014. She also served as director of Foxton Limited, a subsidiary of Bromsgrove Ltd., from 2008-2014.
Armen Sargsyan's Business Holdings in Armenia
Press reports and his Wikipedia page note that Sargsyan is also the director of the British Virgin Islands registered Highbury Group of companies.
Sargsyan is also the director of the Knightsbridge Group that has companies registered in a variety of offshore zones. They're engaged in several businesses ranging from energy to new technologies. Most have long since dissolved.
Knightsbridge Natural Resources (Armenia) Holding GmbH is one of the ones still operating. It was incorporated in Austria and is 75% owned by Knightsbridge Global B.V. and 25% by Fortress Holdings Ltd. Knightsbridge Global B.V. is wholly owned by Knightsbridge Global (Asia) Ltd, a company registered in China.
Fortress Holdings Ltd. is owned by the same Bromsgrove Ltd. of New Zealand. These companies had two Armenian directors – Gegham Mkhitaryan and Artavazd Babayan of Yerevan.
In 2012, Knightsbridge Natural Resources (Armenia) Holding registered Greentek LLC in Armenia. According to Armenia's State Revenue Committee, the company still operates and conducts experimental research in the field of natural sciences. Garik Nalbandyan serves as director, and he's also the director of Arev Scientific-Industrial CJSC.
The Knightsbridge Group website says Arev has developed a number of proprietary technologies, including Radeon-NWM and Radeon-RM, and that "this new technology is currently used at the Metzamor Nuclear Power Plant in Armenia and is in trial stage in the Semipalatinsk region of Kazakhstan (former primary testing venue for the Soviet Union's nuclear weapons)."
The Russian media has reported that Knightsbridge Natural Resources will invest in Russia. In 2012, Armen Sargsyan travelled to the Leningrad Region and held talks with local officials regarding the construction of a new water distribution pipeline.
The business interests of Armen Sargsyan and family
Sargsyan's Knightsbridge Group founded more than twenty companies in various European countries and offshore zones between 2006-2007. Ten has since dissolved. Only the Sargsyans know why they were created in the first place, only to shut down a few years later,
Several were involved in various Sargsyan family Russian business ventures. Here, we can note Knightsbridge Holding Limited, incorporated in Gibraltar, which is 30% owned by the Investment-Construction Alliance (ООО "Инвестиционно-строительных альянс"). Knightsbridge Associates (Asia) Ltd., incorporated in Hon Kong, is the sole owner of RS Electroniks, registered in St. Petersburg (2012). The Knightsbridge Group also had an interest in several other dissolved Russian companies.
(to be continued)
If you found a typo you can notify us by selecting the text area and pressing CTRL+Enter