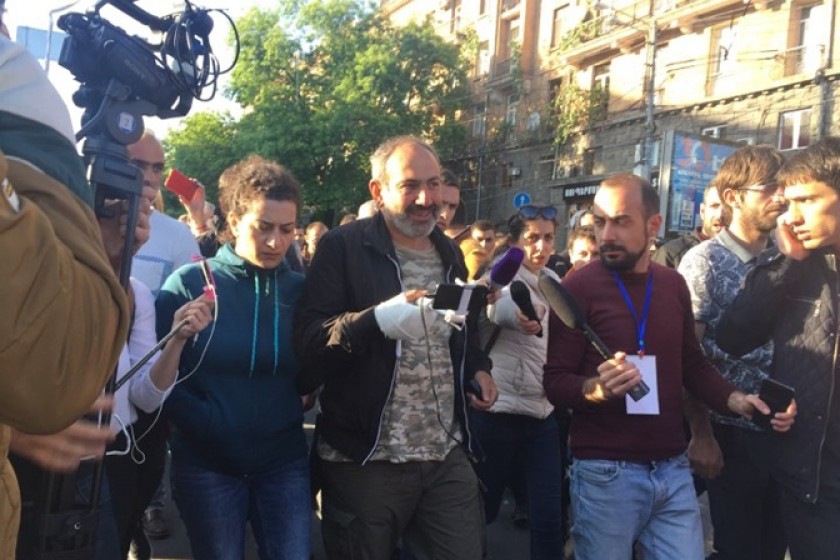 Yerevan: Anti-Serzh Protesters Launch Day of Civil Disobedience
15:19
Nikol Pashinyan and others fail to push through the police cordon. Yerevan Deputy Police Chief Valery Osipyan says he will only allow MPS to pass and approach the National Assembly.
Pashinyan responded that no preconditions should be set and that, whatever happens, he, along with reporters and the protesters, will march to the parliament. MP Pashinyan said he was going to the parliament to receive some of his constituents, who were in the crowd, and that they had the right to enter the parliament. Osipyan refused the request.
"You are pushing this to a clash," Osipyan told Pashinyan. Hundreds of police and just as many protesters face one another divided by barbed wire.
Individuals heeding the call of Nikol Pashinyan, who's spearheading a movement to prevent Serzh Sargsyan from becoming the next prime minister of Armenia, have launched a series of actions designed to shut down Yerevan's main intersections, bridges and the subway.
Here's some of what's taken place.
2:13 pm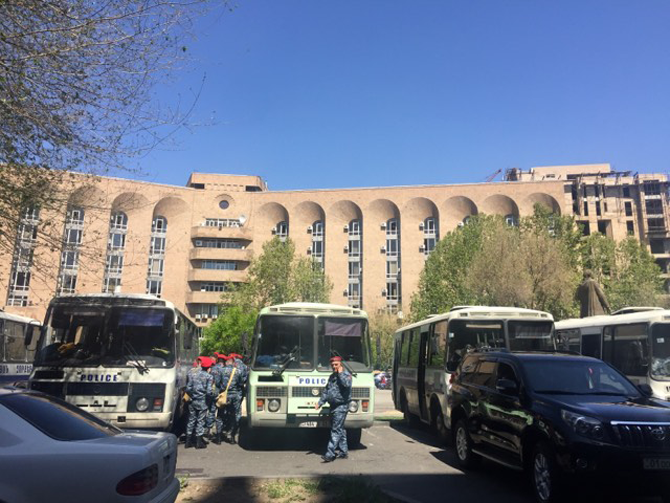 In response, police and special military units closed off the street where the offices of the ruling Republican Party of Armenia are located. Police transport vehicles were parked in a nearby park.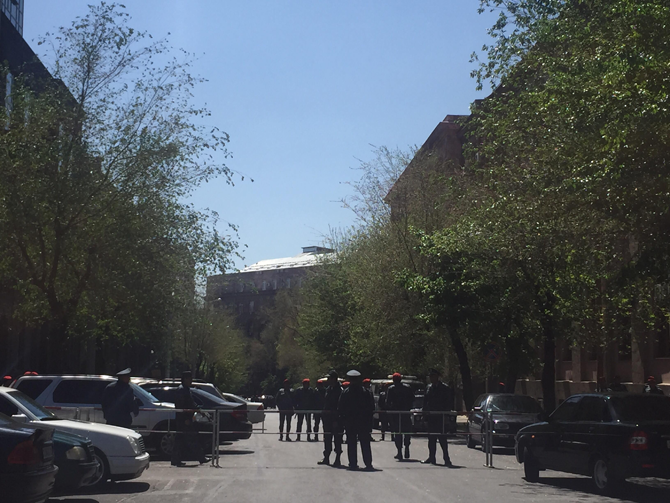 Some university students had gathered at Abovyan Park, declaring they were boycotting classes.
1:01pm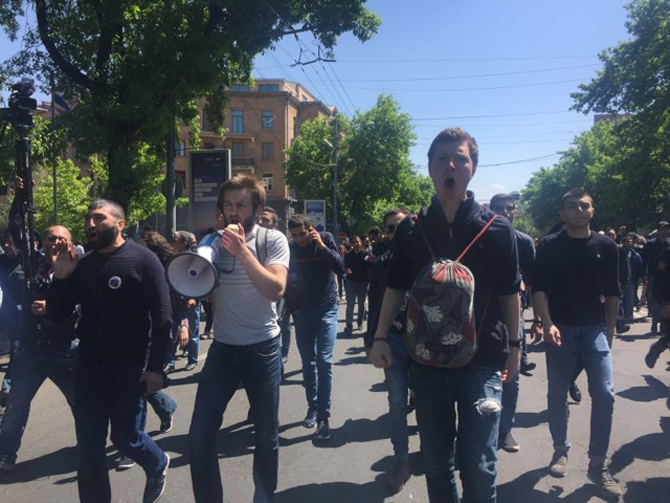 Police cordoned off a section of Paronian Street leading to the private residence of Serzh Sargsyan, Armenia's former president.
12:27pm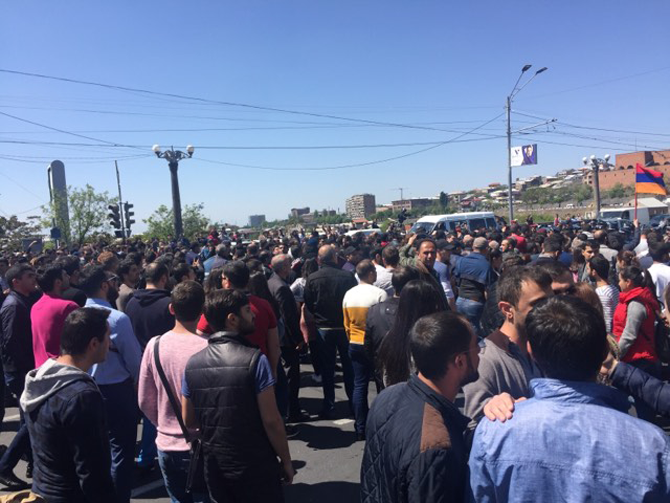 At noon, members of the "Im Kayl" (My Step) movement blocked traffic on Haghtanak Bridge, calling on drivers to join the anti-Serzh protests.
Yesterday, Nikol Pashinyan had urged car owners to stop their cars in the middle of the street, turn off the engine, and leave.
11:57am
A contingent of activists also managed to close a vital tunnel linking Khanjyan and Grigor Lousavorich Streets.
11:46am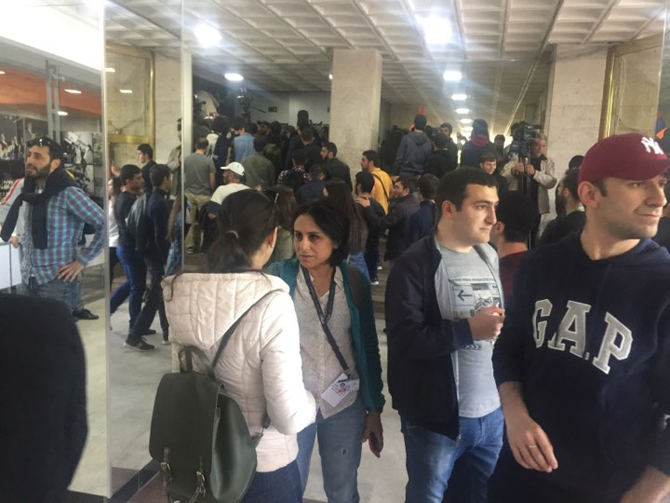 Activists entered the Khachatur Abovyan Teachers' College. Shouting slogans like "Join the Movement" and "Reject Serzh", they called for a general student strike. A few then defaced a banner of Serzh Sargsyan hanging on the cafeteria wall.
10:48am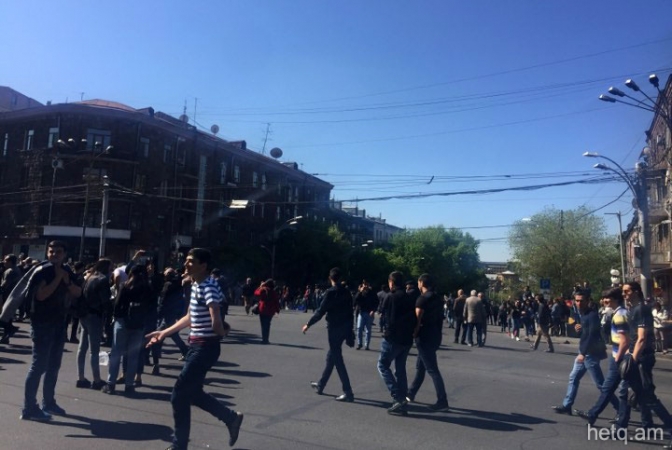 Hundreds of activists marched up Mashtots Avenue to join striking students at Yerevan State Medical University. A large contingent of police and special forces tried to disperse the students who had closed off Heratsi Street. Students broke through the police cordon.
10:42am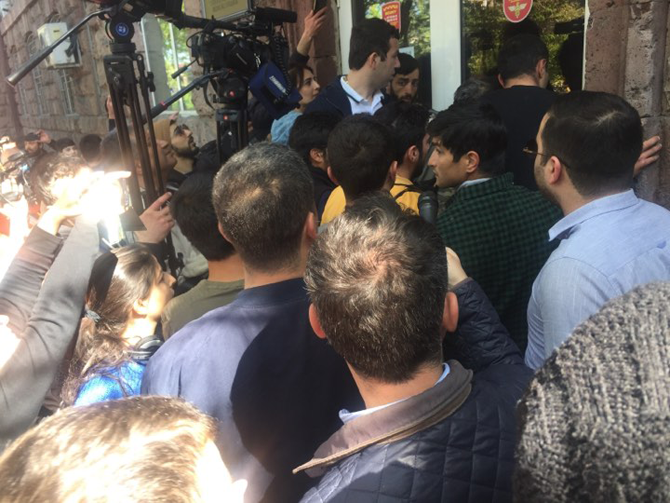 Marching on, students noticed that one of the rear doors of the Medical University was locked. Pashinyan and other students pounded on the door, demanding that it be opened. The activists gained entry and called on students inside to go on strike. "No one can close the doors on our children," Pashinyan declared.
10:30am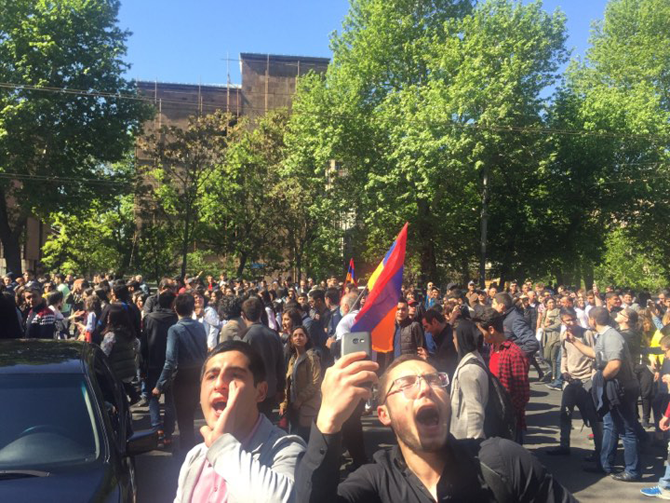 Pashinyan called on protesters not to clash with police, saying their struggle was directed against Serzh Sargsyan.
10:20am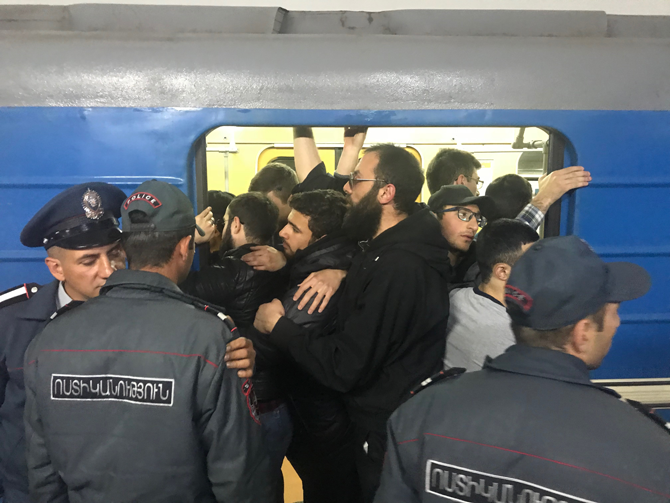 Students at the Yeritasardakan Metro station shut down the subway for thirty minutes.
10:16am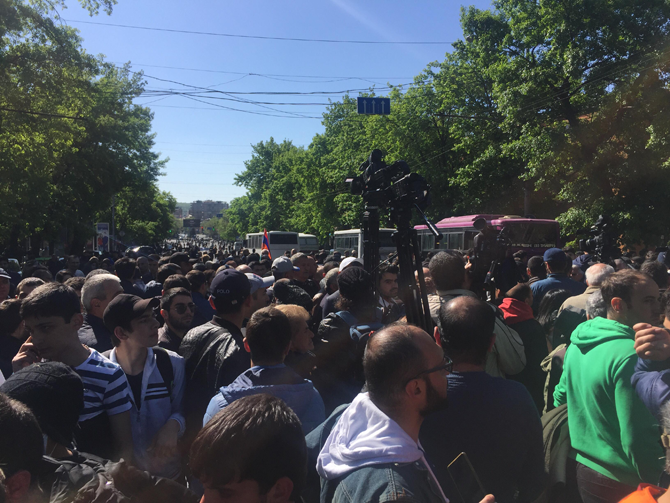 Hundreds of protesters marched up Mashtots Avenue to Baghramyan Avenue, shouting "Join Us", "Reject Serzh".
Approaching the police cordon, Pashinyan called on the protesters not to engage the police in political debate or bait them verbally. Pashinyan said the police have been on high alert for the past several days and their nerves have been compromised. He asked forgiveness from the families of police officers.
10:00am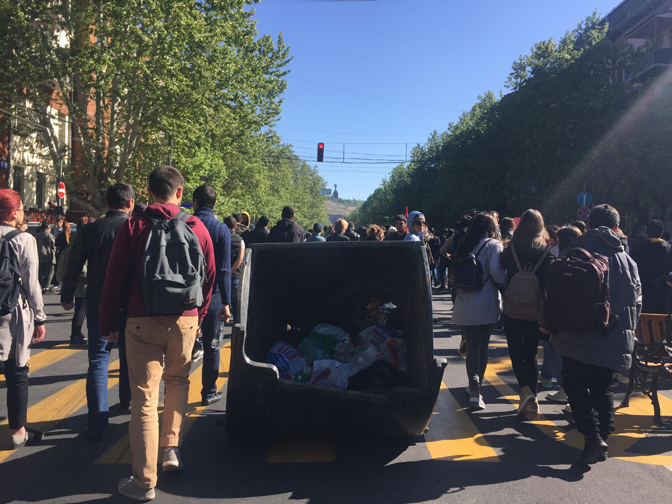 Pashinyan led hundreds of activists from France Square to Mashtots Avenue, joining up with other protesters who had closed off Amiryan Street.
9:50am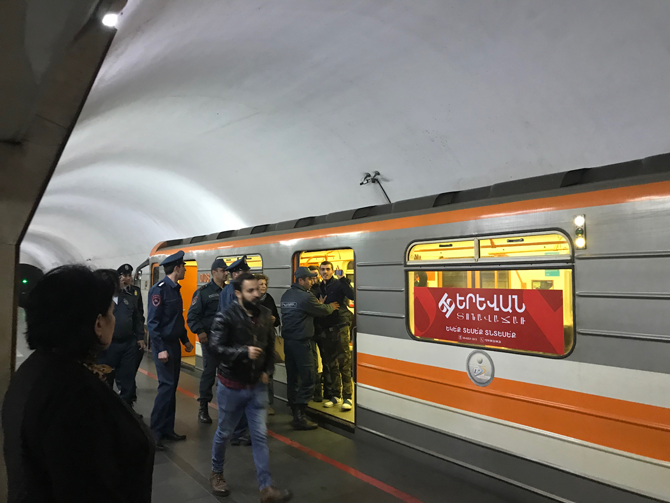 Subways were bypassing the Marshal Baghramyan station, allegedly for technical reasons. The station is close to the presidential palace. University students had blockaded the Koryun-Abovyan intersection.
8:30am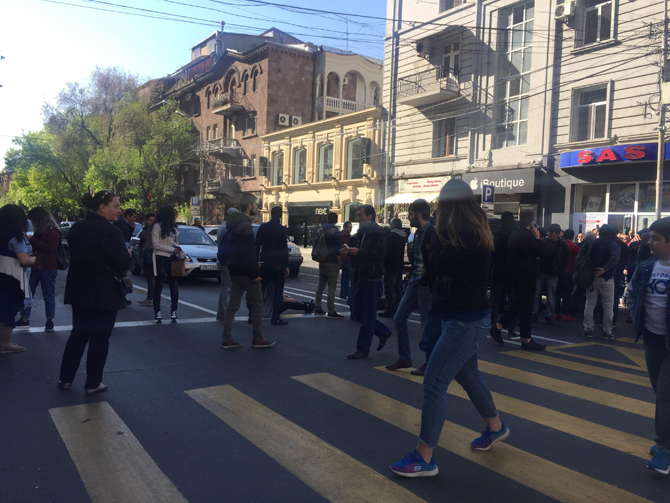 Launching their Day of Civil Disobedience, members of Nikol Pashinyan's "Im Kayl" initiative and others opposed to Serzh Sargsyan becoming the next prime minister of Armenia, shut down Amiryan Street by sitting in the middle.
The activists disregarded police calls to disperse.
Earlier today, some activists blocked the entrance to the Barekamutyun Metro station.
Activists throughout Yerevan have blocked several streets by sitting in front of cars.
If you found a typo you can notify us by selecting the text area and pressing CTRL+Enter