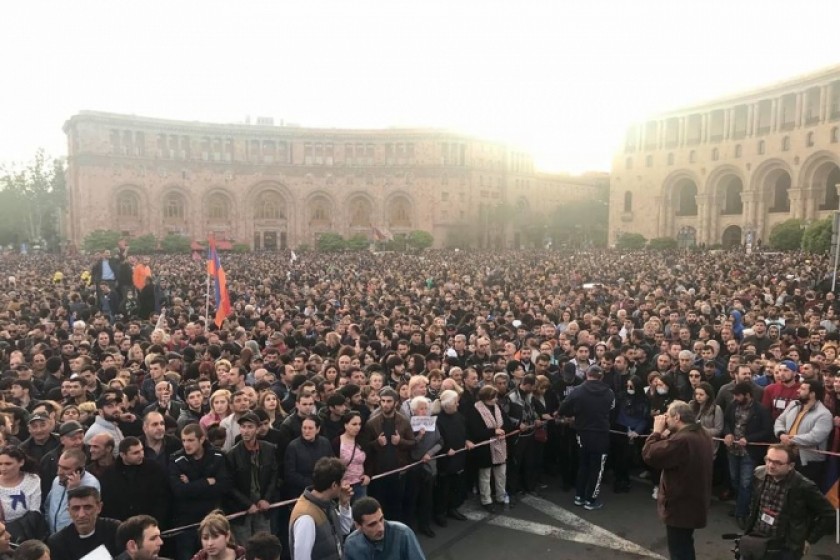 Yerevan Live: Mass Rally Kicks-Off in Republic Square
Protest Leaders Describe Conflict as a "Clash of Civilizations"
A manifestation of national solidarity, not seen since the Karabakh Movement rallies of the late 1980s, is unfolding in Yerevan.
Thousands are assembled in Republic Square, culminating a day of protests aimed at ousting Serzh Sargsyan as prime minister and his Republican Party of Armenia's governing clique.
Various artists and other prominent individuals are addressing the crowds, voicing their solidarity with the people and the struggle to, once and for all, usher in a new dawn of freedom and dignity in Armenia.
The wives of arrested Yelk Alliance MPs Nikol Pashinyan and Ararat Mirzoyan are also at the square.
Speakers reiterated that during yesterday's meeting between Pashinyan and President Sarkissian, the anti-government forces specified that any negotiations would solely revolve around the resignation of Sargsyan and the transfer of power.
This morning's three minute meeting between Pashinyan and Sargsyan was labelled as a "chess game" by the wily Sargsyan to intimidate the protesters.
Rally speakers told the crowd that starting tomorrow citizens must self-organize and carry out protest actions here and there, in Yerevan and the provinces, dispersing when police arrive and returning when they leave.
One positive noticeable sign, in addition to the thousands who showed up despite of protest leader Pashinyan, is that fact that others have easily filled the breach, providing moral support and tactical direction to the crowd.
Protest leaders called for a nation-wide school boycott starting tomorrow.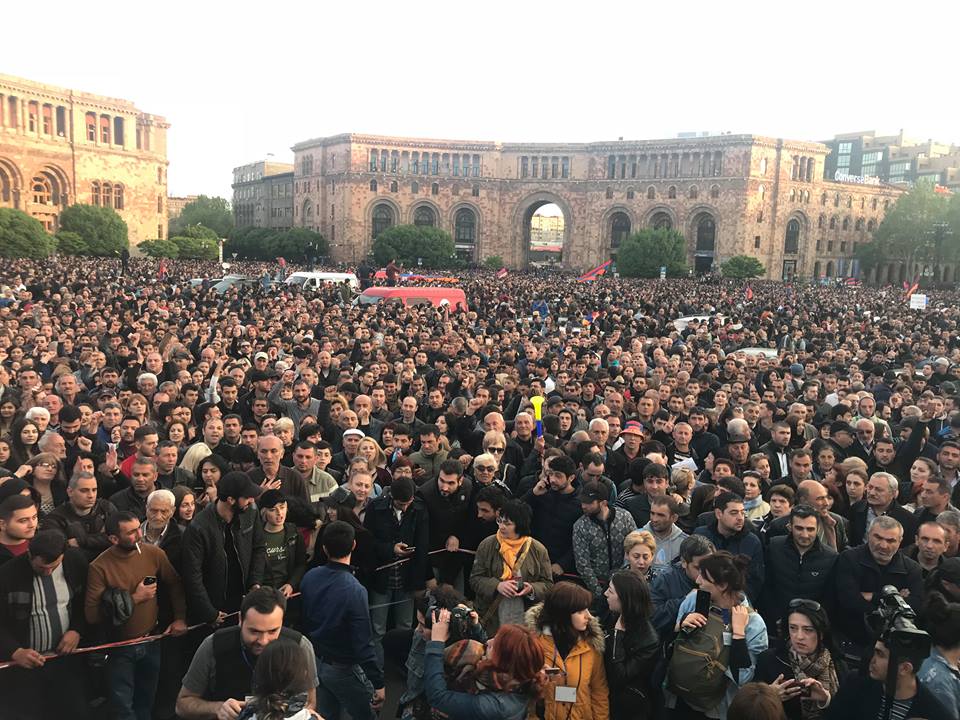 Note to Readers: Today is the tenth day of protest in Armenia calling for the resignation of Serzh Sargsyan as prime minister and the transfer of power out of the hands of the ruling Republican Party of Armenia to the people. Earlier today, protest leader MP Nikol Pashinyan briefly met with Sargsyan, who balked at Pashinyan's demand that he resign. Sargsyan got up and left after three minutes. In a veiled threat, Sargsyan alluded to the unrest of March 1, during which ten people died. Sargsyan argued that Pashinyan had no right to speak in the name of the people. A hour later, Pashinyan was detained and subsequently arrested.