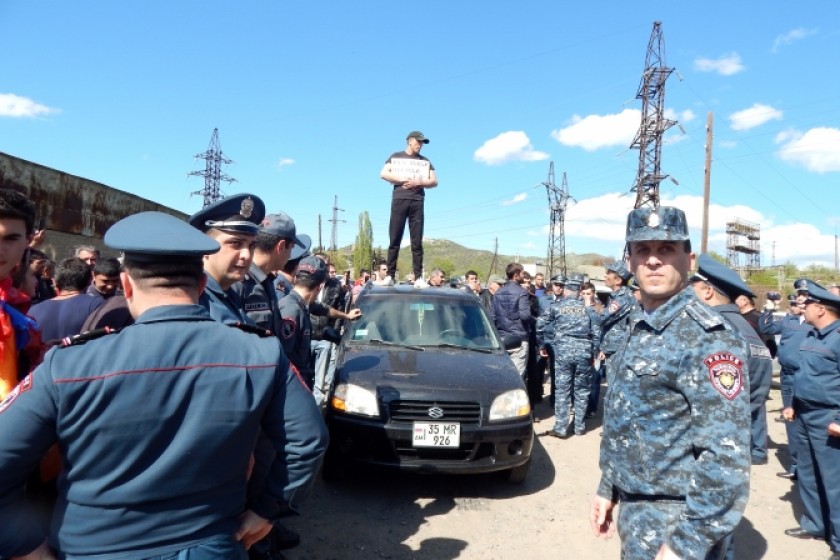 Bargratashen Border Crossing Blocked for Three Hours as a Sign of Protest
At around 3pm today, protesters from nearby towns and villages shut down traffic on the Noyemberyan-Alaverdi roadway, moving on to blocking Bargratashen Border Crossing in around half an hour. For three hours, Chief of Tavush Marz Police, Colonel G. Grigoryan could not convince demonstrators to unblock the border crossing.
After three hours of failed negotiations, Tumanyan Regional Police arrived at the scene. One of the policemen lied to the protesters, saying that protest leader Nikol Pashinyan, detained earlier , was released. Hearing this "news", the protesters willingly opened up the road at around 6.30 pm, announcing that they would gather again on April 23, at 8am.
Note to Readers: Today is the tenth day of protest in Armenia calling for the resignation of Serzh Sargsyan as prime minister and the transfer of power out of the hands of the ruling Republican Party of Armenia to the people. Earlier today, protest leader MP Nikol Pashinyan briefly met with Sargsyan, who balked at Pashinyan's demand that he resign. Sargsyan got up and left after three minutes. In a veiled threat, Sargsyan alluded to the unrest of March 1, during which ten people died. Sargsyan argued that Pashinyan had no right to speak in the name of the people. A hour later, Pashinyan was detained and subsequently arrested.