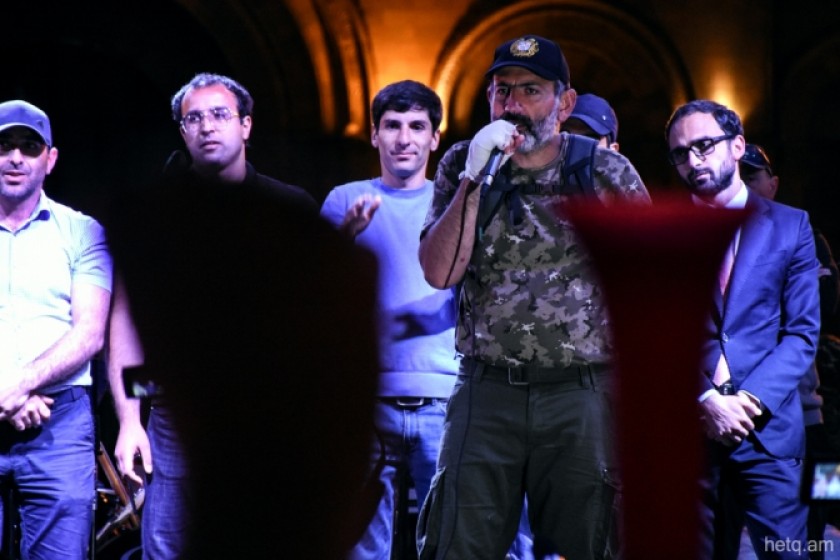 Nikol Pashinyan - Either I'm Elected Prime Minister of Armenia or No One Is
"Either I'm elected with the support of the people, by their demand, or else no prime minister will be elected in Armenia."
While Armenian government representatives were having phone conversations and meetings with their Russian counterparts, anti-government protests continued in Yerevan and throughout Armenia.
At this evening's rally in Republic Square, leaders of Armenia's "Velvet Revolution" reaffirmed their goal – to hold parliamentary elections after Nikol Pashinyan is appointed prime minister.
The parliament is slated to elect a new prime minister on May 1, but Pashinyan and his team say they will not accept the results given that the legislature is controlled by the Republican Party of Armenia (RPA). They accuse the party, which has ruled Armenia for the past twenty years, for intimidating and bribing voters, thus delegitimizing the entire electoral process.
Yelk Alliance Faction MP Ararat Mirzoyan and member of the Civil Contract political party board called on RPA MPs to do the honorable thing and vote in favor of Pashinyan on May 1.
"Doing anything else would shame you and would not be legitimate because the people of Armenia will not accept it," Mirzoyan said.
Mirzoyan said that Pashinyan's government would be temporary, followed by free and fair parliamentary elections.
Protest leader MP Nikol Pashinyan, who heads the Yelk Alliance Faction, claimed that the people at last night's rally nominated him as their candidate for prime minister and that he expected the other parliamentary factions to reaffirm this fact.
"But let me clearly stress that my becoming prime minister isn't the issue, but rather the removal of the corrupt and anti-people regime. There can be no compromise with the corrupt regime," Pashinyan said today, adding that there wouldn't be any back-door deals with anyone.
Pashinyan's message to parliament deputies was simple: "Either I'm elected with the support of the people, by their demand, or else no prime minister will be elected in Armenia."
Pashinyan called on the people to focus all their energies on May 1, when, "the people of Armenia must show its maximum strength".
On April 25, RPA MPs met with Serzh Sargsyan, who resigned as prime minister on April 23, and Acting Prime Minister Karen Karapetyan. The MPs said they were willing to discuss any issue with any side in the impasse, authorizing Karapetyan to negotiate on their behalf.
From the stage, Pashinyan publicly invited Karapetyan to Yerevan's Marriott Hotel tomorrow at noon for another round of negotiations on condition that the members of the press are present.
The protest leader told the crowd that the movement would be changing its tactics in the run-up to May 1. Rallies will be organized first in Gyumri and then Vanadzor, giving activists and movement leaders a two day break.
If you found a typo you can notify us by selecting the text area and pressing CTRL+Enter