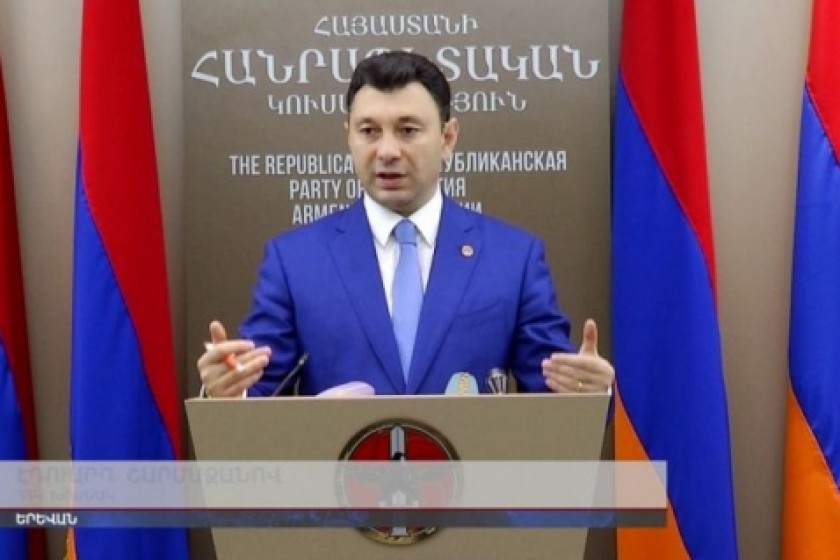 Republican Party of Armenia Will Not Nominate a Candidate in the May 1 Election for Prime Minister
The Republican Party of Armenia (RPA) will not nominate a candidate for prime minister in the May 1 election.
The news was announced today by RPA spokesman and National Assembly Vice President Edward Sharmazanov.
Sharmazanov told reporters that the move was aimed to deflating tensions in the country and out of national security concerns.
The RPA controls a majority in the parliament and had been expected to nominate acting prime minister Karen Karapetyan for the post.
Serzh Sargsyan resigned as prime minister on April 23, creating a political vacuum in Armenia.
Yelk Alliance MP Nikol Pashinyan, who had spearheaded a protest movement to oust Sargsyan, has since stated that he is the "people's candidate" for the post of prime minister and should be elected.
Pashinyan has been calling for a mass protest rally in Yerevan on May 1 to oppose any move by the parliament to elect Karapetyan, also a member of the RPA, to the post.
Sharmazaov gave no indication as to whom he and other RPA MPs would vote for.
Before voting, the four parliamentary factions can nominate their own candidates.
Prosperous Party of Armenia faction, headed by Gagik Tsarukyan and the second largest parliamentary faction, is scheduled to make an announcement on the matter later today.
If you found a typo you can notify us by selecting the text area and pressing CTRL+Enter