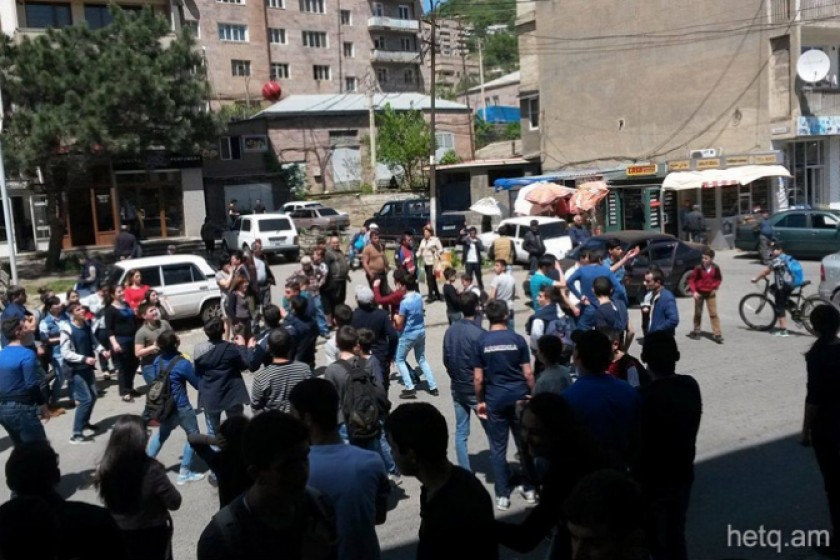 Kapan: Pashinyan Supporters Close Yerevan-Meghri Highway
Residents of Kapan, the capital of Armenia's southern Syunik Province, have closed the highway leading to the town of Meghri, on the border with Iran.
Armen Parsadanyan, President of Kapan's Sustainable Development NGO, told Hetq that protesters have closed off several street in the town as well.
Parsadanyan says that protesters plan to keep the highway blocked during the night as well, thus preventing trucks from the Zangezour Copper-Molybdenum Kombinat from transporting ore out from the mine.
There are now some 250 people protesting outside the Kapan Municipality, calling for the ouster of the Republican Party of Armenia from government.
Note: Today, throughout Armenia, people are protesting yesterday's failure by the National Assembly to elect Nikol Pashinyan prime minister. Pashinyan, the "people's candidate" lost the election 56-45. All 56 opposing votes were cast by the Republican Party of Armenia. After the vote, Pashinyan called on his supporters to relaunch their acts of civil disobedience on an even greater scale intending to paralyze the country. The National Assembly will vote again next week. (The original tally of 55 opposing votes released by the National Assembly was incorrect. After the tally, one MP said his ballot against Pashinyan wasn't counted.)
If you found a typo you can notify us by selecting the text area and pressing CTRL+Enter