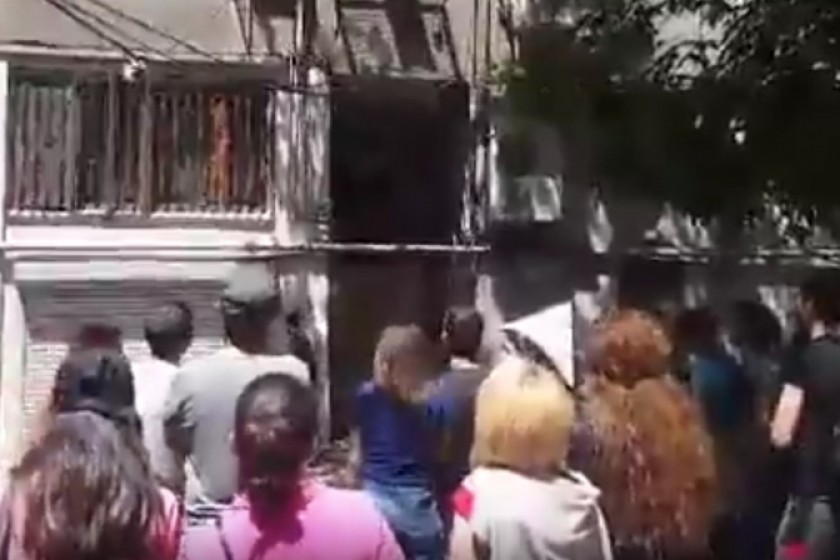 Yerevan: Pashinyan Supporters Demonstrate Outside Homes of RPA MPs
Groups of Nikol Pashinyan supporters today demonstrated outside the homes of several Republican Party of Armenia (RPA) MPs, to protest their actions yesterday at Nikol Pashinyan's confirmation hearing for the post of prime minister.
All 56 votes opposing Pashinyan's candidacy were cast by the RPA.
Boun TV co-founder Kristineh Armenakyan told Hetq that protesters demonstrated outside the homes of Shoushan Petrosyan, Karineh Ajemyan, Khosrov Harutyunyan, Armen Ashotyan, Artashes Geghamyan, and Vahan Harutyunyan.
Protester Anna Davtyan said that MP Shoushan Petrosyan was seen at the window videoing the demonstrators outside.
Note: Today, throughout Armenia, people are protesting yesterday's failure by the National Assembly to elect Nikol Pashinyan prime minister. Pashinyan, the "people's candidate" lost the election 56-45. All 56 opposing votes were cast by the Republican Party of Armenia. After the vote, Pashinyan called on his supporters to relaunch their acts of civil disobedience on an even greater scale intending to paralyze the country. The National Assembly will vote again next week. (The original tally of 55 opposing votes released by the National Assembly was incorrect. After the tally, one MP said his ballot against Pashinyan wasn't counted.)
Video: Armen Uzunyan
If you found a typo you can notify us by selecting the text area and pressing CTRL+Enter