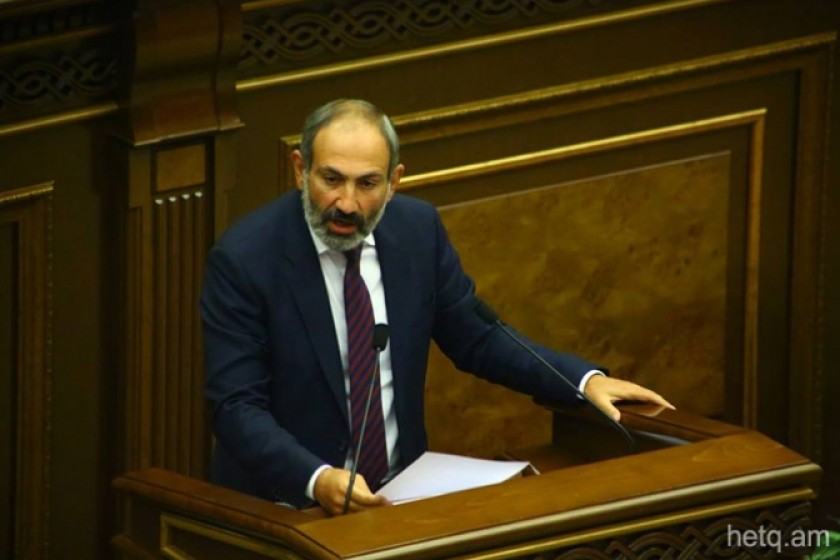 Pashinyan Promises All Equal Under the Law
Earlier today, at his confirmation hearing before being elected as Armenia's next prime minister, Nikol Pashinyan reaffirmed his commitment that all citizens would be equal under the law.
"There will be no privileged people. There will be no fraudulent elections. Bribes will not be given. There will be no artificial economic monopolies. All will be able to engage in whatever business they want. Corruption in the country will be rooted out," Pashinyan told parliamentary deputies, laying out his policy vision if elected.
Yelk Faction MP Lena Nazaryan nominated Pashinyan's candidacy for prime minister, saying it caused her great joy to present the people's candidate for the post.
Dear colleagues, today you have an exceptional opportunity not to go against the people of Armenia. I call on you to seize this opportunity," Nazaryan said.
Pashinyan noted that on this day in 1992, the town of Shushi was liberated from Azerbaijani control, and that his "revolution of love and harmony" not only does not threaten the security of Artsakh but opens new doors for its statehood.
He also called on Armenians living overseas to launch a great repatriation drive that will result in a better demographic picture in Armenia.
Pashinyan told MPs that Armenia would witness tremendous growth in tourism in the second half of 2018 since "people will want to visit the country that carried out a revolution of love and harmony".
As to his foreign policy approach if elected, Pashinyan said it would focus on serving the interests of Armenia and its people, reaffirming there wouldn't be drastic changes.
If you found a typo you can notify us by selecting the text area and pressing CTRL+Enter