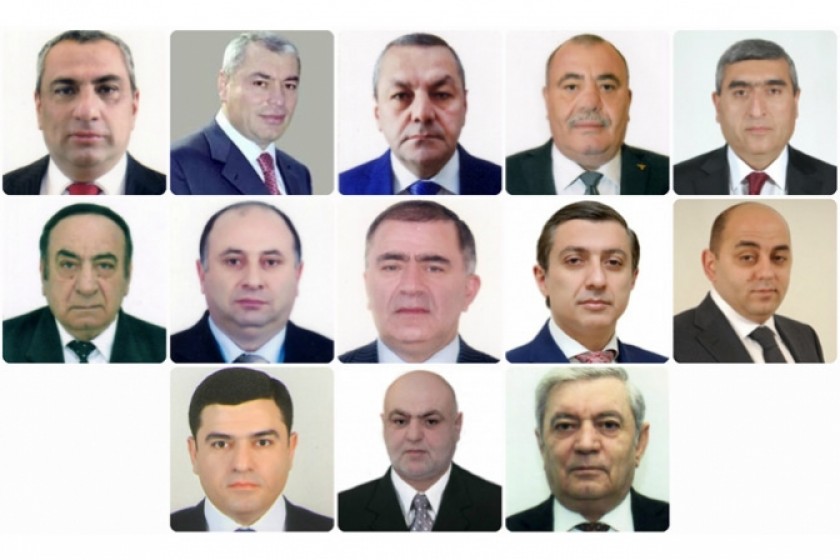 Thirteen Republican Party of Armenia Faction MPs Vote for Pashinyan
Before today's vote to elect the next prime minister of Armenia, Republican Party of Armenia (RPA) faction head Vahram Baghdasaryan announced that RPA was going to give 10 + 1 votes to Nikol Pashinyan,the only candidate in the running, who already had the 46 votes from Yelk, Tsarukyan and ARF factions sown up. He needed 53 votes to be elected. However, after the voting, it became clear that thirteen MPs from the RPA faction voted in his favor. The final vote tally was 59 to 42.
The thirteen MPs are mainly businessmen, generals, and representatives of national minorities. Five out of thirteen are not members of the Republican Party of Armenia.
1. Samvel Alexanyan - non-partisan, businessman
2. Ashot Arsenyan - RPA, businessman
3. Arayik Grigoryan - RPA, businessman
4. Manvel Grigoryan - non-partisan, general
5. Shirak Torosyan- "Powerful Motherland" party
6. Knyaz Hasanov - RPA, Yezidi community
7. Arsen Mikhailov - RPA, Assyrian community
8. Murad Muradyan - Republican Party of Armenia
9. Mihran Poghosyan - RPA, businessman
10. Arman Sahakyan - RPA, businessman
11. Artak Sargsyan - RPA, businessman
12. Seyran Saroyan - non-partisan, general
13. Felix Tsolakyan - non-partisan, general
If you found a typo you can notify us by selecting the text area and pressing CTRL+Enter