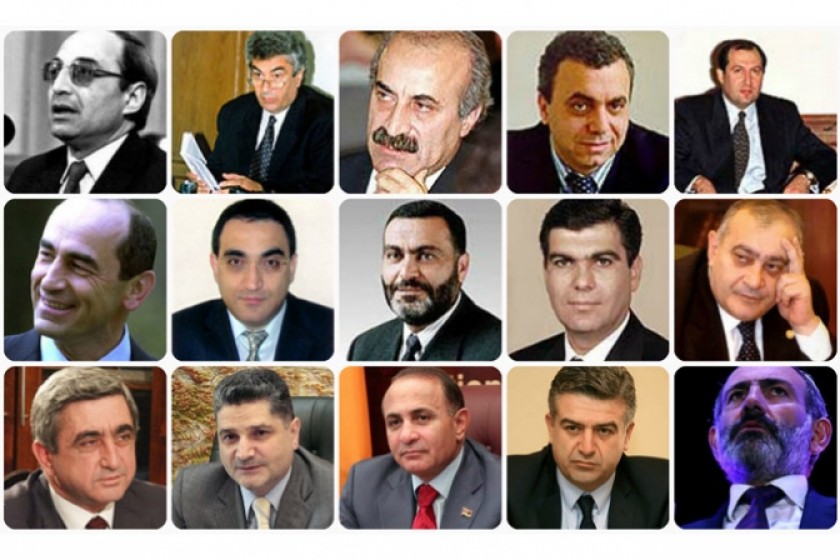 Nikol Pashinyan, Independent Armenia's 15th Prime Minister
Nikol Pashinyan was elected prime minister of Armenia today, the fifteenth person to hold the post since the country declared its independence in 1991.
Armenia's first prime minister was Vazgen Manukyan. He was appointed President of the Council of Ministers by Armenia's Supreme Council on August 13, 1990. He resigned on September 26, 1991, five days after the country declared its independence.
Hrant Bagratyan, the economy minister and First Deputy President of the Council of Ministers, served as acting prime minister from September to November 1991.
Levon Ter-Petrosyan, Chairman of the Supreme Council of Armenia, was elected the country's first president on October 16, 1991. Ter-Petrosyan appointed the government members.
Gagik Harutyunyan, Armenia's first and last vice-president, served as acting prime minister from November 22,1991 to July 30, 1992. (The post of vice-president was later abolished)
Khosrov Harutyunyan replaced Gagik Harutyunyan and served until February 1993.
Khosrov Harutyunyan was replaced by Hrant Bagratyan, who served as prime minister until November 1996. Bagratyan left the office amidst the political crisis created by the September 1996 presidential election in which Levon Ter-Petrosyan declared victory.
Ter-Petrosyan replaced Bagratyan with Armen Sarkissian, who is now the president of Armenia. Sarkissian served until February 1997 when he resigned, allegedly for health reasons.
On March 20, Ter-Petrosyan replaced him with Robert Kocharyan, then the president of Artsakh. In February 1998, when Ter-Petrosyan and his team were stepping down over the Karabakh issue, Kocharyan took over and was elected Armenian president in a snap election held on March 30, 1998.
In April, Kocharyan appointed Armen Darbinyan prime minister. His tenure was short-lived. The "Unity" alliance won the parliamentary elections held on May 30, 1999. Kocharyan appointed its candidate, Vazgen Sargsyan, prime minister in June 1999. Sargsyan was killed in the October 27, 1999 attack on the National Assembly that killed seven others, including parliament speaker Karen Demirchyan.
To calm tensions in the country, President Kocharyan appointed Vazgen Sargsyan's brother Aram Sargsyan as prime minister, only to fire him soon afterwards.
President Kocharyan appointed Andranik Margaryan prime minister in May 2000. He served until his death on March 25, 2007. Kocharyan replaced him with Serzh Sargsyan.
Serzh Sargsyan was elected Armenian president on February 19, 2008, appointing Tigran Sargsyan as prime minister. Tigran Sargsayn served for six years, resigning in April 2014.
President Sargsyan replaced him with Hovik Abrahamyan, then the parliament speaker.
Ambrahamyan resigned in September 2016, to be replaced by Karen Karapetyan.
Karapetyan served as prime minister until April 17, 2018, when, according to the changes made to the constitution, the government transitioned to a parliamentarism with a strengthened prime ministerial post and whereby, for the first time, it would be an elected office.
Outgoing President Serzh Sargsyan was elected prime minister on April 17 but was forced to resign six days later in the face of widespread protests and civil disobedience spearheaded by Nikol Pashinyan.
Between April 23 and May 8, when Nikol Pashinyan was elected prime minister, Karapetyan, the deputy prime minister assumed the duties of acting prime minister.