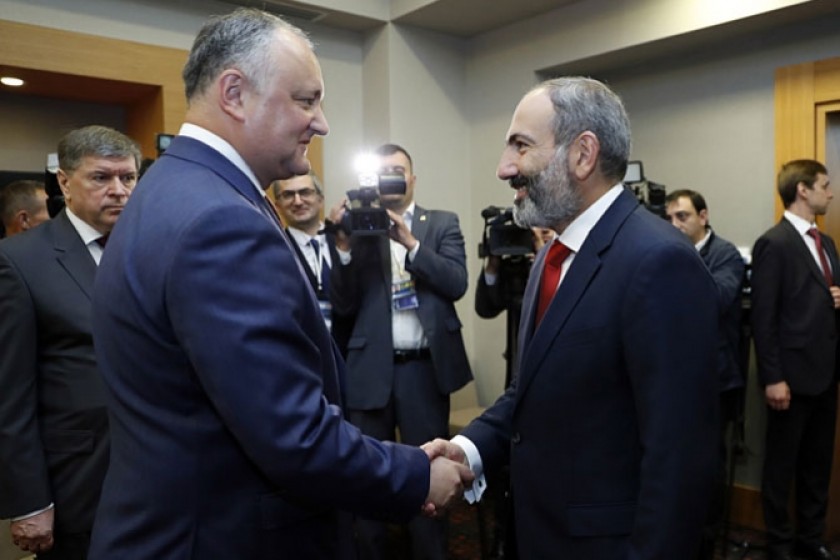 Nikol Pashinyan and Igor Dodon Discuss Armenian-Moldovan Cooperation
Prime Minister's official website informs about the meeting of Prime Minister Nikol Pashinyan and Molovan President Igor Dodon in Sochi.
Highly appreciative of the current level of Armenian-Moldovan relations, the interlocutors stressed the need for implementing consistent work for their further development. Nikol Pashinyan considered it necessary to give fresh impetus to the bilateral economic cooperation, noting that it does not correspond to the present level of political relations.
"We must take appropriate steps to boost economic cooperation. In this regard, I attach great importance to the active work of the intergovernmental commission and its upcoming sitting," Pashinyan said, adding that Armenian government's decision to open an embassy in Moldova indicates that Armenia is prepared to add momentum to bilateral relations.
Igor Dodon congratulated Nikol Pashinyan on being elected as Prime Minister and wished him every success throughout his tenure. The Moldovan leader noted that the cooperation between the two countries is developing dynamically and expressed the hope that the mutually beneficial ties will continue to strengthen and expand.
Nikol Pashinyan and Igor Dodon discussed the Armenian-Moldovian cooperation agenda in both bilateral and multilateral formats. The interlocutors considered it necessary to extend the legal framework between the two countries, by complementing the nearly two dozen treaties and agreements signed between the two countries with new ones.