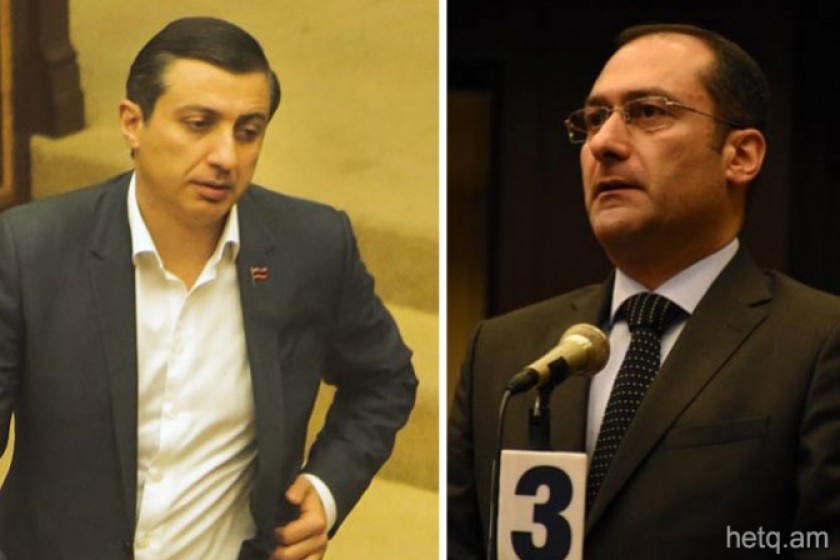 Armenian Justice Minister Must Relaunch Investigation of Mihran Poghosyan's Offshore Holdings
In 2016, after Hetq broke the story about his offshore business interests in Panama, Armenia's Special Investigative Service (SIS) launched a criminal investigation of Major General of Justice Mihran Poghosyan, Armenia's Chief Compulsory Enforcement Officer.
Hetq was part of an international team of 110 media partners that investigated the Panama Papers, a trove of internal data of Mossack Fonseca, a Panamanian legal firm doing business in offshore tax havens for clients who want to hide their identities and/or holdings.
There are Armenians included in these documents – CES chief Mihran Poghosyan and members of the families of his uncles Grigor and Mikhail Harutyunyan.
The SIS dropped the investigation soon afterwards and Poghosyan, who resigned in the publicity fallout, was then elected a deputy in the Armenian parliament on the Republican Party of Armenia ticket.
The SIS clearly conducted no investigation into the matter because it never contacted Hetq to ask to see the documents we had at our disposal.
We had hundreds of documents correspondence and other details about the companies owned by Mihran Poghosyan and his Swiss bank accounts.
Yes, the SIS conveniently shut the lid on the Poghosyan case and it never provided Hetq with a copy of the official decision to do so.
The reason is simple. To provide Hetq with a copy would prove that the SIS never conducted an investigation and that it never obtained the "Panama Papers" and never tried to.
Moreover, the SIS stretched the truth when it stated that the investigation was closed because Swiss and Panamanian authorities refused to assist in the probe.
This was a gross misrepresentation of the facts. The Swiss Federal Department of Justice rejected the SIS request for legal assistance only because it hadn't been filed properly – certain requirements were nor fulfilled.
Was such oversight intentional on the part of the SIS? Well, it never refiled its application as permitted by the Swiss.
Such a case could only have been closed if the president Serzh Sargsyan ordered it or if a large bribe exchanged hands.
In this instance, both happened. Let's remember that Mihran Poghosyan's uncles, Grigor and Mikhail, are close friends of Serzh Sargsyan.
Armenia now has a new justice minister. Minister Artak Zeynalyan can petition the proper Swiss authorities for information regarding the bank accounts held in Swiss banks by Mihran Poghosyan, his uncles Grigor and Mikhail, and Mikhail's son MP Vahan Harutyunyan.
The money held in these accounts must be returned to Armenia's state coffers.
Minister Zeynalyan must seize the opportunity and reopen the investigation into Poghosyan's offshore business dealings.
Photo (from left): Mihran Poghosyan, Minister Artak Zeynalyan