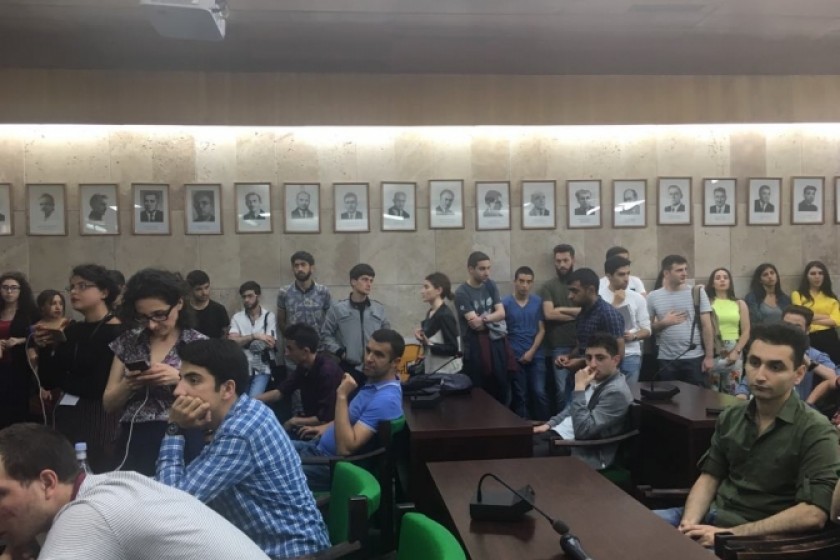 Yerevan State University Students Demand Rector's Resignation; Simonyan Decries Pressure Tactics
Yerevan State University students demanding the resignation of its rector, Aram Simonyan, continue to block the entrance to his office.
The students had declared a school strike earlier today.
Per the students' demand, they met with Simonyan and raised several issues related to the actions taken by university officials during the recent anti-government protests.
One student asked why the rector allowed police to enter the university and detain peaceful protesters. Rector Simonyan responded that it was a security measure and that the doors of the university must remain open.
The protesting students are also calling for the dissolution of the university's board of trustees, whose president is former Armenian president Serzh Sargsyan.
Simonyan said that the board is regulated by the government and that it appoints board members.
Yerevan State University (YSU) Restart initiative founder Davit Petrosyan noted that he had just learnt that the school was envisaged to serve 7,500 students but that its current enrollment is 17,000.
Petrosyan said that the overload puts a tremendous strain on the university's finances and prevents the implementation of quality education.
The student activist called for the removal of any traces of Republican Party of Armenia influence at YSU.
Rector Simonyan was evidently ill at ease during the meeting with students, labelling it as "non-constructive".
At one point, Simonyan tried to leave the auditorium but students blocked his exit. The students later let him leave and return to his office.
The rector confessed that YSU faces a number of problems but argued that nothing would be resolved through such pressure tactics.
Simonyan told reporters that serving as rector is a thankless task and that he works from morning until night. He added that he wouldn't be a candidate when his term ends.
"There are only 200-300 students here, but we have 17,000. If 2,000-3,000 students demand my resignation, I will resign. If anything happens as a result of pressure tactics, the university is finished," Simonyan said.