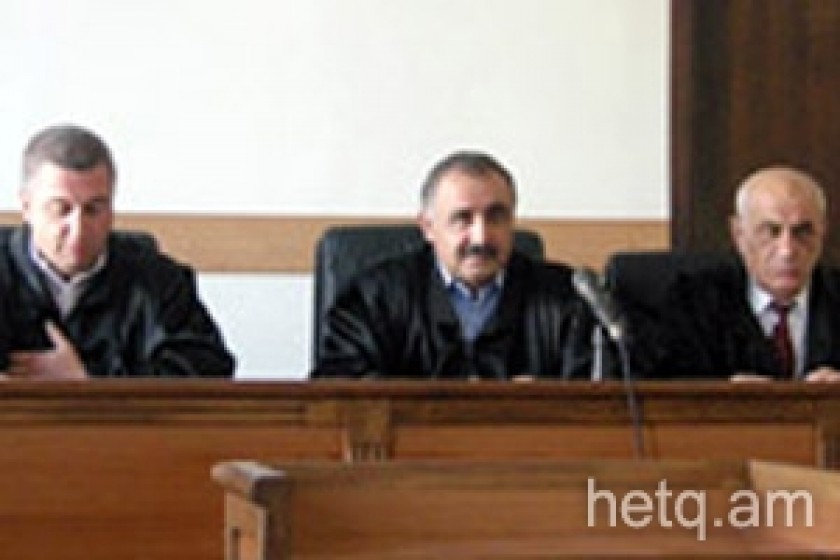 Court Reduces Sentences for Trafficking Convicts
The Court of First Instance of the Shengavit District sentenced Gayane Melkonyan and Susanna Nikoghosyan to five and two years imprisonment respectively on January 31 of this year. In 2004 and 2005, they had gathered a group of Armenian girls whom they tricked and sent to the United Arab Emirates (UAE) and Turkey to work as prostitutes. Melkonyan and Nikoghosyan, however, had started their work much earlier.
In August 2003, Gayane met a waitress named Lilit (her name has been changed to protect her privacy) at a café called Flamingo in Gyumri. After an intimate conversation with the 19-year-old girl, she discovered that the latter was in a difficult situation financially, that her parents were divorced and that she had to support them.

"She asked me how much I made. When I told her, she proposed going to Dubai and promised that the same work would earn me three times as much there. I wouldn't have to pay for the trip; everything would be arranged by the manager in Dubai," Lilit narrated.

The young girl agreed and Gayane moved her to Susanna Nikoghosyan's apartment in Yerevan the very next day. Lilit spent three days there. During that time, she heard Susanna describing her looks to someone on the phone. Moreover, Susanna sent the "manager" in Dubai a photocopy of Lilit's passport, in order to give him a better idea of what she looked like.

"I did not consider this peculiar. Even in Armenia, applicants' looks are considered important if they are seeking jobs as waitresses," noted Lilit.

Susanna also told her that there was no flight from Yerevan to Dubai. So, three days later, she took Lilit to the Zvartnots airport and put her on a flight to Moscow, where she was met at the airport by Avetik Khachatryan (Avo) and Sevak Simonyan (Sevo), who then took her to a rented apartment. They prepared a fake Russian passport in Lilit's name, stating her age as 11 years older than she was. A few days later, "30-year-old" Lilit left for Dubai.

"In Dubai, Nano (Amalya Mnatsakanyan-Matulyan) took my passport and said that working as waitress was out of the question. I had to work as a prostitute. I told her that I was not a prostitute and did not want to make money that way," Lilit recalled. According to her, Nano threatened to settle accounts with her with the help of her Arab partners or to hand her to the police without her passport.

"There were other girls in the room during that conversation. They advised me to give in, saying that things would be much worse otherwise," said Lilit. In the following days, she saw on a number of occasions how some of the other girls were punished for resisting. "Those who would resist were taken to the desert by ten or twenty Arabs, beaten brutally, raped and brought back half-dead. After seeing all that, what else could one do?" asked Lilit.

According to Lilit, Nano oversaw the prostitution of about 22 or 23 Armenian girls. The group also included minors. For each new person sent from Armenia, she would pay US $50-150, depending on the girl's age and looks. "On my second or third day in Dubai, Nano spoke with Susanna on the phone. Then she said to me, 'See, they each [referring to Nikoghosyan and Melkonyan] wanted US $150 for you,'" recalled Lilit.

Lilit sold her body for more than six months under the supervision of the pimp Nano. She made, in her own words, around US $500 a day. She gave all the money to the pimp, who sent only $100 on one occasion to Lilit's relatives. "She would say, 'If you want me to send more, work harder,'" Lilit recalled.

The Dubai police arrested Nano one day. One of her people returned the girls their passports and said that they should leave and go wherever they could. One of Lilit's Arab customers rented an apartment and they lived together there for two years. Lilit also spent a year in a Dubai prison because of her fake Russian passport. She was then deported to Armenia. She was met at the airport by policemen, to whom Lilit narrated everything in great detail.

In August 2007, the Court of First Instance in the Malatia-Sebastia District considered the above to be established by the evidence and convicted Melkonyan and Nikoghosyan on article 132 (deception and sexual exploitation) of the Criminal Code. Based on the verdict and cumulative sentence pronounced by the Shengavit court, the Malatia-Sebastia court set a final sentence of eight years imprisonment for Melkonyan and six for Nikoghosyan.

The defendants did not agree with the verdict and appealed it to a higher court. On September 27, the first session took place at the Court of Appeals, presided over by Surik Ghazaryan. The defendants mediated for an expedited legal process. Prosecutor Ashot Nadoyan objected to the mediation, because the defendants had partly accepted the charges against them. After this, Melkonyan and Nikoghosyan submitted a written statement to the court, where they pleaded guilty to all the charges made against them. Taking Nadoyan's objection into consideration, the court rejected the mediation. The defendants and plaintiff were questioned during that session and the ones following it. The defendants noted that the sentence was too harsh.

"I am only guilty of bringing Lilit to Yerevan, to Susanna's place. She knew very well why she was going to Dubai. She had told me herself that she was a prostitute in Gyumri, but that the money she made was not enough. She asked me to help take her to Dubai," said Melkonyan. Nikoghosyan said almost the same thing.

"So it turns out that you actually helped Lilit. Then why do you think that she took you to court, instead of expressing her gratitude to you?" asked prosecutor Nadoyan.

"You forced her to," replied Melkonyan.

"You have been told your rights. Why didn't you challenged me?" asked Nadoyan, and did not receive a reply.

On October 11, the Court of Appeals, Judge Ghazaryan presiding, issued a verdict. Let us also note that both defendants had claimed to be ill during the very first session of the trial. The court informed them that they needed to have documentation supporting this claim. On October 11, Melkonyan gave the court a document signed and stamped by the director of the Abovyan detention center and the head of medical services office there, according to which she had certain health problems. This was taken into consideration as a mitigating factor when sentence was passed in Melkonyan's case.

The Court of Appeals partly settled the defendant's complaints. Only the sentences passed by the Court of First Instance in Malatia-Sebastia were reduced. Melkonyan's final sentence was pronounced as six years in prison, and Nikoghosyan was sentence to five years and six months.