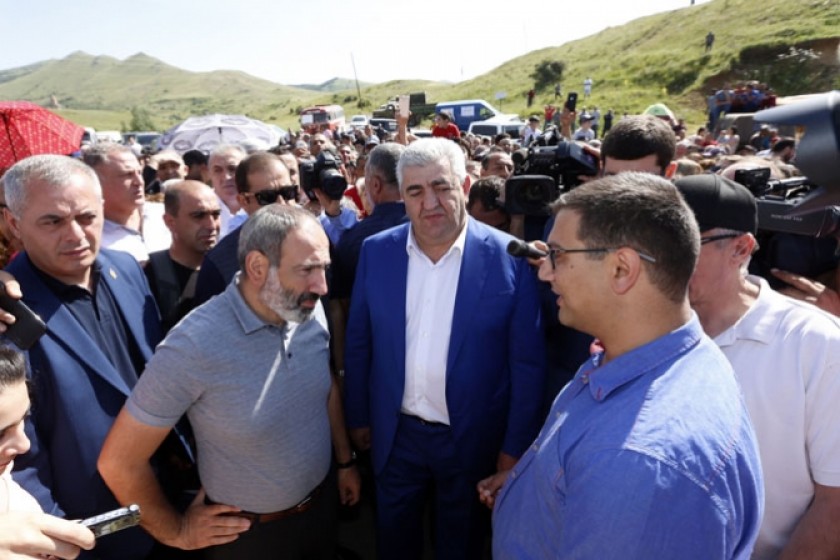 Pashinyan Meets with Amulsar Opponents and Lydian Armenia Reps; Agree to Set-Up 3 Way Talks
Armenian Prime Minister Nikol Pashinyan flew by helicopter today over the Amulsar gold mine site on what the government describes as a fact-finding mission.
Flying with Pashinyan were Levon Galstyan, a representative of the Armenian Environmental Front that opposes the mine project, and Lydian Armenia Executive Director Hayk Aloyan.
After touching down, the three made their way to the village of Vechout and met with residents and activists opposed to the mine project.
Pashinyan proposed that the activists, who have blocked roads to Amulsar for the past two weeks, have a face-to-face meeting with representatives of Lydian Armenia, the company that plans to operate the mine.
The activists said they would be amenable to such a proposal.
Pashinyan and the others then traveled to Jermouk, a major resort town in Armenia, where he said that the he would have never sanctioned a mine so close to Jermouk, but that the project was launched twelve years ago.
"We face a situation where a huge amount of investment has been made with the legal permission of the Armenian government. Right now, we have no information that any regulations have been violated. Inspections at the mine have started and will continue. We must answer two questions. We must ascertain the mine's impact on the water resources and its possible impact on the development of Jermouk as a health resort," Pashinyan said.
Pashinyan reiterated that any decision on Amulsar must be based on fact, not emotion.
Stressing the complex legal nature of the matter, Pashinyan said that any illegal move by the government could lead to serious problems from an international relations standpoint.
"I hope that all those here today understand that we, specifically I, have no interest in this case other than the balanced interest of Armenia," the prime minister said.
Pashinyan proposed that a three-way forum be set-up in which the government, activists and Lydia Armenia company officials could discuss the two above-mentioned issues and reach some mutual agreement.
The prime minister said the government would not reach any final decision on Amulsar before these questions are answered.
Activists and company officials said they are ready to participate in such a forum.
If you found a typo you can notify us by selecting the text area and pressing CTRL+Enter