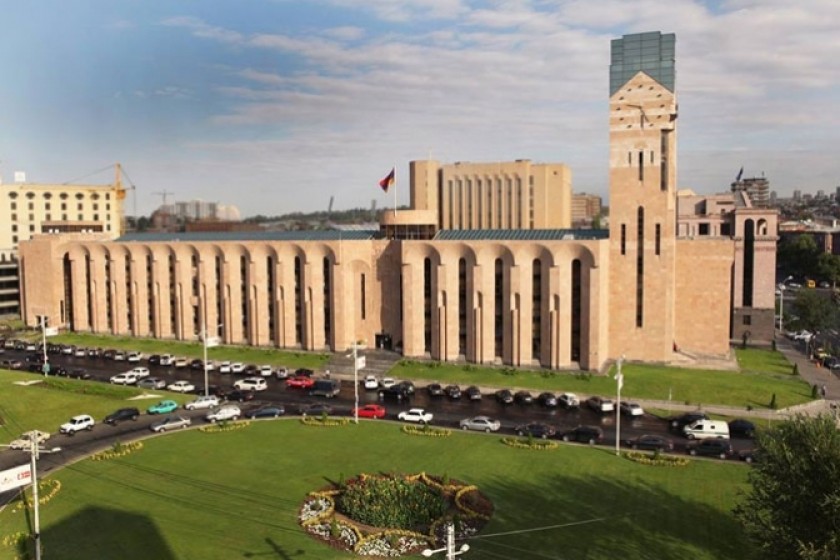 Yerevan Municipality Signs AMD 797 Million Road Repair Contract with Company Linked to Republican Party of Armenia MP
On May 5, the Yerevan Municipality signed a AMD 797 million ($1.652 million) road repair contract with a company, which, according to Hetq sources, is owned by a relative of Republican Party of Armenia MP Ashot Arsenyan.
KhachHar LLC, the company in question, is owned by Ruben Baghdasaryan. Hetq's sources in the Yerevan Municipality say Baghdasaryan is related to Arsenyan, who sits on the Standing Committee on State and Legal Affairs and Protection of Human Rights.
The contract obligates the company to repair the asphalt surface of Yerevan streets, the rainwater drains, and to fill in potholes.
This isn't the first time that KhachHar has received a large road repair municipal contract.
On January 30 of this year, the municipality signed an AMD 179 million contract with the company to repair the cracks in Yerevan streets.
In fact, in 2016, KhachHar was one of the five companies granted the largest contracts from the Yerevan Municipality.
The company has also been the focus of attention of the country's State Commission for Economic Protection (SCEP).
After examining the construction tender bids announced by the Yerevan Municipality during 2011-2014, the SCEP announced that KhachHar participated in only one of the nine tenders and revealed that the construction companies had colluded amongst themselves to determine which company would present a tender bid for each individual contract. In essence, the companies schemed to divvy up the revenues amongst themselves.
In reply to Hetq's inquiry as to whether the companies had been fined for engaging in the collusion, the SCEP says that administrative proceedings of unfair business practices had been launched but that the case was later dropped due to a lack of hard evidence.
The SCEP adds that it issued a warning to the companies to refrain from such actions in the future.
KhachHar has also won contracts with other state agencies.
In 2016, it signed an AMD 787 million contract with the Ministry of Transportation, Communications and IT to renovate the Yerevan-Sevan-Azerbaijan border roadway.
In 2017, it won an AMD 526 million contract from the Territorial Development Foundation of Armenia to repair asphalt the roads in a Jermouk neighborhood and to install paving stones.
On March 30 of this year, the Transportation Inspectorate fined KhachHar Director Abel Avagyan 1.2 million drams because one the company's 44-ton capacity freight trucks had been spotted driving on the Yerevan-Meghri highway without a permit.