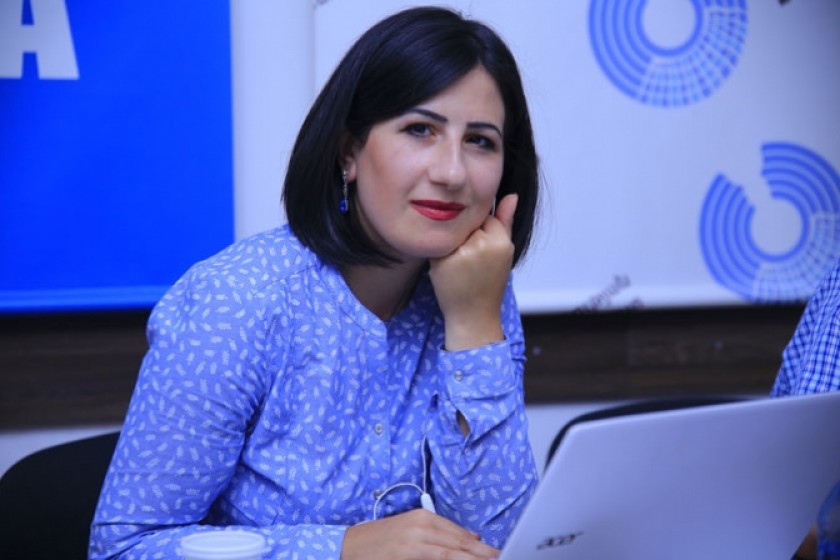 Will EU and EAEU Cooperate: How, Where and When?
Ani Yeghiazaryan
AIISA associate fellow
PhD researcher at Friedrich-Schiller-Universität Jena (Germany)
Summary Points
In late 2000s Putin's proposal to establish aneconomic integration space from Lisbon to Vladivostok—Russian version of "Greater Europe"—inherentlycame to "supplement" the concept of Robert Schuman's "Wider Europe", or more exactly its modifications, outlined by former French president Charles de Gaulle and German Chancellor Willy Brandt.
Unfolded deep and lasting political crisis between the West and Russia over Ukraine since 2013, and Russia's hostile attitude towards EU Eastern policies—Eastern Partnership program and its member countries sovereign policies,have accumulated a range of serious obstaclespreventing institutional cooperation between the two integration projects: the EU as the most successful project of economic and political integration, and the Eurasian Economic Union (EAEU) as a newly launched and functioning economic integration unit.
Positive signals from both the EU and/or it's leading countries and Russia are episodically tracked in recent years by policy analysts, making them optimistic regarding probable interaction between the two.
EU-EAEU cooperation willarguably be profitable particularly for the second (of course, some EU member states will also benefit), which will have a complementary effect and increase mutual dependency economically.
Possible EU-EAEU cooperation will contribute to rise of the level of trust amid the two unions and stabilize the wider European and Eurasian areas.
While eliminating sanctions and all obstacles are conditionedby and requires tough mutual concessions on both sides,Armenia and CEPA (Comprehensive and Enhanced Partnerhsip Agreement) may become the first test and platform for the dialogue between the EU and EAEU, predetermining other opportunities for their further cooperation.
INTRODUCTION
The concept of "Wider Europe" appeared in mid-20th century in the West. On May 9, 1950 French foreign minister Robert Schuman proposed to found a common agency to control production of steel and coal in France and Western Germany. Implementation of that proposal has led to establishment of European Coal and Steel Community (ECSC). The idea, whichwas meant to contribute to overcoming destructive implications of WWII and making the war in Europe "actually impossible", ultimately made establishment of a single market and free move of people, goods, services, workforce and capital a reality.
On May 9, when Schuman voiced his proposal in the name of French government, every year is marked as Europe's Day, and he himselfis considered one of the founding fathers of the European Union. Schuman believed that consolidation of the people in Europe requires elimination of age-old confrontation between Germany and France, which were to firstly get engaged with all activities to that end. According to Schuman unification of production of coal and steel should have directly provided establishment of a general basis for economic development and was to become the first step toward foundation of Europe's Federation. At the same time, Schuman considered that "Europe will not be made all at once or according to a single plan. It will be built through concrete achievements, which first create a de facto solidarity[1].
After Schuman, former French president (1959-1969) Charles de Gaulle, one of the dreamers of "Whole Europe,"circulated the expression "Europe—from Atlantic to the Urals" meaning political rapprochement of France and Federal Republic of Germany (FRG) with USSR, as well as other countries in the Warsaw bloc. It was in line with Gaulle's foreign policy course, which envisagedincrease of France's role in Europe, counteraction to US influence, and certain distancefrom NATO. In his historical speech in Strasbourg in 1959 Charles de Gaulle said, "Yes, the whole of Europe, from Atlantic to the Urals, is going to decide the fate of the world."
Later on, this slogan was repeatedly voiced, becoming a new word in international relations, while prior to that,global policy was based on the paradigm of Cold War—confrontation of two military-political and ideological blocs. Charles de Gaulle's this statement became a sensation in both blocs, as by that he expressed against the entire axiom of the then international relations. However, de Gaulle had already managed to surprise everyone by advocating for creation of the union of France and FRG, which was an incredible initiative for that period, indeed: France fought against Germany during the first and second World Wars, and de Gaulle personally participated in both wars (he was wounded three times at WWI in fights against Germans, also was taken hostage). Despite all that, de Gaulle believed that elimination of age-old hostility between two European giants might establish lasting peace in Europe, thatits two powers should unite for the sake of exclusion of a great war in the continent. By that, de Gaulle put forward the idea of "Common European Home"—from Atlantic to the Urals, in which USSR was to become the third inseparable guarantor of European security.
The policy of German Chancellor Willy Brandt (1969-1974),known as "New eastern policy" (Ostpolitik), was addressed to mitigation of tension between Eastern and Western Europe. The first summit of the heads of governments of FRG and DRG (Democratic Republic of Germany)was launchedin Erfurt on March 19, 1970, which initiated symbolic rapprochement of the two German states. On August 12, 1970, in Moscow W.Brandtsigned a treaty with A.N.Kosygin, First Deputy Chairman of the Council of Ministers of USSR,thus accepting the postwar European borders as inviolable and laying the foundation for agreements of FRG with Eastern European countries. Brandt was awarded Nobel Peace Prize for contributing to weakening of tension between the East and the West.
In the 1980s USSR leader Mikheil Gorbachev also expressed in favor of "Common European Home". However, after the collapse of the USSR the idea of "Greater Europe" was left out from the political agenda for a certain period and appeared already in the 21st century.
Thus, taking Schuman's concept, later on evolved by the scenario of making Europe whole and at peace, as well as Charles de Gaullle's approaches and Willy Brandt's policy as a ground, it can be generalized thatall these initiatives were targeted at bridging the gap between eastern and western blocs, by taking into consideration existent realities of the bipolar world order.
From Lisbon To Vladivostok
The concept of "Wider Europe" from Lisbon to Vladivostok came to be broadly used in the 2000s. In 2001 Romano Prodi, President of the European Commission, proposed the EU and Russia to establish a pan-European economic space. This edified that for the European side the concept of "Wider Europe" was also acceptable in the 21st century. The issue has repeatedly been discussed at EU-Russia summits giving an impressionthat both the EU and Russia are ready to pass on to gradual functioning of the "Greater Europe" concept. The above-mentioned discourses on "Whole or Wider Europe"were well-known in Russia, accordingly, being transformed into aRussian versionon "Greater Europe,"which is based on calculation of approaches, not endangering its traditional zones of influence.
However, in the 2000s two prominent events were recorded, which had a negative effect on the atmosphere of trust amid the sides.
1) 10 countries joined the EU in 2004—Czech Republic, Estonia, Hungary, Latvia, Lithuania, Poland, Slovakia, Slovenia, representing Central and Eastern Europe, and the Mediterranean states Cyprus and Malta. Although based on GDP indices this was the EU's smallest enlargement, on the other hand, it was the EU's biggest enlargement from the dimension of the population and territorial indices. It's noteworthy to mention that in the very 2004 NATO's fifth enlargement was recorded, when 7 countries joined the alliance—Bulgaria, Latvia, Lithuania, Romania, Slovakia, Slovenia, Estonia. All this is significant given the fact that countries not only from post-socialist camp, but also from the very post-Soviet space have joined NATO as well as the EU.
2) Russia-Georgia war erupted in August 2008, followed by recognition of Abkhazia and South Ossetia by Russia, as well as strengthening the latter's military presence on those territories. Due to this the developments that followed, the concept of "Greater/Wider Europe," as well as the issue of visa-free regime were timely left out from the agenda.
Nevertheless, Russian authorities were constantly expressing in favor of implementation of their vision of "Greater Europe", realizing that it may provide Russia numerous political and economic privileges. 1) Free access to European technologies and borrowing of productive legal mechanisms would provide Russia the opportunity to implement the awaited modernization, increase flow of investments, make the country more attractive for business and raise its competitiveness. 2) If Russia was recognized a full part of Europeancivilization area, system of values, then this would be positively reflected on its image, which is of no less importance for partners and investors. 3) The heritage of Cold War would have been eliminated, and cancellation of dividing lines would provide the opportunity to radically change Europe's security system, where Russia could hold a crucial place[2]. Besides, Russia would gain the opportunity to reduce big expenditures made in the military field and address economized amounts to diversification and modernization of economy.
All this shows why Russia was interested in implementation of the concept of "Greater Europe", and why its posture didn't change from the August 2008 war either and worsening of relations with the West as a result. Moreover, this posture of Russian authorities didn't change externally in 2009 either after launching of the Eastern Partnership (EaP) program by the EU, tended to approaching six post-Soviet countries (Armenia, Georgia, Ukraine, Moldova, Azerbaijan, Belarus) to the EU. It was linked to Russia's, first and foremost, economic andnot political calculations, as in fact, Russia was against the EU's enlargement to the east.
Russia's president Vladimir Putin's interview with Süddeutsche Zeitung in November 2010 entitled "Russia and Europe: conceptualization of crisis lessons—toward new agenda of the partnership" edifies Russia's this posture, which preceded V.Putin'svisit to Germany to participate in the forum organized by leaders and top-managers of Germany's leading companies. Stating that the global financial crisis of 2008 generated local conflicts, reduced capability of the international community to come to an agreement around sharp issues, Putin stressed pondering over further ways and risks of the development, "Europe should also consider its own vision for the future, and we also propose to develop it together through partnership of Russia and the EU. That would be our joint claim for reaching competitiveness and success in the contemporary world. Frankly speaking, both Russia and the EU are rather vulnerable in economic dimension. The crisis clearly showed it. It should also be added that current level of cooperation of the EU and Russia obviously doesn't comply with challenges we face. To change the situation it's necessary to use the realities and possibilities available both in the EU and Russia. What we propose: 1) First and foremost, it's harmonious economic cooperation from Lisbon to Vladivostok, and later on, alsocreation of a free trade zone and even more primary formats for economic integration. In fact, we'll gain a continental market with the volume of trillions of euros. Obviously it's necessary to eliminate all the obstacles for its launching, which lie on the way to Russia's engagement with World Trade Organization (WTO)[Russia joined WTO in 2012-author]. 2) We offer single industrial policy based on unification of Russia's technological and resource potentials. 3) The idea of creating asingle European energy complex literally knocks at the door. After the collapse of the USSR Russia was deprived of the exit to giant export markets, the issue of transit countries emerges, which striveto use their monopolistic position to gain unilateral privileges. Thus, the well-known conflicts erupted. Naturally, that situation didn't correspond to interests of Russia, as well as our energy resources consumers. 4) Real partnershipin our continent is impossible as long as obstacles preventing human and business interactions exist. The main one is the visa regime between the EU and Russia. We consider visa cancellation should become not the end of real integration of the EU and Russia, but the start. Today, under the new historical conditions, we have the opportunity to build a consolidated and prosperous Europe[3]."
Putin's these words edify that economies of the EU and Russia are complementary, that the EU has big technological potential, and Russia—big potential for resources. Nevertheless, obviously, if all programs Putin pointed at (cancellation of visa regime, establishment of single energy system andfree trade zone, obtaining contemporary technologies) became a reality, economically more weakly developed Russia would have gained more. Of course, it's clear that alongside with this prevention of the EU's enlargement to the east on account of his traditional zones of influence remained in V.Putin's political goals.
In addition, in the very 2010 Russia's president Dmitry Medvedev at NATO-Russia summit in Lisbon formulated Russia's proposals on military-strategic partnership with the EU in security issues (after the 2008 August war was launched for the first time). Thus, clear separation of roles was defined: Medvedev stated military-political and defense aspects for Russia-Europe integration, and Putin—economic and energy ones. It's noteworthy that in 2000 Russia's acting president Putin didn't even exclude Russia's membership to NATO, "Why not. I don't exclude such an opportunity, if Russia's interests will be considered in that case, if Russia will be an equal partner[4]."
V.Putin stated on his proposals on common economic space from Lisbon to Vladivostok also in 2014, 2015 and 2016, i.e. after the well-known developments in Ukraine. On account of the abovementioned notaccidentally the very Russia would more benefit from implementation of joint economic projects with the EU, which appeared under Western sanctions linked to the Ukrainian developments, and naturally, strived to get rid of that burden as soon as possible. The Russian side attempted to make it possible also by showing its interest in implementation of "Greater Europe" project. For instance, in April 2014 Putin stressed establishment of "Greater Europe" from Lisbon to Vladivostok, not to turn EU and Russia into minor actors, from which nothing will depend, "If we don't do that we won't have the opportunity to have a worthy place in the future world. If we take this course, divide Europe, European values and nations, encourage separatism, we'll be of less significance, we'll be uninteresting actors and won't have any influence on global development and even our own development. Russia's peculiarities don't radically differ from European values. We are all people of one civilization. Yes, we are all different, we have our own features, however, our in-depth values are identical. We are a part of a common, Christian civilization, we want to establish friendly relations with all our partners both in the West and in the East[5]."
Significantly enough, Putin'sthis speech was preceded by "holding a referendum" in March in Crimea in 2014, which wasn'trecognized by the West resulting in imposition ofsanctions against Russia. Nevertheless, Putin indirectly urged the West to forget about Crimea and insisted that Russia "shares European values". Putin also perfectly knew what should be done, in his words, to establish friendly relations with all their Western partners. However, instead he attempted to convince the EU that the "only exit" not to turn into a minor actor and to have a serious weight is closing eyes on Russia's recent activities in Ukraine and creating "Greater Europe" from Lisbon to Vladivostok.
In June 2016 Putin expressed conviction that it's necessary tolearn lessons from the developments in Ukraine and pass on to foundation of economic and partnership zones from Atlantic to the Pacific Ocean. On that way Putin stressed harmonization of European and Eurasian integration processes and named EU-EAEU cooperation a basis for establishment of a common space from Atlantic to the Pacific Ocean, "There are no insoluble issues in relations with the EU. To return to multi-plan partnership it's necessary to refrain from the game of "one gate", in fact, opinions and interests of one another should be taken into consideration. Common economic and humanitarian space from Atlantic to the Pacific Ocean may be established in the perspective. Currently Russia and the EU are close to resolution, when it's necessary to answer thefollowing question: how do they see future of their relations andwhich way are they going to take? We observe the EU as a crucial neighbor and akey economic partner. Throughout recent three years trade turnover has twice shrunk, however, the EU member countries share almost half of Russia's external debt[6]."
Actually, more than two years later Putin again appears from the same positions, attempts to stress his "constructiveness", highlighting creation of a common economic and humanitarian space from Atlantic to the Pacific Ocean. He perfectly realizes that number one factor on that way is elimination of after-effects of Ukrainian developments, and although he states that there are no insoluble issues in Russia-EU relations, by his actions he proves just the contrary.
To conclude the line of Putin's statements, it should be noted that Russia's president constantly voices the necessity for creation of "Greater Europe" out of several considerations:
a) As already mentioned, creation of a common space from Lisbon to Vladivostok,first and foremost, is beneficial for Russia—freetrade would provide Russian population increase of income by 235 Euros per capita, and in case of Germany—increase by 91 Euros. It was stated in the research by Austrian professor Gabriel Felbermayr and German economist Jasmin Gröschl published on February 20, 2017 on economic newspaper Ifo Schnelldienstof Munich-based Ifo Institute for Economic Research. Authors of the research state that trade between the EU and Russia is complicated by Western sanctions and mutual embargo, which, however, didn't lead to significant changes in Moscow's geopolitical posture. Thus, economists don't exclude that not deepening of sanctions, but the perspective for deep economic cooperation is amongshared interests[7].
b) Putin attempts to manifest his "constructive posture", his willingness in creation of "Wider/Greater Europe" and alongside with it, the EU's "deconstructive posture"and "unreadiness" toward the same issue. Putin "forgets" here that for creation of "Wider/Greater Europe"he should primarily eliminate implications of the Ukrainian crisis.
c) Putin realized if Russia signs free trade agreement with the EU that would pave a way toward the USA as well, if, of course, negotiations on signing an agreement on free trade between the EU and the USA had success by concluding TTIP (Transatlantic Trade and Investment Partnership). 60% of world GDP, 33% of world trade of commodities and 42% of world services is shared by the EU and the USA. By that Russia attempted to provide its access to the regional largest free trade zone in history, if, of course, that was founded.
In any case, implementation of "Wider/Greater Europe" project is currently impossible without EU-EAEU cooperation, although official relations between them still do not exist. Under current conditions it's important to understand when, where and what kind of relations may be established between the EU and EAEU. From the perspectives for cooperation of the two it's important to take into consideration EAEU's aspiration to gain trade privileges beyond the borders of its immediate zone of influence, on account of availability of well-developed systems of trade agreements of the EU with various countries and regions of the world. Establishment of a free trade zone with the EU is among the EAEU's long-term purposes (EAEU is the fourth biggest trade partner for the EU). However, a question arises here for the EU, to which extent EAEU can generally be considered a successful partner. Presently, the EU comprising 28 members is the most ambitious regional integration process, while the EAEU consisting of 5 states, in its turn, is an attempt for regional economic integration in northern and central Eurasia, andit is yet earlyto give comprehensive and total assessment on its success.
On account of complicacy of political, geopolitical and other root-causes for and consequences of the emerged great jungle between Russia and the EU particularly in east-European dimension, to some extent, their irreversibility for the time being (not only for the reason that any of the sides didn't refrain from its pursued strategic goals and vision, but also given the fact that any of them can't immediately reverse its own policy due to face-saving), scenarios for normalizationand then settlement of EU-EAEU, EU-Russia relations aren't so many.In this context, perhaps more realistic seems the implementation of the "road map," which firstly will stabilize all relations of confrontation and the very region, will become an original process for strengthening of trust, further on paving a way maybe also for a wider cooperation for the sake of "Wider/Greater Europe".
For EU-EAEU constructive partnership, first and foremost, it's necessary to overcome current political crisis in their relations. In particular, mutual understanding around the situation in Ukraine should become a turning point in restoration of trust between the EU and Russia. Finally, the reason for deepened political crisis amid the sides is Russia's aggressive attitude toward strategic goalsof EU eastern policy in shared neighborhood, namely—EasternPartnership program and its member countries willing to be associated with the EU. Ukrainian crisis and Armenia's forced membership to EAEU were among the vivid"outcomes" of that attitude. Accordingly, it's difficult to imagine EU-EAEU cooperation or peaceful coexistence, if mutual understandingin these issues and steps in thosedirections aren't recorded. In particular, in case of Ukraine it'll mean inviolable, undeviating and lasting implementation of the agreements reached in "Minsk-2" format, and in case of other EaP countries in general—Russia'srespect to their right to establish and deepen bilateral relations with others (including the EU), as a proof for the fact that Moscow isn't against diversification of foreign and domestic policies of those countries located in common neighborhood with the EU.
Availability of such visible messages in Russia's policy in its turn may lead to the point that with time the EU will stress holding and developing a dialogue both with the EAEU and its member countries separately. The sides should strive to the point that EU-EAEU common neighborhood and partnership served member countries of the two unions and their partners, and not become a subject of discordances between them. Primarily, it's necessary to suspend increasingmistrust, escalation of mutual sanctions, then reverse those processes.
If Russia starts sharing European liberal and free market values, as V.Putin has repeatedly mentioned in his articles, touching upon commonality of value bases, hence, pursuing his own policy on that ground, it'll become a part of the European family, a particle of common geopolitical formation from Atlantic to the Pacific Oceanthus, taking part in European integration.
Considering this scenario more realistic and pragmatic it's important to understand have positive signals been recorded in activities and policy of the sides in the recent period?
Bilateral Positive Signals
Various positive signals have been recorded in the recent years, which give certain hope for further EU-EAEU cooperation by the above-mentioned scenario. Moreover, those signals exist from the side of the leading countries of both the EU and EAEU—Germany and Russia.
Let's introduce positive signals of the German side. German authorities and German business generally support implementation of "Wider/Greater Europe" project. After the well-known Ukrainiandevelopments,German Chancellor Angela Merkel every year (2015, 2016, 2017) expresses in favor of cancellation of sanctions imposed against Russia and creation of a single economic zone from Lisbon to Vladivostok. For instance, in late August 2017 Merkel expressed readiness to immediately cancel sanctions defined against Russia, "Unsanctioning Russia will be useful for the economy of both Russia and Germany. However, they should stay in force as long as Moscow doesn't fulfill conditions for their cancellation. If Minsk agreements aren't implemented, requirements for cancellation of sanctions against Russia won't be made[8]."
After such a message by the German Chancellor, apparently,if Russia fulfills Minsk agreements on the conflict in Donbas, then Germany (EU) is ready to cancel the EU sanctions imposed against it. Obviously, Germany doesn'tmake Crimea'sreturn to Ukraine by Russia a precondition, as it realizes, that in that case the issue will appear in a long-term deadlock. This statement by Merkel means that the "ball is in the Russian field". However, Russia continuously states that it "not a party to theMinsk agreement".
In February 2018 media outlets stated that new German government in case of implementation of Minsk agreements is ready to discuss cancellation of sanctions imposed against Russia with its European partners, that Berlin intends to settle relations with Moscow to return to close cooperation. That point was included in the coalition draft agreement between the conservative bloc headed by A.Merkel and social democrats. By this, the leading coalition has supported creation of a common economic space from Lisbon to Vladivostok like it used to[9].
The second important signal was received from Germany already in January 2018, when it authorized construction of Russian Nord Stream 2 gas pipeline in its territorial waters[10]. Prior to that Sigmar Gabriel, the then Federal Minister for Foreign Affairs, indirectly condemned US sanctions against Nord Stream 2, stating that European companies should decide for themselves from whom they buy gas on account of reliability of supplies and market conditions[11]. German government still believes that Nord Stream 2 gas pipeline is exclusively economic-business and not a political project, and if it complies with European and national legislations, then it should be implemented. In fact, it gave a "green light" to implementation of Nord Stream 2 gas pipeline, although: a) Ukraine is against, which will seriously damage itself, being deprived of the role of transiting Russian gas to Europe, b) several EU members (e.g. Poland) called on Germany to refuse the project, c) the USA is categorically against the project, which first threatened,then imposed sanctions against companies participating in Nord Stream 2 project.
And, finally, a circumstance alsoshould be taken into consideration, which,as many insist, prevents Germany from pursuing a foreign policy proportional to its weight:here relevance of Germany's aspirationand capabilities of having and maintaining good trade-economic relations with many countries of the world are meant. And naturally, Germany intends to correct the situation unfolded after the Ukrainian developments and EU-Russia mutual sanctions as soon as possible.
As for exchange of EU-Russia messages on the "Armenian platform" and sending positive signals by Russia in the recent period, V.Putin, as already mentioned, has constantly expressed in favor of implementation of "Greater Europe" concept. Signing of Comprehensive and Enhanced Partnership Agreement (CEPA) between Armenia and the EU should also be underlined, although many didn't have doubts, that Russia would mandatorily torpedo it. Earlier we expressed a view that CEPA will be signed, and among the reasons we mentioned that it may be beneficial for Russia, which may make use of Armenia's "exclusive status"[12]: Having such an agreement and friendly relations with the EU, Armenia is both EaP and EAEU member country, at the same time (being an EAEU member country, but not EaP member,Kazakhstan also signed Enhanced Partnership and Cooperation Agreement with the EU on December 21, 2015, thus, becoming the first country in Central Asia signing such an agreement with the EU).Perhaps Russia still hopes that with time Armenia may become a connecting link, a platform for adialogue between the EU and EAEU. Thus, Russia, by not torpedoing signing of CEPA, showed its constructiveness to the EU and provided certain positive atmosphere in bilateral relations with it.
The abovementioned positive signals by the EU and EAEU lead countries generate hopes for further cooperation of the two unions. In any case, many obstacles exist for the time being, and sides of the relationship should overcome to reach it. US posture around these issues and disagreementsarealso of paramount importance.
Of course, it shouldn't be excluded that one of the Russia'smotives for putting forward of projects in EU interests (Nord Stream 2)orsupporting those shaped by the EU ("Wider/Greater Europe") may be causing or deepening of disagreements both inside the EU and between the EU and the USA.
How, Where And When?
It's important to realize how, where and when cooperation between the EU and EAEU may start.
How?
a) EAEU and Russia in its face,should prove they don't go against the world by throwing a glove to the fundamental principles, on which free trade, economic unions and etc. are based on. It includes systems of governance as well—democracy, human rights, fundamental freedoms and etc.,
b) EAEU should prove that it, as an integration union, is really developing, which requires years. And only in case of EAEU's being successful it'll be reasonable to touch upon cooperation of two integration unions. Otherwise, if any side of relationship is successful, and the other—not, it's useless speaking of cooperation between them (for example,if negotiations are launched,the EU will supposedly be represented by its commissioner for external diplomacy, then it's a question who'll be the equal negotiator on behalf of EAEU),
c) all sides have toprove they respect sovereignty of member states—if cooperating institutionally,thisshouldn't turn Russia's efforts into depriving countries like Armenia of the sovereign right to develop its bilateral relations with the EU,
d) Armenia, where two integration projects intersect, may serve as a platform to develop an atmosphere of trust between the EU and EAEU, to create a precedent and a modelfor cooperation, to reduce tension in EU-EAEU dimension, and to providedifferent fields for dialogue and a civilized competition.
In this context the then PM V.Putin's article on Russian "Izvestiya" in 2011 is worth mentioning, where he stresses that EAEU will be established as an inseparable part of "Wider/Greater Europe," based on universal integration principles and consolidated by common values of freedom, democracy and market laws, "We proposed development of that idea to Europeans to think over harmonious partnership of economies from Lisbon to Vladivostok, free trade zone and even creation of progressive integration formats together. Besides direct economic benefits, membership to EAEU will provide its each participant to more quickly and with stronger positions integrate into Europe[13]."
Where?
Cooperation and dialogue between the two is inevitable in the process of CEPA implementation and especially in the following fields: energy cooperation including nuclear security, industrial and enterprise policy, infrastructures.
The EU proposes its assistance in the closure and safe decommissioning (after termination of the term)of the Metsamor nuclear power plant (NPP), constructed 40 years ago, in parallel, in providing equivalentenergy capacitiesor even building a new NPP, perfectly realizing its importance in Armenia's energy system. Moreover, according to some estimations, only the process of decommissioningis assessed as USD 300 million. It's known that since 2003 the NPP has been exploited by Russian "Inter RAO UES" CJSC pursuant Armenia-Russia "asset for debt" agreement concluded by Armenia's second president Robert Kocharyan. The EU and Russia may cooperate in this issue.
Also, the EU may be interested in realization of Persian Gulf—BlackSea transport corridor regarding the implementation of Armenia-Iran railway project, in which Armenia's role is crucial. Armenia may become a transit country in exporting Iranian gas to Georgia, then to the EU. Russian Gazprompossesses the majority of Armenia's gas market and the entire system of the country's gas distribution. Again, it's required from Russia not to torpedo these projects as well.Note, that earlier under Russia's pressure the diameter of Iran-Armenia gas pipeline has been considerably narrowed so that it was impossible to transfer Iranian gas to Georgia and the EU through the territory of Armenia.
Around 3000 Russian or Russian-Armenian enterprises operate in Armenia, and cooperation with Russian companies in modernization of Electric Networks of Armenia CJSC is inevitable. Besides, South Caucasus Railway CJSC is a subsidiary of Russian Railways OJSC: on February 13, 2008a concession agreement was concluded between Russian Railways OJSC in Yerevan and the Republic of Armenia on passing on governance of Armenian Railway CJSC to South Caucasus CJSC. Based on that agreement the term of the concession management is 30 years, and to which extent the mentioned industrial giants or medium enterprises will adaptto standards applied within CEPA and won't torpedo its proper implementation, will also be an indicator.
When?
a) When Russia will provide an atmosphere of trust through its actions in relationswith the EU:unfortunately, contrary to that, up to now only steps deepening distrust are taken. In March 2018cyber-attacks were recorded in several European countries, including Germany, for which Russia was qualifiedresponsible. In particular, the hackers succeeded to penetrate networks of Germany's Foreign and Defense Ministries. Besides, European countries and the USA continue accusing Russia in poisoning of Sergei Skripal, a former Russian military intelligence officer who acted as a double agent for the UK's intelligence services during the 1990s and early 2000s, in Great Britain. Or, in his message addressed to the Federal council after re-election in the post of president, V.Putin touched upon Russia's new armaments, stating that a new nuclear weapon is created which is unprecedented in the world (later on it became known that the cadres of bombing Florida in his presentation repeat the animation at Russian First Channel broadcast 11 years ago);
b) when Russia will prove it hasno hostility toward EU EaP policy;
c) when Russia will provide that exactly in Armenia's case and on Armenian platform its policy and itself aren't an obstacle for cooperation;
d) when proper and productive implementation of CEPA is launched.
"Democracy, security and foreign policy" program (NED)
The Armenian Institue of International and Security Affairs (AIISA)
---
If you found a typo you can notify us by selecting the text area and pressing CTRL+Enter