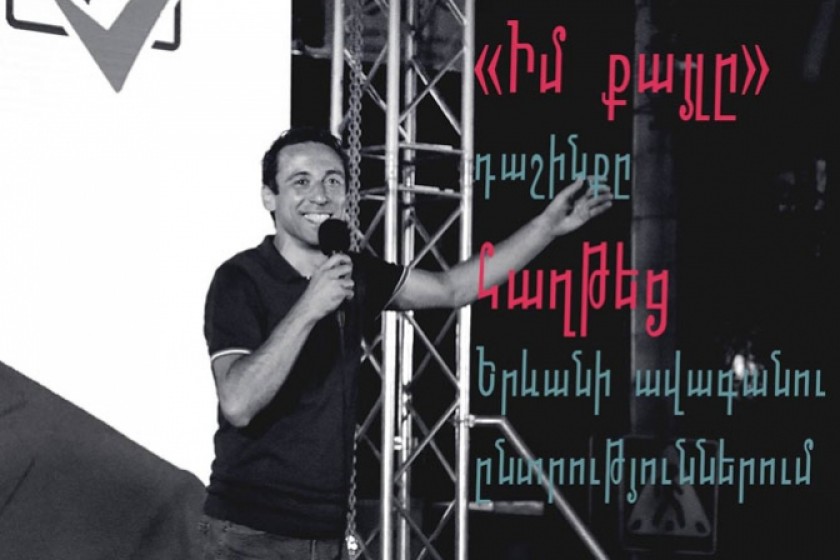 No Major Shake-Up at Yerevan Municipality, Says My Step Alliance Member
Vahan Kostanyan, a member of the My Step Alliance that scored a landslide victory in yesterday's Yerevan Municipal Council election, told people gathered at the Hodvatz 3 club for a post-election discussion that yesterday's election, the first free election in Armenia in the past 23 years, shows that Armenia desperately needs to hold snap parliamentary elections as soon as possible.
The Im Kayl (My Step) Alliance linked to Nikol Pashinyan won 81% of the vote in yesterday's election and will comprise an overwhelming majority in the municipal council. The alliance's candidate Hayk Marutyan will most likely become Yerevan's next mayor.
Kostanyan said that there wouldn't be a major staff shake-up at the Yerevan Municipality as a result of the election.
ARF party member Davit Hakobyan congratulated My Step on its victory and urged the winner to approach the job of organizing the future of Yerevan with a great deal of responsibility.
"Our citizens must see a more beautiful Yerevan. We must prove that the election was more a vote of confidence for Nikol Pashinyan, rather than electing a candidate for mayor," Hakobyan said, adding that the ARF would participate in snap parliamentary elections.
The ARF came in fourth, with 1.62% of the vote, out of a field of twelve political parties/blocs.
Arman Abovyan, a candidate on the Prosperous Armenia Party (PAP) ticket, said that the people had spoken and described yesterday's election was the freest he had seen.
The PAP came in second with 7% of the vote.
Heritage Party member Andranik Grigoryan said yesterday's election was the most "legitimate" since 1991.
Grigoryan said yesterday's election signaled the end of the former Republican Party of Armenia regime.
Describing the election as "highly politicized", Grigoryan argued that Armenian Prime Minister Nikol Pashinyan regarded the election as a test of his legitimacy.
"It's time for Pashinyan to implement his and the government's program to hold snap parliamentary elections as soon as possible, so that we don't have a government that doesn't trust the de jure majority in parliament," Grigoryan said.
The Heritage Party won 0.75% of the vote in yesterday's election.
If you found a typo you can notify us by selecting the text area and pressing CTRL+Enter