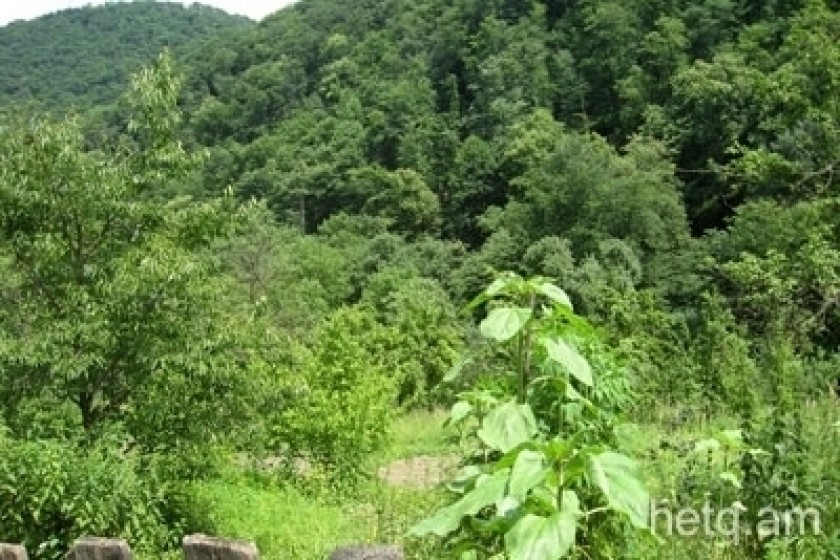 600 Hectares of Forest Under Threat
A difficult test awaits ecological organizations and the society at large in Armenia. Months ago, they somehow managed to save the Shikahogh Preserve, which the government, more specifically the Ministry of Transport and Communication, was preparing to sacrifice for an admittedly necessary highway (See also: A Strategic Road or a Fight Over Oak Trees?). Now a similar threat of annihilation hangs over the Teghut forest in the Lori Marz.
This time, it is a company called Armenian Copper that has set its sights on the forest in order to make a profit. If, in the case of Shikahogh, the government had wished to save money by building a relatively shorter international highway, the proposed deforestation of Teghut will make money for a private company. Experience has shown that private companies, in Armenia at any rate, are firmer in their resolve to make a profit than the government, and may even wield greater power.
Armenian Copper plans to destroy the forest in order to open and exploit the copper and molybdenum mines located beneath it, as well as to build an extraction plant nearby. According to Minister of Ecology Vardan Aivazyan, the reevaluation of mineral reserves in the Teghut mine was slated for completion in the last quarter of 2007. The minister was thus convinced that the mine could not be exploited before 2007. But it should be noted that any major decisions will be taken earlier, and deforestation will naturally precede the exploitation and processing of the mine. Therefore, there is little solace for ecological organizations and the general public in the fact that exploitation will begin no earlier than two years from now.
According to Aivazyan once again, "Armenian Copper has already completed its study of the Teghut mine and preliminary data show that there are reserves of up to 500 million tons of copper and molybdenum."
The exploitation of the Teghut mine by Armenian Copper is not just a distant wish or a vague proposal but a serious expectation. Further evidence for this is that there have already been serious investments made in the study of the mine alone. Drilling as deep as 170 km has been conducted in the investigation phase, on which the company has spent huge amounts of money. Armenian Copper would not likely have gone to such lengths if there had not been some sort of guarantee from the upper echelons of the government that they would be given the right to open and exploit the mine.
The prime minister has already issued an order to set up an interdepartmental committee to study the issue of the deforestation and exploitation of Teghut and the construction of a plant there. It includes representatives from the Ministries for Trade and Economic Development, Ecology, Agriculture, Energy, and Transport and Communication. The committee is headed by Minister for Trade and Economic Development Karen Chshmarityan who, according to our sources, is one of the state officials standing to gain from this enterprise. Minister of Ecology Vardan Aivazyan is also expected to profit from the exploitation of the mine, but he has tried to create a smokescreen and not reveal his stand on the matter too clearly.
"It was known during Soviet times that there was a mine there, but it was not being exploited for ecological reasons," explained Hakob Sanasaryan, president of the Green Union of Armenia. "And secondly, there is already a large and rich molybdenum mine in Armenia (Kajaran), which is being fully exploited. I don't understand the logic behind exploiting those two mines (Kajaran and Teghut) simultaneously. After all, the country is going to have a future of more than 5 to 20 years, right? In our opinion, the issue of exploiting Teghut should be brought up only after Kajaran's reserves have been exhausted.
"Besides that, there are new technological advances in the world which make it possible to extract copper and molybdenum without unnecessary environmental destruction. I can't even imagine such callous treatment towards a natural forest. If you look at the way mining enterprises are working today, you'd get the impression that it is being done by random people who are mining in an enemy state. They do what they're doing in relative secrecy, and the documents related to their work are not only inaccessible to the public, but also to certain state officials who are concerned with the matter."
Exploiting the reserves as a closed mine is more expensive and requires greater investment, but would avoid the destruction of the forest. Armenian Copper has chosen to open the mine so that they gain greater profits.
Ruben Petrosyan, head forester at the Armforest state organization explained, "The total land that they want to take and include in that zone is about 2,000 hectares, 360 hectares of which belong to the community (and are not forested), while 1,600 hectares are part of the forest. More than 1,200 hectares are covered with trees, of which 600 hectares will be subjected to deforestation, according to a company representative. The rest will remain a protected zone.
"This is just a proposal; there has, of course, been a committee set up to discuss the matter. I think this matter should be seriously discussed and studied, including not just an environmental study, but also involving geologists from other institutions, who should determine the exact amount of reserve ore, whether it can be exploited in a closed mine or not, or whether that will be profitable. In my opinion, this should be an open discussion; only in that case will it be clear whether or not the government will take these steps. We should first determine what losses we will bear if that proposal is accepted; only after that can we discuss what kind of compensation there should be. There are no principles laid out for compensation, but there are various suggestions. One such example is planting a forest of greater area, but we currently have no numbers."
A number of plant and animal species that can be found in Teghut are listed in the Armenian and International Red Books, and now face the threat of possible extinction.
to be continued
If you found a typo you can notify us by selecting the text area and pressing CTRL+Enter