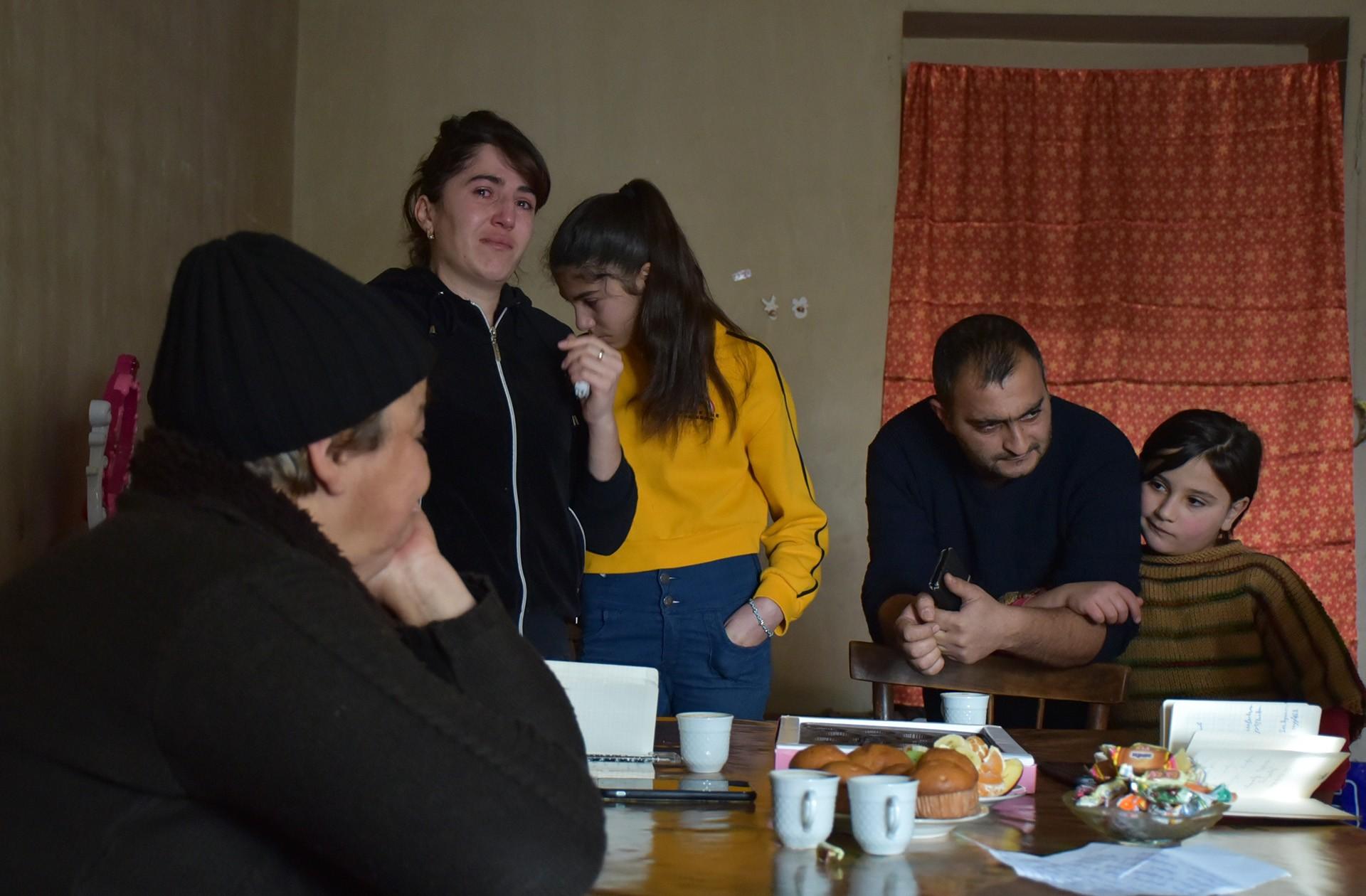 October 29, 2020: Karin Tak Village Father and Son Killed by Same Azerbaijani Combat Drone
Kamo Arakelyan and his father, Artur Arakelyan, manned the defense lines in their Artsakh village of KarinTak during last year's war.
Both were killed by an Azerbaijani drone on October 29. They had just driven to the village's defensive line to evacuate the wounded when the drone struck.
The Arakelyan family now lives in the village of Sayat-Nova, in Armenia'sArarat Province.
A Hetq team recently visited the family. We were greeted by Ani, Kamo's eldest daughter. While the adults recounted how Kamo and Artur was killed, Ani stood in a corner of the room, listening silently. Her emotions prevented her from speaking.
Kamo and his wife Manana have 3 young children. Manana said that Kamo called every day before ten in the morning. They waited for his daily call. Kamo did not call on that fateful day.
Manana's mother already knew that her son-in-law had died. She called her daughter that morning and asked about Kamo. Manana said that her husband did not answer her calls, but the mother did not tell her daughter that Kamo and Arthur had been killed.
The mother called again, asking if there was any news. She then asked if the news about Kamo's and Artur's death was true.
Lilia, Manana's mother-in-law, called the village. People there confirmed the news of the death of the father and son. The two were buried in the Brotherhood Cemetery-Memorial in Stepanakert.
PHOTO Kamo's wife, Manana
Kamo was a veterinarian in Shushi. Artur, Kamo's father, was the commander of the village self-defense detachment. Artur assumed the position after the death of the first commander during the self-defense battles in the village of Karin Tak in 1992.
"We had just started building our house. The children were small. I told Kamo that we should build a house in Stepanakert or Shushi so that the kids can take advantage of town life. He said he couldn't, that he had to close to his father. They died together," said Manana.
PHOTO Kano Arakelyan and family
Kamo's mother, Lilia, left Karin Tak on October 27 last year. She says they never believed village would be captured.
"The commanders would come to our house, telling Artur to evacuate the women. On the morning of October 23, when he saw that the situation in the village was very bad, Artur told us to leave" says Lilia.
Photo – Artur Arakelyan
Masis, Artur's other son, recalls that during the 1992 self-defense, women and children remained in the village, so that the self-defense detachment would not flee. This time the children and mothers left, and other women stayed.
"This war was not like in 1992. More artillery was used than the previous one. Thus, the rest had to be evacuated from the village. We were left with only men," says Masis.
Masis was in Akna (Aghdam) when he learned of his father and brother's death and returned to the village. Lilia and Mher, Artur's third son, was with him.
Masis says that he called his father and brother every day, and that day his calls went unanswered. Relatives called from the village and informed Masis about what had happened.
Photo Masis and Manana
The family says Kamo always helped those who asked for it.
"Our relatives would call and ask Kamo why he wasn't evacuating his kids. He'd tell them that while he had a place to go, others in the village had no place to take their children. In the end, Kamo also evacuated his neighbors' kids," says Manana.
Kamo did not even let them take clothes for the children. He wanted to evacuate as many other children as possible.
Lilia says that her son's car was like a military vehicle, going wherever it was needed.
PHOTO Lilia and her son, Mher
"The car was white. It was quite noticeable. We told Kamo to get another colored car. He said that in the end, the people must defend themselves," Manana recounts.
Artur's mother, 90-year-old Shushik Arakelyan, left the village on October 27 with her daughter-in-law Lilia. They lived together in Karin Tak.
Shushik Arakelyan now lives in Sayat Nova village as well. The family matriarch says that during the first Artsakh war their house was turned into an arsenal, and during the war she would cook food for the village defense detachment led by her son Artur.
PHOTO Shushik Arakelyan
Artur had built three houses for his children in Karin Tak. They also had a house in Shushi. The Arakelyans left four cars in the village.
The family does not know how long they can live in someone else's house.
Нашли ошибку? Выделите ее и нажмите Ctrl+Enter