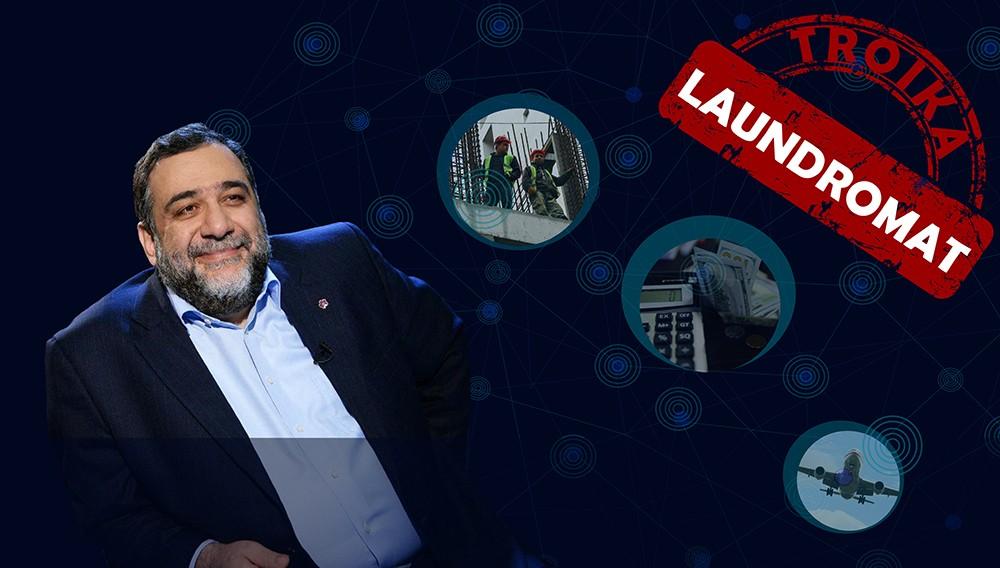 The "Troika Laundromat": Money Laundering Scheme Used Forged Signatures of Armenian Migrant Workers to Funnel Millions
Hetq, in conjunction with its OCCRP partners, has investigated a multi-billion-dollar money laundering scheme involving Russian political and criminal circles who used the fake signatures of seasonal migrant workers from Armenia to divert money from the eyes of state tax authorities.
Hetq and 20 Organized Crime and Corruption Reporting Project (OCCRP) partners examined more than 60 documents leaked from the Lithuanian bank Ūkio Bankas. These documents led to an $8.8 billion money laundering network that operated via Troika Dialog, Russia's largest private investment bank once run by Ruben Vardanyan.
Over that period, Troika facilitated the flow of US$ 4.6 billion into the system and directed the flow of $4.8 billion out.
Ruben Vardanyan, a Russian-based businessman and benefactor, is best known for founding the Initiatives for Development of Armenia (IDeA) Foundation, with his wife Veronika Zonabend. IDeA has gone on to launch the Aurora Humanitarian Initiative, the UWC Dilijan College in Armenia and the Tatev Revival Project. Vardanyan served as the CEO and controlling shareholder of Troika Dialog from 1992-2012, when it was sold to Sberbank of Russia.
Reporters have dubbed the investigation the "Troika Laundromat".
Total Data Set Includes:
1.3 million leaked banking transactions
238,000 companies and individuals involved
470 Billion Euros - total amount of transfers
Network Transfers to Armenia
764 transfers to banks in Armenia
150 companies and individuals involved
€112 million and $148 million - total amount of transfers
The network encompassed a minimum of 70 offshore shell companies that used forged sale and purchase, loan and investment agreements to legalize millions of dollars. The source of the money mostly remains a mystery.
This network not only allowed wealthy and influential Russians to conceal funds from tax authorities, but also allowed the money's true owners to purchase shares in privatized energy companies like Gazprom, Rosneft and Inter RAO.
Forged signatures: Ruben Vardanyan and Armenia's migrant workers
In the leaked documents examined, there is only one contract signed by Ruben Vardanyan. He signed it in the capacity of the director of the offshore TD Advisors LTD. The company approved an $8.9 million loan to Brightwell Capital Inc., another offshore outfit. When we asked Artak Gevorgyan, Brightwell's authorized representative, about the contract, he replied, "I know just as much about Ruben Vardanyan as you do."
Gevorgyan, a native of Sisian, a town in Armenia's southern Syunik Province, left for Russia as a migrant worker fifteen years ago. Now living in Moscow, Gevorgyan told Hetq that he's never signed a loan agreement. When we texted him a photo of the contract, with his signature at the bottom, he said it's not his, although it looks similar. He couldn't explain how it appeared on the contract.
By comparing several contracts bearing Gevorgyan's signature, we realized that someone had faked his signature at the outset and that this was used on a number of contracts in the future.
Below, readers can compare Gevorgyan's signature on five documents, issued over the course of time, we've randomly selected. The signatures are the exactly the same in all cases, something that is physically near impossible.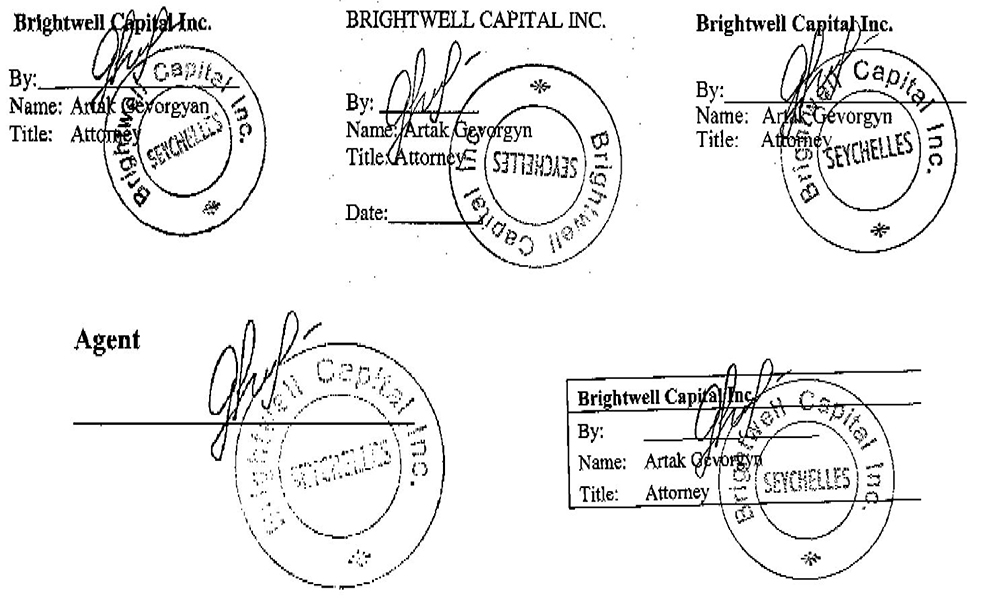 Artak Gevorgyan's unchanging signature
According to another contract uncovered in the documents, Artak Gevorgyan's brother Ararat Gevorgyan, was an employee of Ruben Vardanyan's Troika Dialog in 2006.
One hour after our telephone conversation with Artak Gevorgyan, we received a call from his brother Ararat. In a somewhat menacing tone, the brother said that reporters had no right to pry into their affairs and that he'd only talk about the loan documents if ordered so by law enforcement.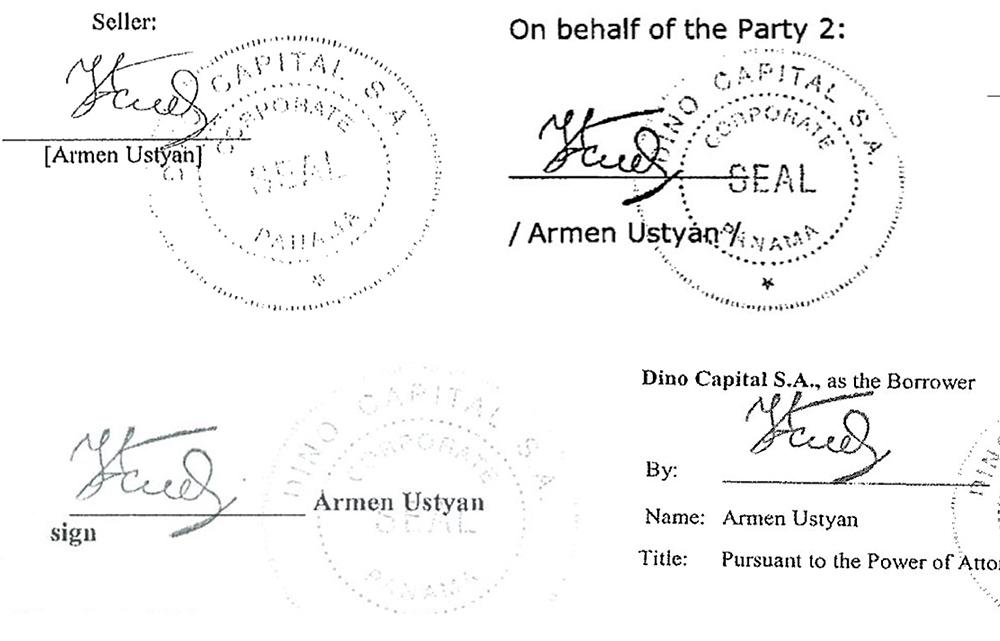 Migrant worker Armen Ustyan's signature
The signature of Armen Ustyan, a migrant worker from Vanadzor, appears on transactions totaling $70 million[1].
We visited Ustyan's apartment in Vanadzor, expecting to meet a successful businessman. We were in for a shock.
Ustyan was wearing an army jacket when we arrived at his house located in a block of apartment buildings in the town's Taron-4 neighborhood constructed for those left homeless due to the 1988 Spitak Earthquake. Ustyan, it turns out, is no high-flying businessman but rather a migrant worker who's left for Moscow every spring for the past ten years, returning home in late autumn.
Ustyan was at a loss to explain how a copy of his passport and his signature were obtained by Ūkio Bankas, a name he said he was hearing for the first time.
Interview with Armen Ustyan
How was the personal data of the migrant workers obtained?
After meeting and talking to some of the migrant workers whose names appear on bank documents, we got a clearer picture on how they got caught up in the money laundering scheme.
One of our theories is that Troika Dialog created a system, run by its employees, tasked with collecting personal data of migrant workers from Armenia. The data was collected and supplied to Troika by Russian businessmen, with ties to Ruben Vardanyan or Troika, who hired the workers.
In the early 2000s, migrant workers from Armenia were prohibited from working or staying In Russia without proper registration. The workers were assisted in getting around the ban by their compatriots who had been granted permanent Russian residence.
Armen Ustyan, for instance, was registered at the home address of Nerses Vahradyan, a businessman residing in Moscow. Ustyan worked for Vahradyan's construction company.
Gyumri native Edik Yeritsyan also worked for Vahradyan. Yeritsyan's passport and signature were used to forge millions of dollars of transactions for Popat Holdings Limited, registered in Cyprus.
Many of the migrant workers hail from Shirak, the poorest province in Armenia. Yeritsyan left Gyumri, Shirak's provincial capital, for Russia in the 1990s. With a college degree in English, Yeritsyan wound up as a construction laborer in Moscow.
During our two face-to-face meetings, Yeritsyan could not recall having anything to do with Popat Holdings. He seemed shocked to see his signature and copies of his passport and driver's license on the documents. Yeritsyan said he was injured in a car accident three years ago and that, after undergoing surgery, he can't recall certain events too clearly. He couldn't recall ever signing such a transaction contract. His claim of undergoing surgery proved factual. The hospital sued him for failing to pay. Yeritsyan didn't have the money.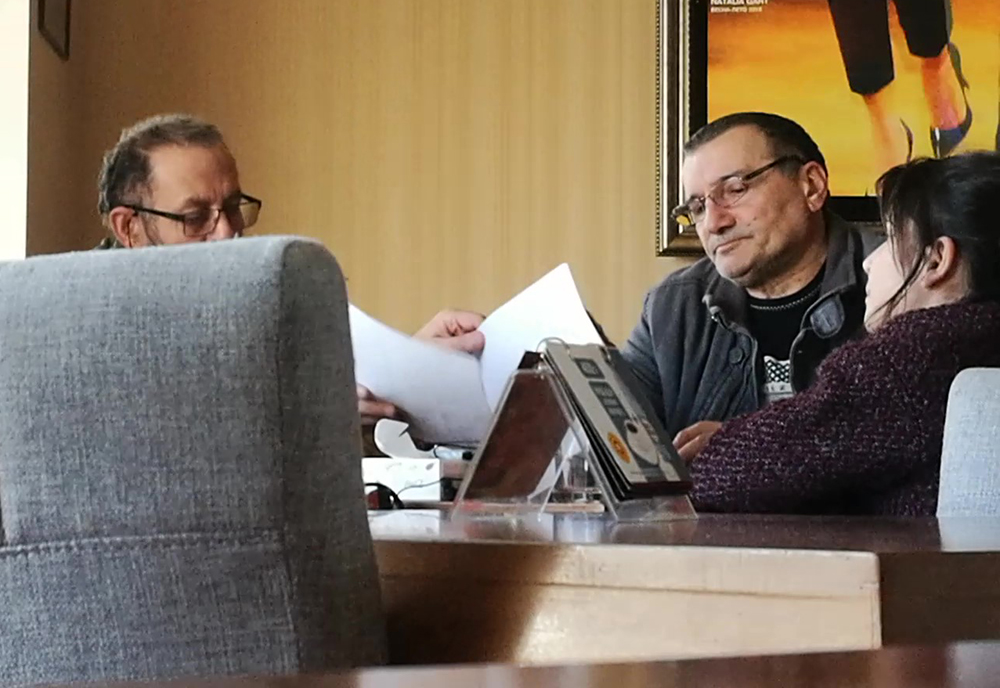 Hetq reporters meet with Edik Yeritsyan
Arsen Avetisyan, another Gyumri native, served as a convenient shadow representative for Popat Holdings in 2006, before Yeritsyan appeared on the scene. In addition to Popat Holdings, Avetisyan signed off on contracts and made transfers for two other offshore companies. Avetisyan now resides in the United States. Avetisyan texted Hetq reporters advising "to choose easier and more quiet topics connected to Armenia". Later, he denied any links to Popat Holdings.
Just like Ustyan and Yeritsyan, Armen Avetisyan has ties to the businessman Nerses Vahradyan. Avetisyan attended the businessman's 50th birthday party. The two might even be related.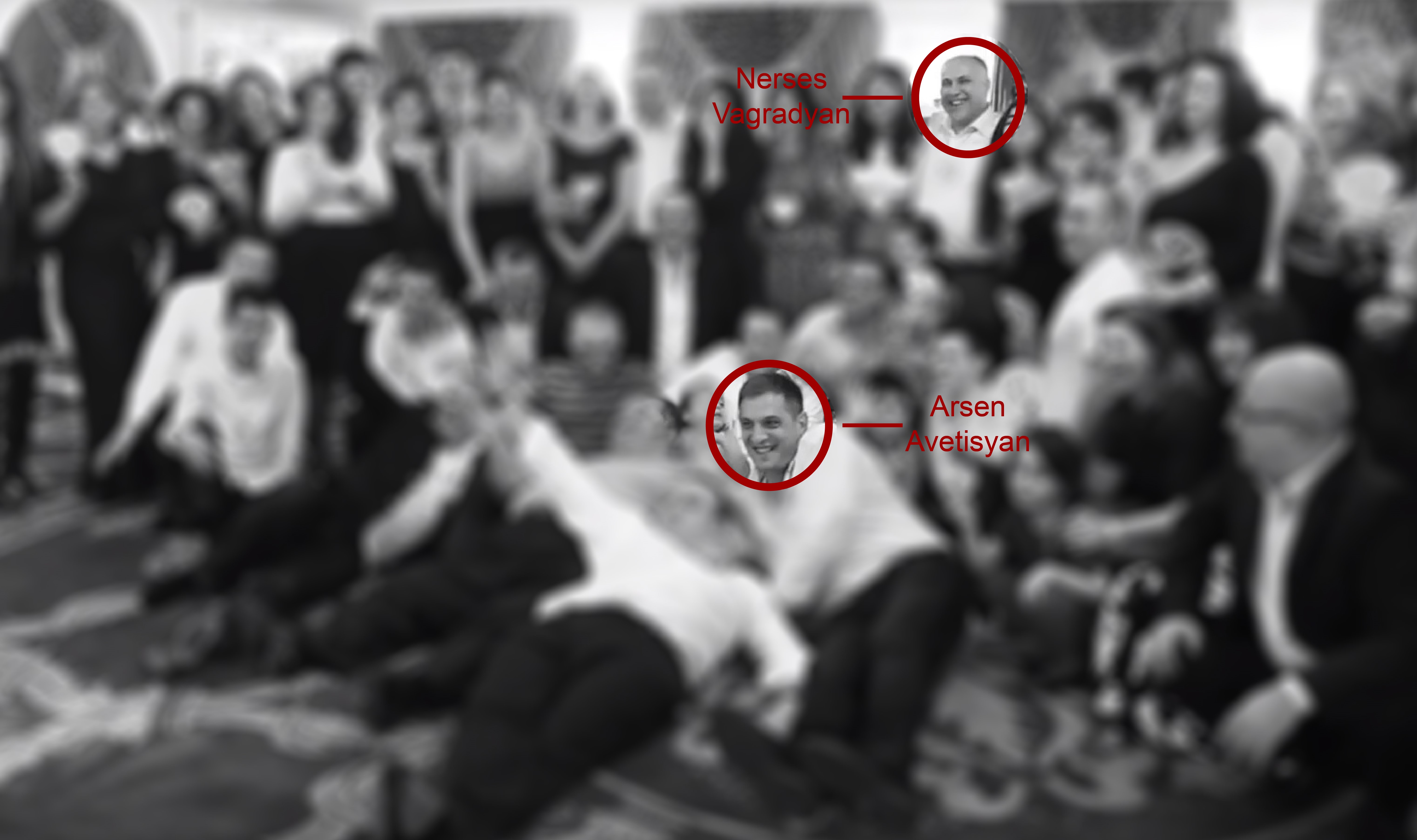 Nerses Vahradyan's birthday bash
The data of Vahradyan's employees and other individuals close to him were probably provided to Troika Dialog by his brother Samvel Vahradyan, a member of Ruben Vardanyan's entourage.
Samvel Vahradyan is director of Novagro, a Russian company that's received millions of dollars from Gotland Industrial and Brightwell Capital, the two companies at the core of the Troika Laundromat network.
Samvel Vahradyan has contributed to Dilijan College, the Tatev Revival Project and the Aurora Humanitarian Initiative, all launched by the Initiatives for Development of Armenia (IDeA) Foundation, created by Ruben Vardanyan and his wife Veronika Zonabend.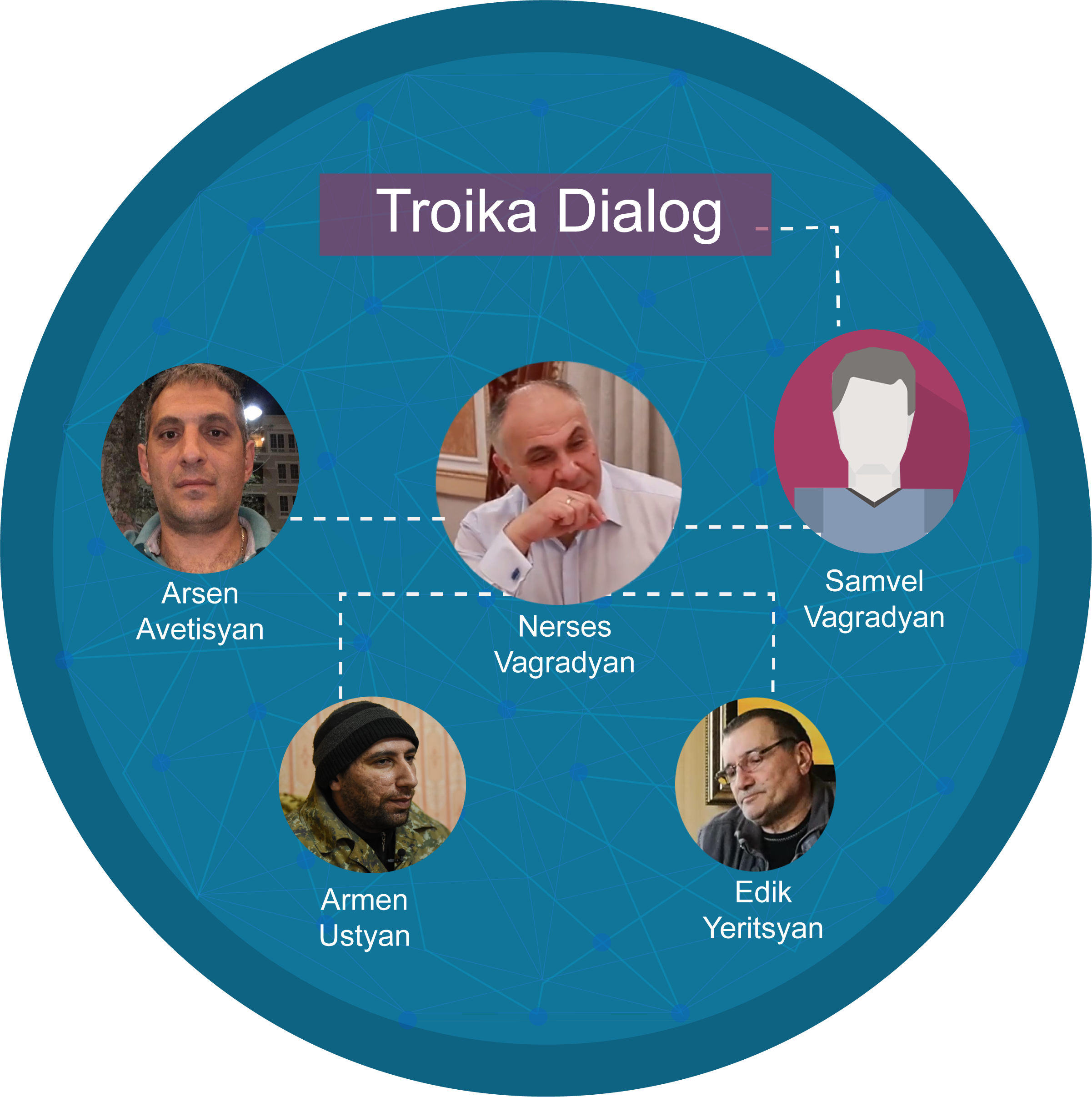 Network linking migrant workers to Troika Dialog
Money from the Troika Laundromat were used to purchase real estate in Great Britain, Spain and Montenegro, in addition to luxury yachts and expensive works of art. Funds were also used to pay the college tuition of the children of prominent Armenian businessmen in Russia studying in the West. Some of the money went to constructing churches and other charitable projects.
Hetq's OCCRP partners in Russia interviewed Ruben Vardanyan. He didn't deny that he used Troika Dialog to conduct transfers to the accounts on various foreign banks, including Ūkio Bankas. Vardanyan said that Troika has cooperated with twenty such banks.
"Obviously, rules change, but measuring a market in the past by today's laws is like applying modern compliance standards to the time of the Great Depression. You'll agree that this distorts the true situation," Vardanyan said. He noted that Troika Dialog's revenue amounted to some 2 trillion rubles in 2006-1010, and that he couldn't personally monitor all the transactions of such a large company.
"Troika Dialog examined the source of these funds to the extent specified by the compliance standards of the international financial market of the day," Vardanyan added. When asked why the transactions were conducted via the data of authorized individuals and not the true owners, Vardanyan replied:
"Those are technical service companies of Troika Dialog clients, among them, mine," Vardanyan said. "It could be called a multi-family office. (These are independent organizations that assist wealthy families to manage their financial resources – ed). A similar practice still exists at foreign banks. Most of their clients work through international companies. I repeat, we always acted according to the rules of the world financial market of that time."
The personal data of former Armenian MP Gagik Abrahamyan was used. His signature was forged.
In 2007, former MP and businessman Gagik Abrahamyan purchased real estate on Nikolskaya Street, a few hundred meters from the Kremlin in Moscow. Abrahamyan told Hetq that he bought the property from businessman Ruben Grigoryan, adding that he doesn't recall the name of the payment recipient. Abrahamyan claims he was given an account number and that he transferred some $2 million to the account.
There's a contract in the leaked documents, however, showing that Gagik Abrahamyan obtained $3.7 million worth of electrical equipment and construction material. The 2007 contract was signed by Abrahamyan and Prolink Solutions Ltd., a firm created by Troika Dialog. Abrahamyan claims he's never heard of Prolink Solutions and that he never made such a purchase.
Hetq interviews former MP Gagik Abrahamyan
When he saw his signature on the contract, Abrahamyan immediately said it was a forgery. He showed us the signature on his passport. It was completely different. When we told him that Prolink Solutions was linked to Troika Dialog and Ruben Vardanyan, Abrahamyan said he hoped it wasn't true, given his high regard for Vardanyan.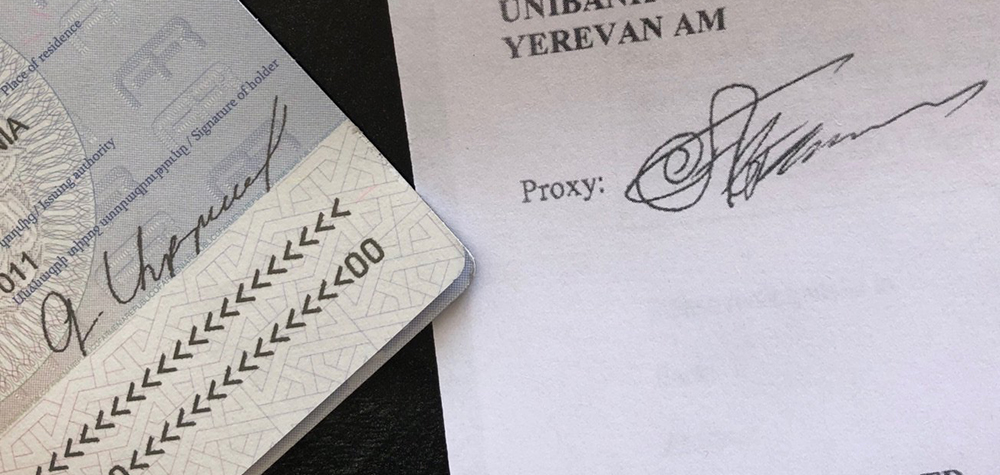 Gagik Abrahamyan's real and forged signatures
In 2007, a transfer of $700,000 was deposited in the HSBC Bank Armenia CJSC account of Prosperous Armenia Party MP Gagik Tsarukyan, ostensibly for the sale of construction material. The payment was made from a Prolink Solutions account at Ūkio Bankas. Tsarukyan has not yet replied to our inquiry about the transaction.
Troika Laundromat funnels criminally acquired money
Money deriving from several prominent crimes perpetrated in Russia have found their way to the financial accounts of Troika Dialog. These include the Sheremetyevo International Airport fuel fraud and the Sergei Magnitsky case.
The Sheremetyevo International Airport Fuel Fraud
One of the biggest financial scandals to hit Russia in recent years took place in 2003-2008, when Moscow's Sheremetyevo Airport artificially inflated the price of diesel fuel and avoided paying $40 million in taxes. This resulted in a price hike in air fares. $19 million of the ill-gotten gains found their way to Troika Dialog accounts.
Ruben Vardanyan told our OCCRP partners that he had nothing to do with the matter, nor did he know about it. In 2010, two years after the financial finagling was revealed, Troika Dialog provided consultative services to the airport.
The Magnitsky Case
Sergei Roldugin, a Russian cellist and a close friend of Vladimir Putin, used the Troika Laundromat to circulate a minimum of $69 million. He came to public prominence with the release of the Panama Papers, when the OCCRP named Roldugin as the "secret caretaker" of Putin's hidden wealth through transactions via Mossack Fonseca to a host of offshore companies.
Magnitsky, a Russian tax accountant who specialized in anti-corruption cases, followed the money trail. In 2008 he alleged that a portion of the money derived from large-scale theft from the Russian state and that it was sanctioned and carried out by Russian officials. Magnitsky was later arrested and died in a Russian prison.
In the tax fraud case unearthed by Magnitsky, more than $120 million wound up in the coffers of Troika Dialog.
When interviewed by the OCCRP, Ruben Vardanyan denied any knowledge of the money transfers.
"Understand, I'm no angel," Vardanyan said. "In Russia, you have three paths: Be a revolutionary, leave the country, or be a conformist. So, I'm a conformist. But I have my own internal restraints. I never participated in tax auctions, I never worked with criminals, I'm not a member of any political party. That's why, even in the 90s, I went around with no security guards. … I'm trying to preserve myself and my principles."
Hetq wrote to Ruben Vardanyan, requesting he respond to the issue of using the personal data of migrant workers from Armenia and related matters. The London law firm of Simons Muirhead & Burton LLP responded to our two letters. In its reply, the firm warned us not to publicize any portion of their response, arguing confidentiality.
But the story doesn't end here.
Companies at the core of the Troika Laundromat has funneled money to a variety of individuals and organizations including accounts in Armenia's ACBA-Credit Agricole Bank, Ameriabank CJSC, Anelik Bank CJSC, HSBC Bank Armenia CJSC, ARMECONOMBANK OJSC, and Unibank OJSC. Transfers were made to Nairit Plant CJSC, to Eric Narsisyan (Director of Rhinoville Property Limited, a shareholder of Nairit Plant CJSC), and to the account of Natan Associates Inc., a company offering economic advice.
More on this later.
Videos by Saro Baghdasaryan
Edik Yeritsyan's photo by Ani Sargsyan


[1] The number has changed due to technical misprint.
If you found a typo you can notify us by selecting the text area and pressing CTRL+Enter