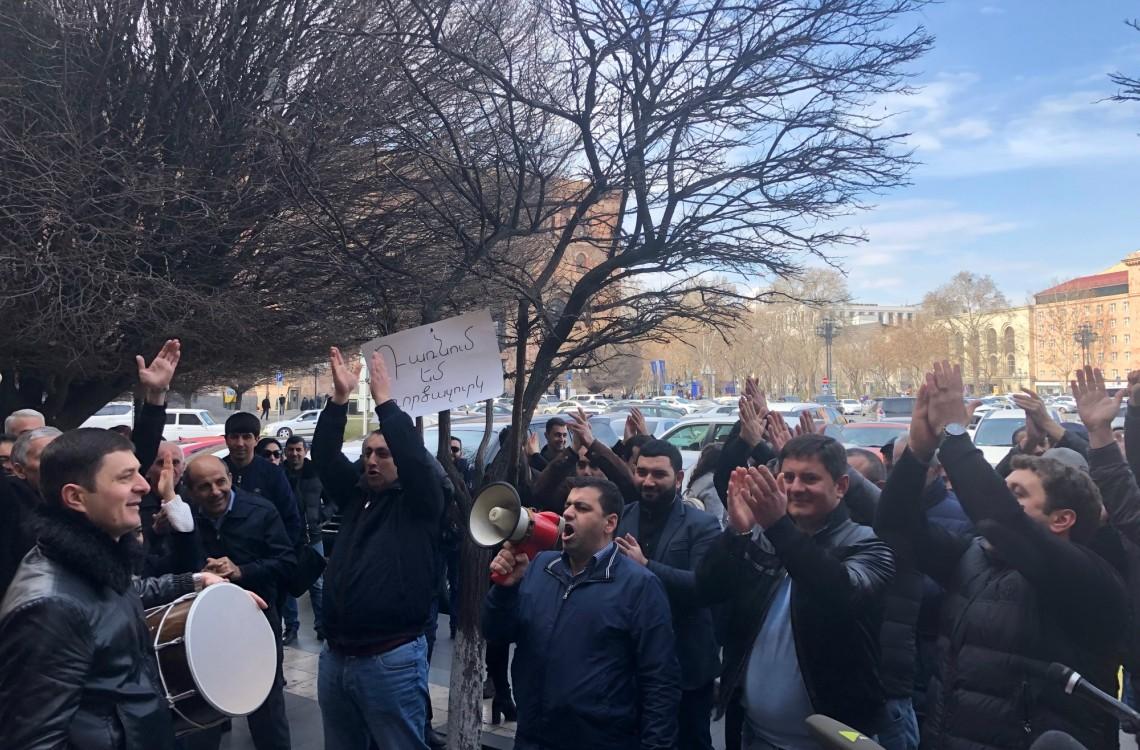 Yerevan Pawnbrokers, Foreign Currency Exchangers Protest Bill to Increase Licensing Fees
Around 100 employees and owners of foreign exchange kiosks and pawn shops staged a noisy protest outside the Government Building in Yerevan today, demanding a meeting with Prime Minister Nikol Pashinyan.
The employees say a government proposal to increase the licensing fees of their establishments is unacceptable and they want to discuss the matter directly with Pashinyan.
If approved, the licensing fee for pawn shops will increase from 100,000 drams to 6 million. Currency exchangers will have to pay 3 million drams, up from the current 50,000.
The proposal was announced at last Thursday's cabinet session, after which, the employees briefly voiced their opposition to Nairi Sargsyan, an assistant to PM Pashinyan.
Demonstrator Samvel Movsisyan, who owns a currency exchange, says that Sargsyan then discussed the matter with Armenian Central Bank representatives who flatly rejected any compromise.
"Our only hope today is to meet with the prime minister. Out of the blue, he got the notion to fill the state coffers at our expense and it was decided to peg the licensing fee at 3 million drams. It would be disastrous for our business. They can check our books and see that we only clear 300-500,000 drams every month. So how can we pay 3 million for an annual license?" Movsisyan asks.
Movsisyan has been in the foreign currency exchange business since 1995.
He says the Central Bank has clearly misunderstood Pashinyan's message to spur the development of small and medium-sized businesses in Armenia.
Souren Vardanyan, who works at a foreign currency exchange kiosk in Yerevan, says he and others have been demonstrating outside the Government Building for the past week to "get this absurd bill shelved".
Vardanyan says the bill's drafter must present valid arguments why businesses will have to pay a whopping 3 million drams every year.
If the proposal is approved, 80-85% of foreign currency exchanges will close their doors, Vardanyan says.
The National Assembly's Standing Committee on Economic Affairs has scheduled a debate on the matter today.
If you found a typo you can notify us by selecting the text area and pressing CTRL+Enter