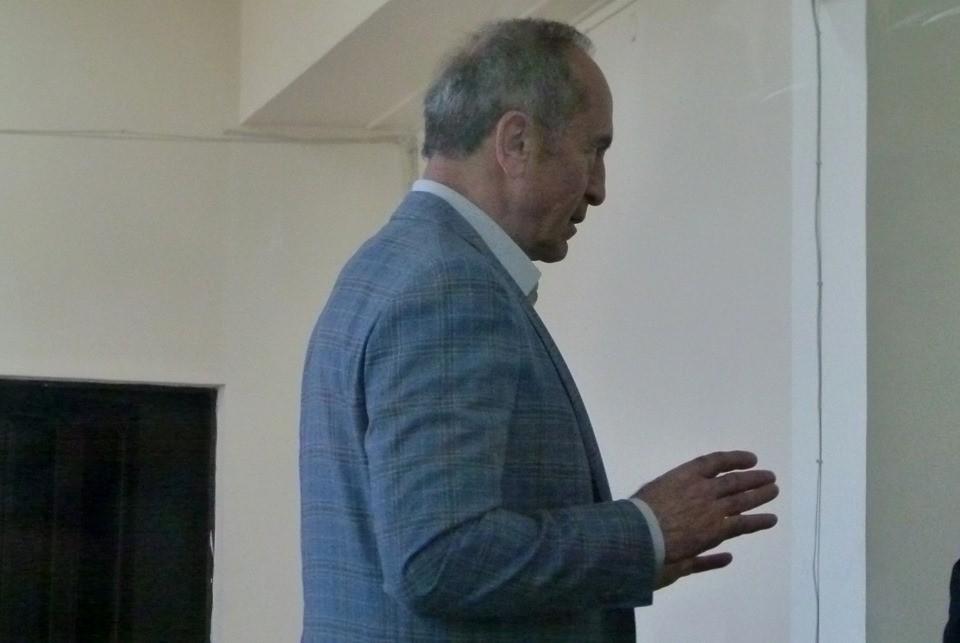 Hundreds Attend Robert Kocharyan's Detention Hearing: No Decision Reached
Supporters welcome Kocharyan with flowers and chants of "freedom"
Hundreds of people made their way to a Yerevan courthouse today where a hearing was scheduled to determine whether Robert Kocharyan, Armenia's second president, should remain in pre-trial detention.
Police and court officers were out in force to maintain some semblance of order both within the Nor Nork branch of the Yerevan Court of General Jurisdiction and the street outside.
This is the first time that citizens have been able to see Kocharyan in person.
Kocharyan, who served as president of Armenia from 1998 to 2008, has been charged with usurping state power in March 2008, during post-presidential election protests, and accepting US$ 3 million in bribes. Ten people died during the protests, culminating on March 1-2, 2008, and scores more were injured when police and army units were mobilized to disperse demonstrators.
The protests were led by the Armenian National Congress (HAK). The political party claimed that the February 2008 presidential election had been rigged and petitioned Armenia's Constitutional Court for the election result to be voided.
Kocharyan has been held in pre-trial detention since December of last year, when Armenia's Court of Appeals ruled in favor of detaining him.
Nikol Pashinyan, Armenia's current prime minister, spearheaded the protests after HAK's presidential candidate Levon Ter-Petrosyan was placed under house arrest on March 1, 2008 as part of a sweeping state of emergency decree issued by Kocharyan, the outgoing president.
Serzh Sargsyan, who was deposed in last year's "Velvet Revolution" was declared the winner of the February 2008 presidential election.
After coming to power, Pashinyan promised to launch an in-depth investigation of the March 2008 events and to prosecute those responsible for the deaths of the peaceful protesters.
Kocharyan has always maintained that the current Armenian government's case against him is politically motivated.
Court Officers Shut the Doors
A half an hour before today's hearing was scheduled to begin, court officers banned people from entering the court, arguing that there was no space inside. This infuriated those waiting to get in. Many reporters were also left waiting outside.
To the astonishment of most, Judge Davit Grigoryan instructed court officers to open the doors and let people in.
Most of those gathered outside the court turned out to be Kocharyan supporters and they shouted "Freedom to the President" when a car transporting Kocharyan arrived outside. Supporters welcomed Kocharyan with bouquets of flowers, and the former president acknowledged their presence with a wave of his hand.
Accompanying Kocharyan was his son Levon.
Four State Prosecutors at the Hearing
A team of four state prosecutors, including Prosecutor General Artur Davtyan, were in the court to argue against Kocharyan's release from detention.
Spectators who were able to squeeze into the courtroom complained that they weren't able to hear the proceedings taking place on the other side of the glass partition.
Reporters also complained and the hearing was temporarily delayed in order to resolve the problem. It was never fully resolved.
Hetq reporters on the side contacted Judge Grigoryan's staff and complained about the sound issue, only to be told that nothing more could be done.
Relatives of those killed or injured during the March 1, 2008 protests were never informed about today's hearing. Despite this, attorneys representing some of the injured parties were present.
The issue of whether these people should have been notified was hotly debated by the court. Attorneys representing those injured and the relatives of those who died didn't agree with Judge Grigoryan's decision that they had no say in the detention hearing.
No Decision Reached
Today's hearing never resulted in a decision regarding Kocharyan's pre-trial detention.
Kocharyan's defense team filed a petition calling for Judge Grigoryan to recuse himself. The attorneys argued that Prosecutor General Artur Davtyan entered the courtroom via a hallway reserved for the judge, and that this was a violation of protocol.
They also argued that Grigoryan hadn't read all the case material and thus couldn't reach an objective decision.
The attorneys also referred to the fact that the judge had been administratively reprimanded by the Supreme Judicial Council several months ago in another Kocharyan detainment hearing. Grigoryan petitioned to be removed from the case, arguing that he wasn't the next judge on the bench when the case was allotted to him. The defense lawyers argued that this reprimand might impact Grigoryan's judgement.
The hearing was postponed while Judge Grigoryan took the motion under advisement.
Fracas Outside the Court
Vardges Gaspari, a prominent Kocharyan critic, claims that the former president's supporters threw bottles at him outside the court. Police moved in and detained several demonstrators for questioning.
Kocharyan's Son Describes Court Case as a Witch Hunt
Kocharyan's youngest son, Levon, told reporters after the hearing that the current government is waging a witch hunt against his father and that the case is a personal vendetta on the part of Prime Minister Pashinyan.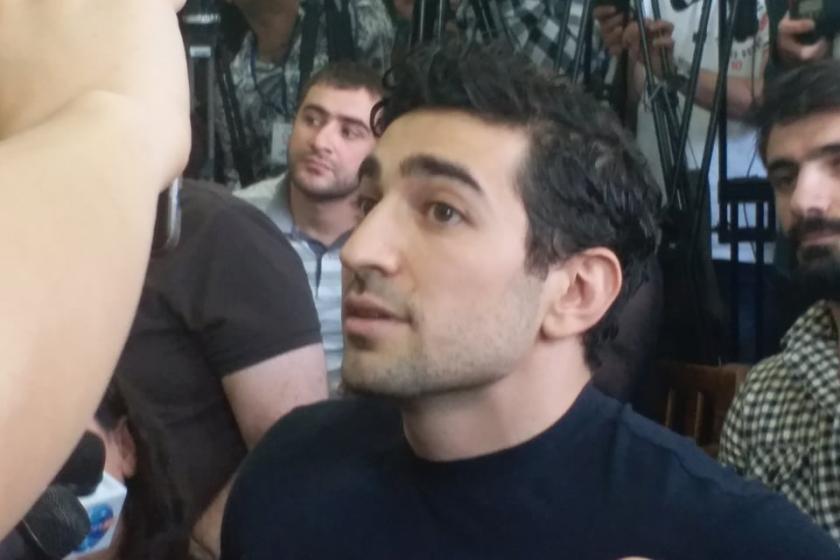 Levon Kocharyan referred to secretly taped conversation between the heads of the National Security Service (NSS) and the Special Investigative Service(SIS) during which the two are heard talking about various ongoing court cases, including an investigation into the events of March 1, 2008.
Levon Kocharyan told reporters that the passage where one is heard saying, "Like it or not, you have to order detainment", clearly reveals that NSS Chief Artur Vanetsyan and SIS Chief Sasun Khachatryan were discussing ways to keep Kocharyan in detention.
Kocharyan's son believes that his father will be released from pre-trial detention.
If you found a typo you can notify us by selecting the text area and pressing CTRL+Enter