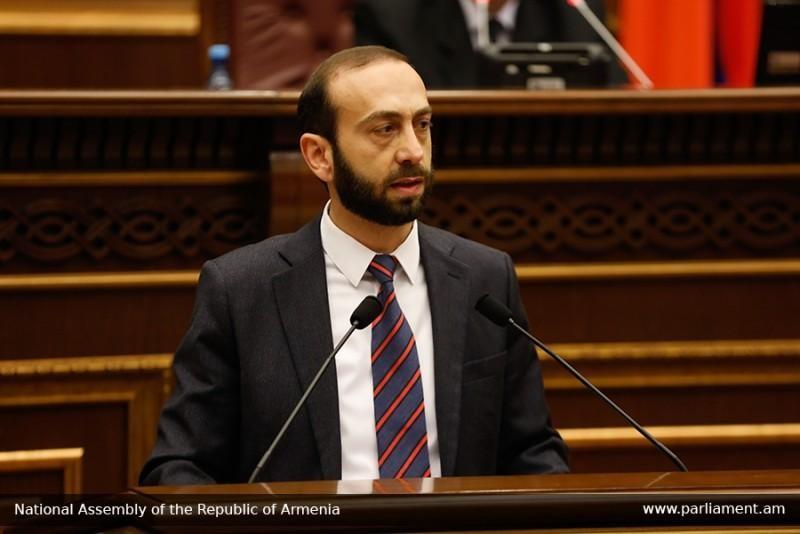 Armenian Parliament Prez: Government Hasn't Reformed the Judiciary; Time for Transitional Justice Is Now
At the start of hearing today in the Armenian parliament regarding the passing of laws designed to facilitate transitional justice in the country, National Assembly President Ararat Mirzoyan confessed that Nikol Pashinyan's government hasn't been able to solve the problems confronting the judiciary, describing the challenge as a "huge rock on the road to the future establishment of democracy."
Reforming the judiciary has been the focus of news in Armenia ever since a Yerevan court released ex-Armenian President Robert Kocharyan from detention last week and then sent the March 1, 2008 case to the Constitutional Court for review.
Immediately afterwards, Prime Minister Nikol Pashinyan issued a call that citizens should block the courts in the country in protest.
Many applauded Pashinyan's call, while others have criticized it as excessive meddling by the executive branch in the judiciary. What unites them is the clear understanding that reforming the judiciary is a top priority.
While Mirzoyan, in his speech, said he agreed that the time had come to implement transitional justice, he also said that the parliamentary hearings first had to clarify what is meant by the term.
Mirzoyan said that the hearings are designed to clarify why the judiciary has lagged behind in terms of reforming itself. He did not offer any personal insights on the matter.
"Let's agree that we cannot launch cases in the courts operating today and accuse hundreds of citizens, including teachers, local self-government officials and their relatives, of impacting, for example, the election process. But we can offer an evaluation and guarantee that such a thing will never again occur in Armenia," Mirzoyan said, adding that transitional justice doesn't mean the creation of special courts but that many judges would be "cleansed via legal means."