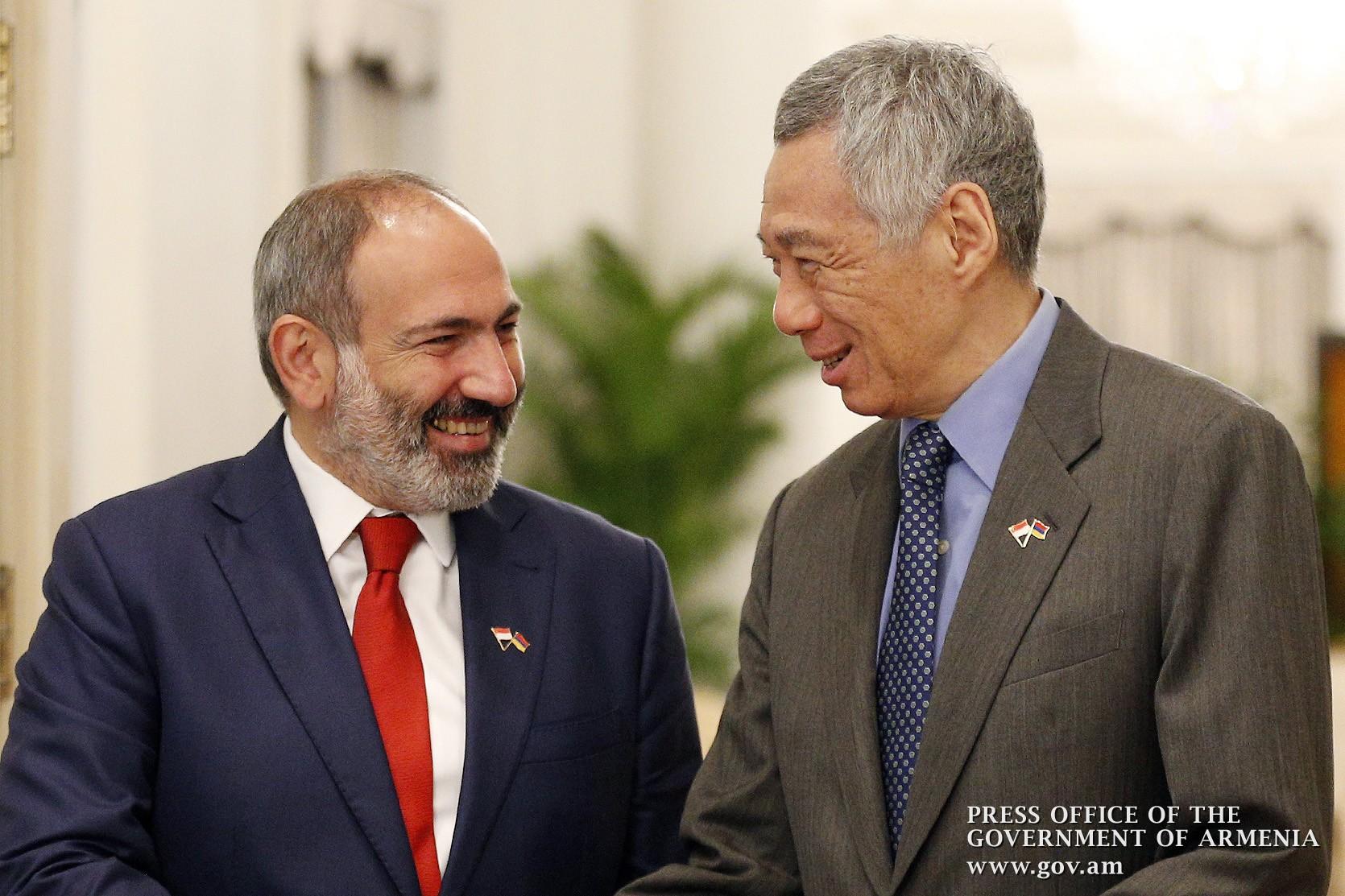 Pashinyan in Singapore: Welcomed by Prime Minister of Singapore Lee Hsien Loong
The following is an Armenian government press release.
An official welcome ceremony for Prime Minister Nikol Pashinyan and Mrs. Anna Hakobyan was held at Istana, the Government Residence in Singapore. The Prime Minister and Mrs. Anna Hakobyan were welcomed by Prime Minister of Singapore Lee Hsien Loong and Mrs. Ho Chin. The national anthems of Armenia and Singapore were played, after which the two prime ministers and their spouses greeted the delegation members.
Welcoming Nikol Pashinyan's official visit to Singapore, Lee Hsien Loong noted that it might impart fresh impetus to cooperation between the two states. He pointed out that Armenia and the Armenian people enjoy great respect in their country, and his government is keen to engage in active cooperation with the Armenian side. Lee Hsien Loong highlighted the importance of cooperation in the economy, stressing the need for developing and expanding trade and economic ties.
Thankful for the warm welcome shown to his delegation, Prime Minister Pashinyan expressed his conviction that the Armenian-Singaporean ties would be gradually expanded as a result of effective bilateral negotiations. The head of the Armenian government noted that the world is impressed by Singapore's development experience and our country also considers it to be exemplary.
"We are interested in deepening political, economic and humanitarian cooperation, and building closer people-to-people contacts," the Premier said, stressing the importance of developing cooperation between the Armenian and Singaporean business circles.
Touching upon his government's priorities, Nikol Pashinyan said a primary objective is to shape a technology-based economy in Armenia. In this regard, Nikol Pashinyan attached importance to the development of cooperation in the field of information technologies.
The parties discussed issues related to joint investment programs, trade turnover, cooperation in high technologies, tourism, aviation and other spheres.
Nikol Pashinyan gave details of the ongoing institutional reform and introduced his government's steps aimed at improving the business environment.
The Singaporean Prime Minister welcomed the systemic changes in Armenia, noting that they could contribute to Armenia's economic development and progress.
Nikol Pashinyan and Lee Hsien Loong touched upon the signing of the agreement on creation of a free trade zone between the Eurasian Economic Union and Singapore. They expressed a shared belief that it would boost trade turnover.
Highlighting the great potential of economic cooperation, the two prime ministers emphasized the need for continued steps towards its implementation. They agreed to hold Armenian Culture Days in Singapore in the context of ever-expanding exchanges in the field of tourism.
Issues of regional significance were also discussed during the meeting.
If you found a typo you can notify us by selecting the text area and pressing CTRL+Enter