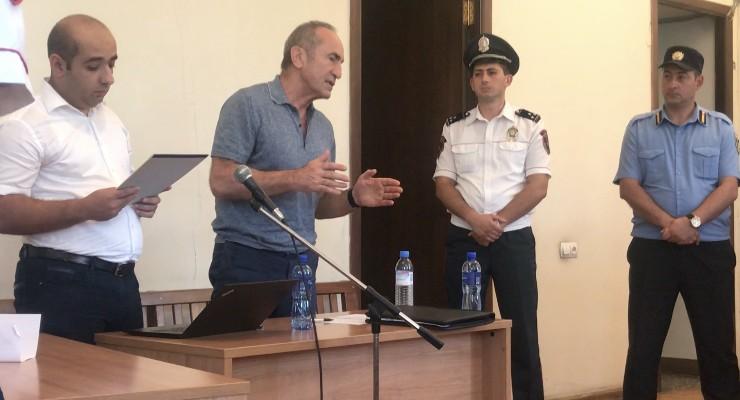 Kocharyan in Court: "My rights have been trampeled on for one year"
At today's trial session reviewing a motion to reinstate a freeze on his assets, former Armenian President Robert Kocharyan, who has been charged with usurping state power and bribe taking, declared that his rights have been violated during the past year of his trial.
Kocharyan said that weapons found in his house had nothing to do with the events of March 1, 2008, referring to the post-presidential protests and the government's subsequent crackdown that led to the death of ten people in Yerevan.
"All those weapons have been checked. The cartridges are in the possession of the police. None of the weapons were used on March 1," Kocharyan told the court, adding that the guns were gifts from various world leaders.
Responding to the motion filed by the Prosecutor General's Office (PGO) to reinstate the freeze on his assets, Kocharyan said, "I would have thought that the prosecutor, in addition to issuing charges, must also follow the letter of the law and defend one's rights. But it turns out that it has forgotten this function."
The former Armenian president said his lawyers have, on numerous occasions, raised the issue of rights violations to the court but that nothing has been done.
A lower court found that Kocharyan's rights had been violated when the Special Investigative Service placed a freeze on his assets. The PGO seeks to annul the lower court's decision and have the asset freeze reinstated.
"Documents were seized from my office that prove the legality of my property and assets. I get the feeling that this is the way things are done in Armenia. I was startled by how the law can be violated in such a matter of fact fashion," Kocharyan said, describing the trial as a means to deny him any defense.
"My rights have been trampled on, and in a shameless manner, for one year," Kocharyan declared.
The court is expected to issue its decision on the motion to reinstate the asset freeze later today.