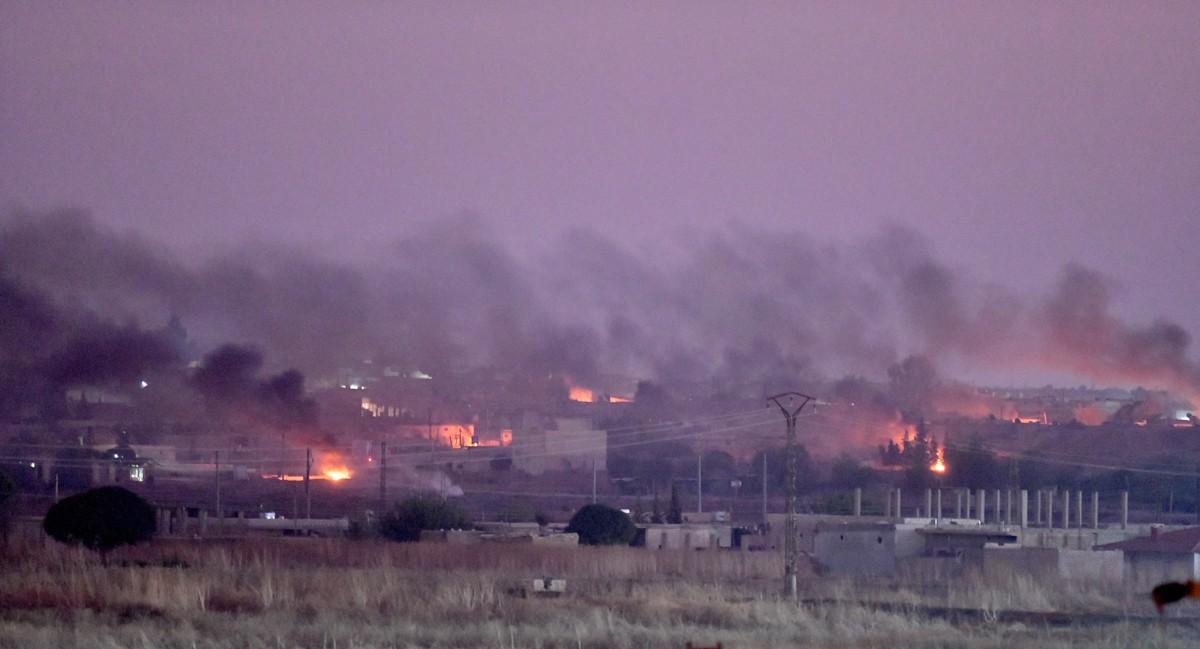 Turkish Air Force Bombs Syrian Towns of Qamishli, Derik: No Armenian Casualties Reported
No Armenians are reported to have died in the Turkish air force bombing of Qamishli, a town of some 170,000 located on the northeastern Syrian border with Turkey.
Yerakouyn news website founder/editor Nairi Mkrtchyan told Hetq that local sources report eight dead and twenty wounded in today's bombing of the town.
Mkrtchyan graduated from the Qamishli Armenian School and has lived in Armenia for many years. She still has relatives there.
The Turkish military launched Operation Peace Spring in the north of Syria yesterday.
Turkish President Recep Erdogan announced that the Turkish Armed Forces, along with the Syrian National Army (also known as the Free Syrian Army, a Turkish-backed opposition force), invaded Syria to "prevent the creation of a terror corridor across our southern border, and to bring peace to the area."
Ankara seeks to weaken the militia forces of the Kurdish People's Protection Units (YPG), which Turkey views as an extension of the separatist Kurdistan Workers' Party.
Mkrtchyan says Turkish forces bombed the outskirts of Qamishli, where Kurdish military bases are located.
She says 450 Armenian families live in Qamishli, down from 1,200 before the outbreak of the Syrian civil war in 2011.
Qamishli's Armenian schools and the city's airport are closed for security reasons.
Mkrtchyan says she's received information about two hours ago (local Yerevan time) that the oil wells near Qamishli had been bombed.
Another Armenian-populated town, Derik, which also borders Turkey, was also bombed.
There are 62 Armenian families living here, plus an Armenian school and church.
The border town of Tell Abyad was also bombed. According to Mkrtchyan, sixteen Armenian families live there.
Mkrtchyan says five of these families went to Qamishli yesterday to attend a wedding, and six have moved to relatively safe villages.
"There is talk of evictions, but the Armenians of Tell Abyad do not want to leave their homes. In their opinion, this is temporary. They hope to return to their homes," says Mkrtchyan.
"They believe they have lived in this country for so long, and that they will not leave their community under the threat of a Turkish bullet. They will stay and protect it, " says Mkrtchyan about Qamishli Armenians.
Armenian MP Mkhitar Hayrapetyan, a member of the "My Step" faction, said today that according to his information, most of the Armenian families living in Tell Abyad in Raqqa Province have fled east to Al-Hasaka Province and west to Aleppo.
"Fortunately, there are no casualties," Hayrapetyan wrote on his Facebook page, adding, "According to some reports, Armenians have also left the town of Ras al-Ayn. As for Qamishli, there are about 3,000 Armenians who remain in the city. As residents and city authorities report, there is no need for evacuation at this time."
Photo: aljazeera.com
If you found a typo you can notify us by selecting the text area and pressing CTRL+Enter