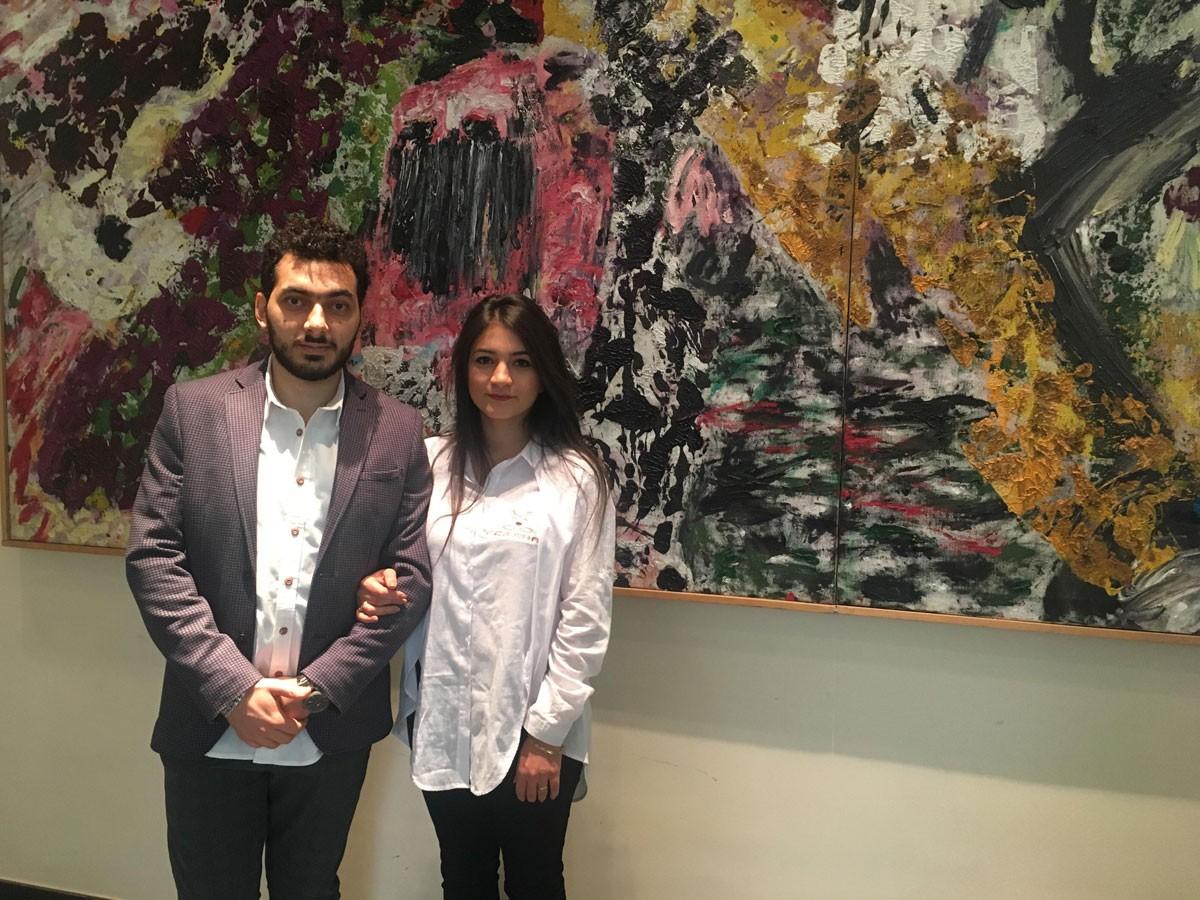 Future of Armenians Is In Armenia; French-German Program to Assist Voluntary Return of Armenian Migrants
Khachatur Yeranyan and Astghik Meseljyan are chess players who have decided to voluntarily return to Armenia from France.
They both played in Armenia's youth chess team.
In 2016, Khachatur received an invitation from the Masis Chess Club in Lyon, France, to work as a chess coach. He went and then invited Astghik to join him.
They married in France and their daughter was born there.
At first, they lived in France illegally. They then applied for legal residency.
They decided to return to Armenia in October 2018, despite receiving an invitation to work as a chess coach in a Paris school. This would have given them the right to live and work in France.
Khachatur lists the reasons for his decision to return: the birth of a daughter they wanted to raise in the homeland, the revolution, and the expected changes in Armenia which have sparked great enthusiasm and faith.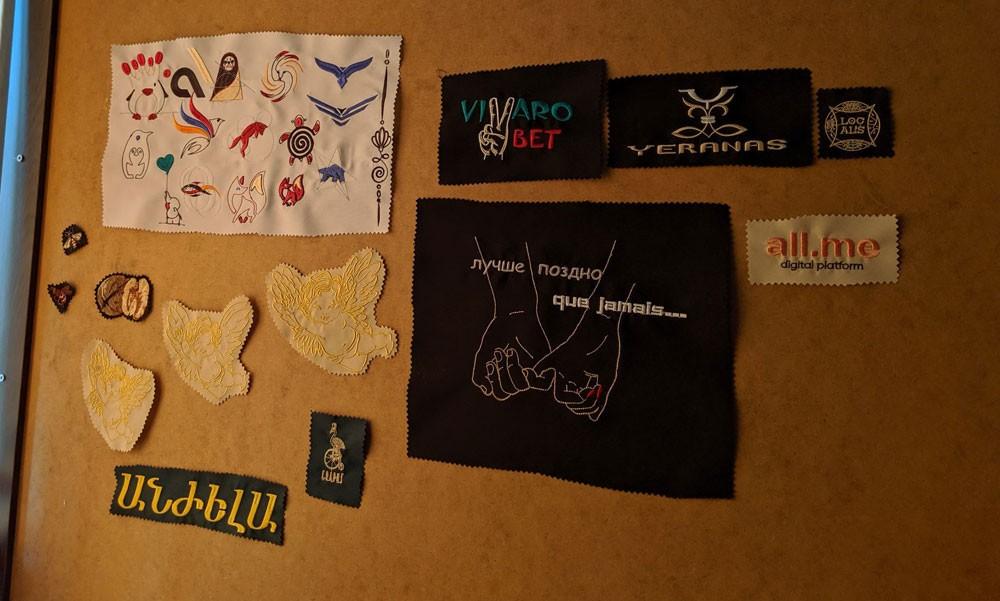 Yeranas embroidery brand
He also mentions the assistance proposal to return offered by the French Office of Immigration and Integration (OFII) as a major factor.
With the support of OFII, Khachatur and Astghik have opened an embroidery shop (Yeranas) in Yerevan and claim that their business plan is successfully developing.
"OFII fully supports not only the return of migrants, but also their re-establishment in Armenia. We were interested in business, and we always wanted to have our own business. The idea was to open an embroidery shop in the Malatia District (50 Svatchyan Street). We are going to make our brand recognizable, expand it further," Khachatur says. "It's mechanized embroidery. Khachatur is the designer. He paints well. He learned design here, but he continues his private chess lessons with Skype. We are happy and do not regret returning," says Astghik.
They do not think about returning to France, but they intend to open a branch business there.
Astghik and Khachatur, with a group of immigrants voluntarily returning to Armenia with the support of OFII, today attended the official launch of a new Franco-German CAROB pilot project for the voluntary return of illegal migrants
It took place at the French Embassy in Armenia, where the French Office for Immigration and Integration has been located since 2014.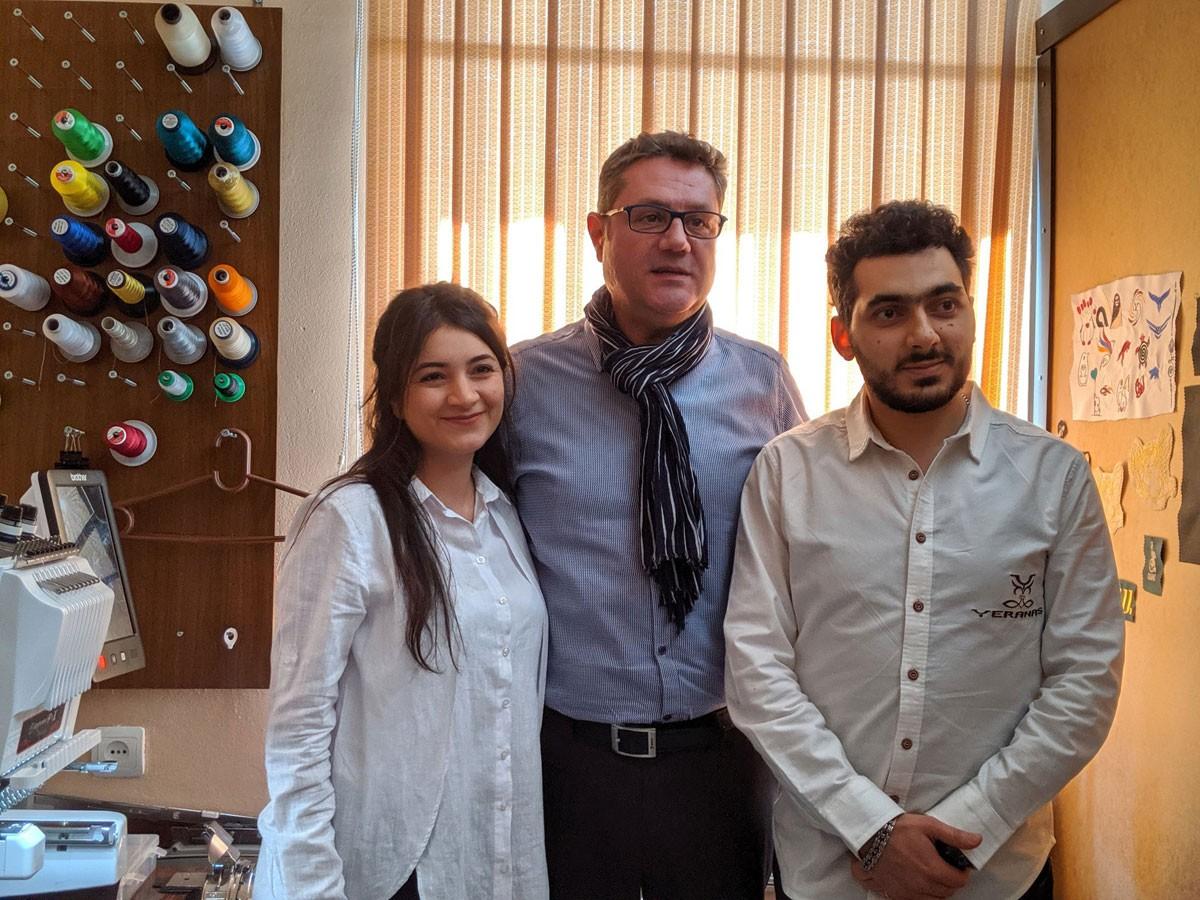 Astghik Meseljyan, Jean-Dominique Fabry, Khachatur Yeranyan at the opening of the Yeranas store/studio in Yerevan
In the case of the voluntary return of Armenian citizens who are found to be illegally residing in France and subject to deportation, the office not only assists in arranging the return, but also the reintegration of the returnees in Armenian society and assisting in covering social and health care expenses, and economic or work activities.
Over the past five years, 1,200 Armenian citizens who have returned to Armenia have benefited from OFII assistance.
In 2019, 70,000 euros were allocated to fund some 250 projects.
Regarding the French program a success, the German government has decided to implement a voluntary return program for Armenians illegally residing in its country, in cooperation with the French OFII and the BAMF Migration Service of the Federal Republic of Germany. It will provide support to 400 Armenian citizens.
"Today we've gathered at the launch of the French-German Ambitious Carob (CAROB) project. Already 100 Armenians have applied for voluntary return from Germany to Armenia. This program is in line with all EU efforts aimed at the return of migrants and is welcomed and encouraged by the Armenian authorities, who want to keep their citizens in their country and to facilitate the return of people who have left the country for some reason. Our message is that the future of Armenians is first and foremost in Armenia, and that the mission of Armenian youth is to contribute to the development of Armenia. It does not exclude the exchange of young people and professionals, but in order to return and contribute to the development of Armenia," French Ambassador to Armenia Jonathan Lacôte said at today's event.
"We believe that the sustainable return of Armenian citizens is a necessary basis for building stronger ties with the EU. The Government of Armenia has taken specific measures to facilitate the reintegration of our citizens and to prevent their illegal emigration, in particular, by implementing comprehensive health care reforms. These efforts will continue. Reintegration should be attended by all stakeholders - sending countries, the Government of Armenia, and immigrants in person. We have seen great examples of projects already implemented. We are sure that the same spirit will guide you in the implementation of this second French-German program," said Armen Ghazaryan, Head of the Migration Service at Armenia's Ministry of Territorial Administration and Development.
CAROB Program Officer Ara Hovhannisyan says there has been an increase in the number of volunteer returnees in Armenia since the 2018 revolution.
"In European countries, even before the revolution, Armenia was considered a safe country. This meant that human rights were largely protected. After the revolution it was further strengthened. Consequently, European countries are stricter about the applications of Armenian citizens. After the revolution, in France in particular, the number of refugee applications from Armenia decreased by 30%. The number of refusals has also increased. Germany, for example, rejects 97 out of 100 applications by Armenian citizens," Mr. Hovhannisyan said.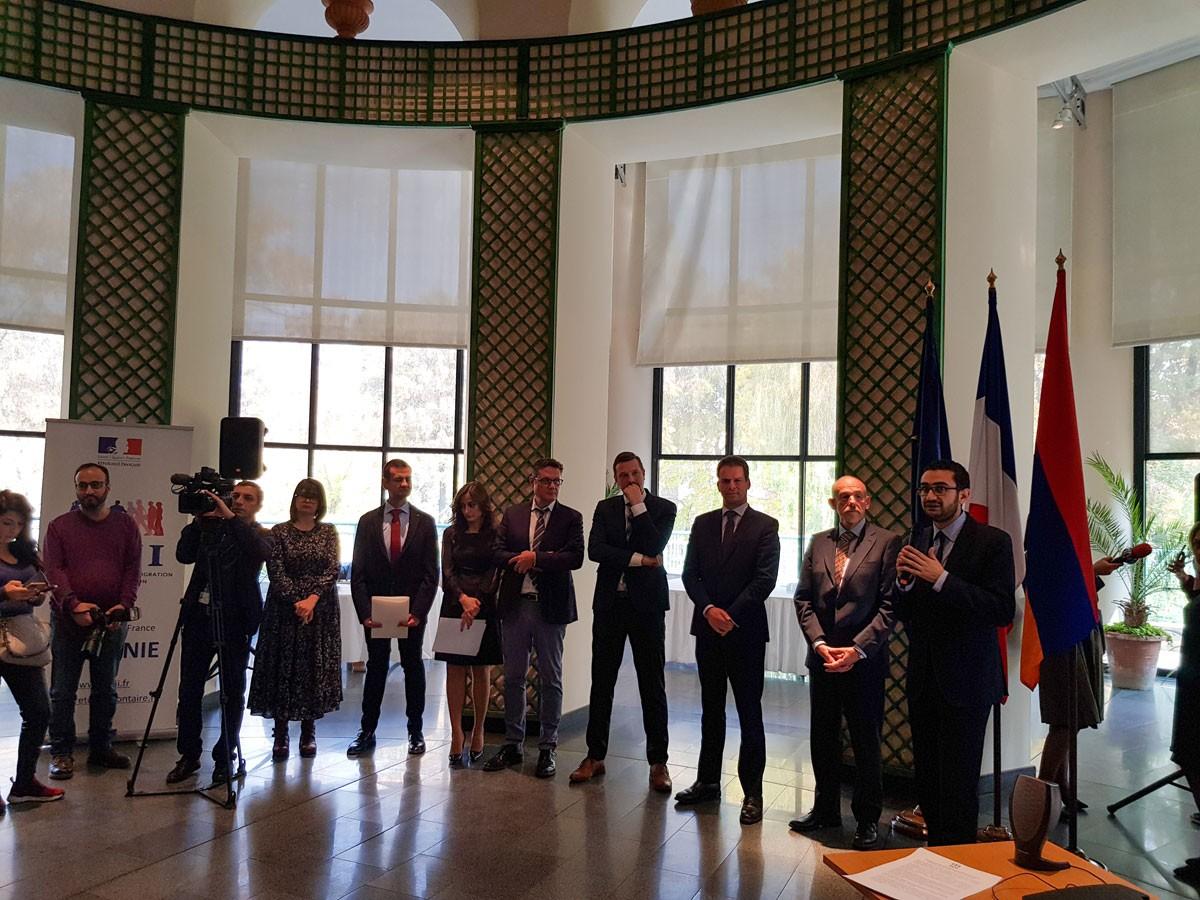 Official CORAB program opening at French Embassy in Yerevan
Formerly, 15% of applications for asylum in France (average 2000 applications per year) were for refugee status.
According to Jean-Dominique Fabry, Director of OFII's office in Armenia, 15-20% was a high indicator for a country with a small population like Armenia, which is considered safe.
Now, after the revolution, that figure has dropped to 6-8%. Fabry says that most f the applications from representatives of the LGBT community, national or ethnic minorities, domestic violence victims and Jehovah's Witnesses are generally approved, provided, of course, that they provide undeniable evidence that they are in real danger in Armenia.
As of 2019, the list of asylum seekers or refugees in France is led by citizens of Afghanistan, followed by Iraq, Syria, and Georgia. Armenia is in 7th place.
One of the main causes of emigration of Armenian citizens is health related (predominantly those with Hepatitis C and cancer). This, according to the Geneva Convention, is not a ground for claiming refugee status. Thus, the large number of refusals.
Denied citizens have two options: forcible deportation by the police or voluntary return.
"France is a very humane country and it is trying to do its best to return all those, regardless of where they came from, humanely to their homeland and with dignity. It is also advantageous for France, because in case of forced return, the state incurs additional expenses. It is also an additional stress for its citizens, and the risk of migration also increases. That is, when someone is forcibly deported, he or she wishes to come back, and whoever returns voluntarily, we try to do everything possible for them to succeed," said Mr. Hovhannisyan.
In support programs, the emphasis is on social and economic reintegration.
"Those who leave here sell mostly everything they have - apartment, furniture, car or other property. We provide property and health support: renting a home, medications, tests if needed. Unfortunately, this can take some months. In the future, we, together with the RA Migration Service and other institutional partners, will try to involve them in Armenian programs so that they can benefit as Armenian citizens. There are currently free hepatitis C and cancer treatment programs in Armenia, and our goal is to support the citizens of Armenia first and then guide them to the Armenian system. The second is the problem of work. We solve this problem through two methods: we finance any vocational training that will enable one to quickly acquire any skills and return to the job market. If this is not possible, we fund microbusiness projects," Mr. Hovhannisyan explained.
In 2018, he conducted an audit examining the program of the French Office for Immigration and Integration to assess its impact on returning RA citizens. The audit was conducted in three areas: social life, family life, and the impact of reintegration on the people, from a community and economic perspective. Only three of the 100 cases studied failed completely, and one of the returned citizens died. According to Ara Hovhannisyan, each of them has created 1.5 jobs on average, and all funded projects have been operating for more than 2 years.
To read the success stories of those who have voluntarily returned to Armenia - PRESS
Top photo Khachatur Yeranyan and Astghik Meseljyan
If you found a typo you can notify us by selecting the text area and pressing CTRL+Enter