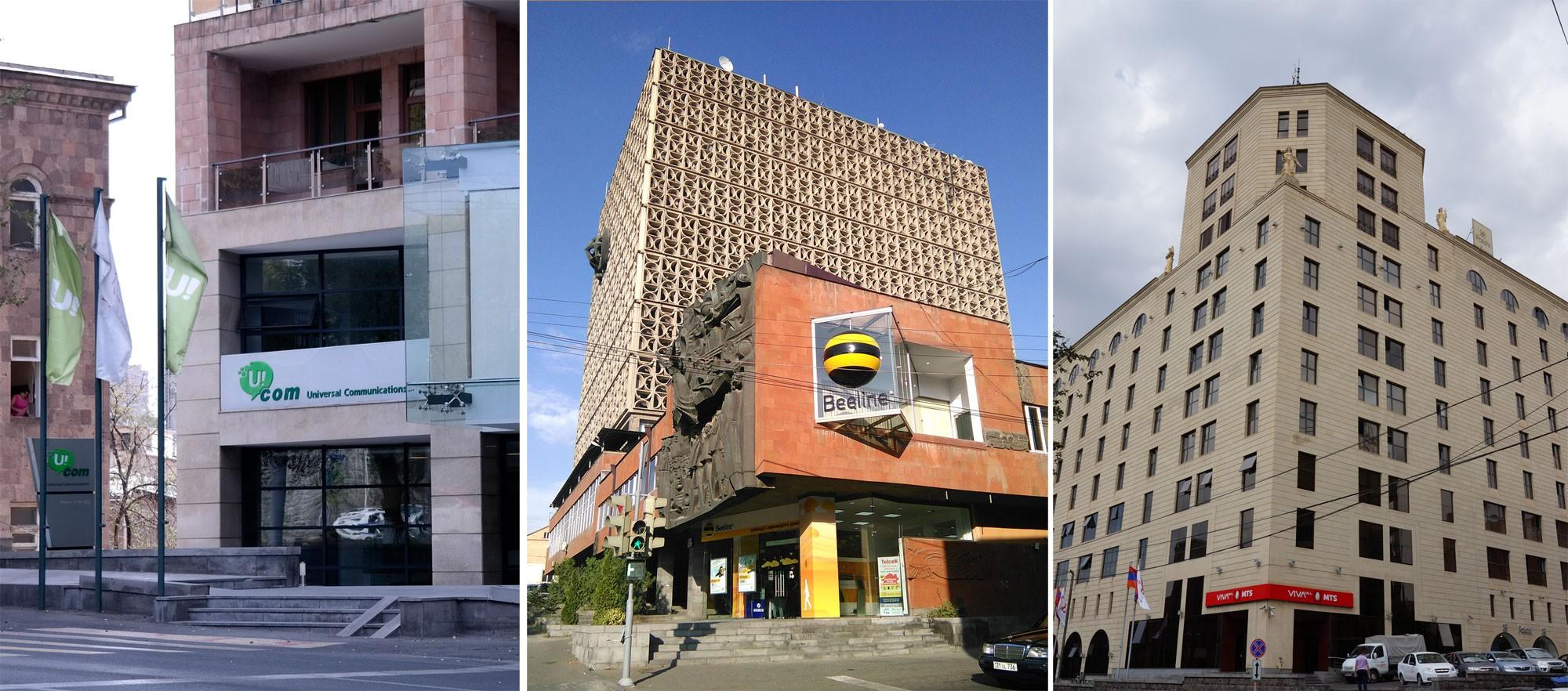 Armenia: Major Changes Happening in Telecommunications Sphere
One of the largest telecommunications operators in Armenia, Ucom, is planning to buy the assets of Beeline Armenia (Veon Armenia CJSC, former ArmenTel). News on the negotiations has already been confirmed by these companies.
In July 2015, Ucom bought the assets of another operator, Orange Armenia, and merged them under the Ucom brand.
Ucom: New Loan, New Shareholders and Re-registration
Changes are taking place at Ucom during the negotiations.
According to the State Register of Companies, on January 15, 2020, Ucom LLC ceased operations. On the same day, Ucom was re-registered as a CSJC with a capital of the same 24 million AMD and same director, Hayk Yesayan.
Relatives of former State Revenue Committee Chairman Gagik Khachatryan are the largest shareholders of the company.
His sons, Gurgen and Artyom Khachatryan own 11.9% of the shares, while their cousin Aram Khachatryan owns 24.34%. Thus, the Khachatryans control 48.14% of the total share.
Hayk and Alexander Yesayan, holders of Ucom leadership positions, have 2.97% each, with a total of 5.94%.
10.5% of shares belong to the Russian Fora Bank owned by Tashir Group owner Samvel Karapetyan.
There is a new shareholder of the company, Sourik Sirak Poghosyan, who now owns 6.3%. Poghosyan is from Tashir town, he was an RPA member until 2012, elected to the Parliament in 2007. He is currently on the board of directors of the Electric Networks of Armenia and holds the position of the general director. He is married to Samvel Karapetyan's sister.
29.09% of Ucom shares belong to an offshore company, IU Telecommunicate Ltd, which used to own 49% in the past. This company is wholly controlled by Darison Management Ltd., registered in the British Virgin Islands, an offshore location known for its secrecy.
The Cyprus Registry reports that IU Telecommunicate LLC took a loan on September 3, 2019 from HSBC Bank Armenia, pledging the company's shares. The amount, however, is not mentioned.
Redesigns at VivaCell-MTS
In the meantime, VivaCell-MTS has also changed its shareholders.
In 2018, the shares of MTS Armenia CJSC were sold to Aramayo Investments Limited, which had three shareholders: Lebanese brothers Pierre and Moses Fattoush owned 10% shares each, the remaining 80% were owned by Luxembourg-based Mobile Telecom Holdings S.A.R.L, a subsidiary of Russian MTS.
Following the change in January 2019, the sole shareholder of Aramayo Investments Ltd. is Allegretto Holdings S.A.R.L, a subsidiary of the Russian MTS. The Russian MTS website confirms that it owns 100% shares of its Armenian subsidiary. The largest shares of the Russian MTS belong to the Sistema Joint-Stock Financial Corporation, owned by the Chairman of the Board of Directors, Vladimir Yevtushenkov.
According to the official website of MTS, more than 44% shares are in free circulation.
So, when Ucom-Veon Armenia deal takes place, then there will be two major telecommunications operators, of which Ucom will dominate.
Read also:
Who Owns the Internet in Armenia
If you found a typo you can notify us by selecting the text area and pressing CTRL+Enter