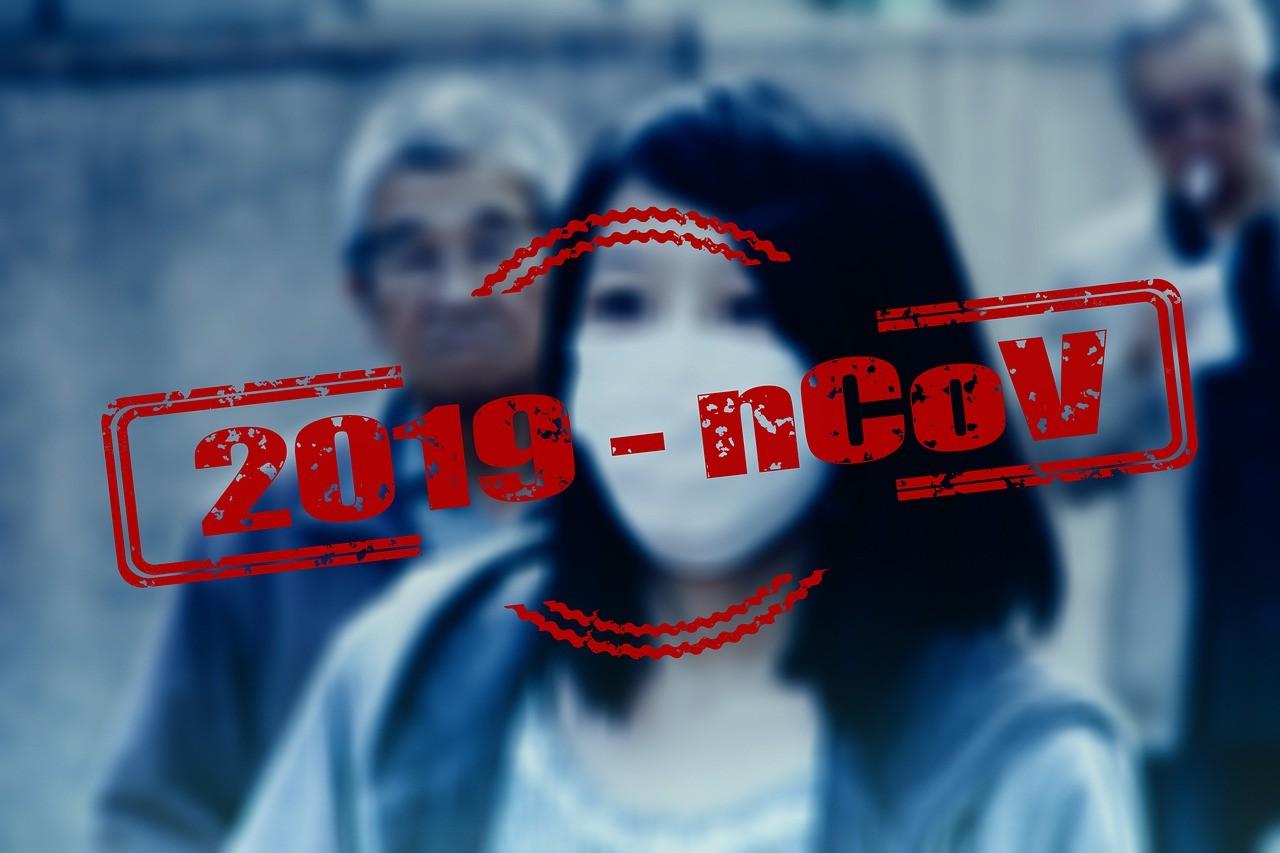 Coronavirus Fallout: China's Crippled Economy and Falling Copper Prices Will Negatively Impact Armenia
The ever-growing coronavirus is not only impacting China's economy but is throwing global economic forecasts into the realm of uncertainty.
China's economy, from the industrial sector to retail, has been crippled by the virus. Prices for oil and non-ferrous metals are steadily falling, with shares on the Chinese Stock Exchange dropping sharply. In other words, in China today only the production of medical masks is "flourishing".
Here, we review how the Chinese economic downturn might affect Armenia.
This situation in China affects the economies of all countries that have commercial links with it. With the second largest economy in the world, the ups and downs in the Chinese economy natural radiate across the globe. China is a major importer and exporter, dealing with superpowers and small countries alike.
Falling copper prices might impact Armenian exports
According to economist Bagrat Asatryan, Armenia may first lose revenue from its exported minerals, given that China is the purchaser of a significant portion of the copper exported from Armenia.
China uses copper in electronics, transport, engineering, construction, and other industries whose work has now been suspended or minimized as a result of the coronavirus.
Copper is currently the leading export of Armenia by customs value. Consequently, price fluctuations have a significant impact on export revenues and taxes paid to the state budget.
"China has a decisive influence on the international price of copper. According to international organizations, this country is the largest consumer of minerals in the world. Copper prices have been falling in the international market over the past month amid a sharp drop in demand in China. This, of course, has a negative impact on our economy, particularly on copper exports. We have witnessed a dangerous tendency from previous years, when international copper prices have fallen and Armenia, to make up the losses, has increased the physical volume of exported copper. This is a very dangerous phenomenon for us. We must bear in mind that this resource is also for our future generations," says Asatryan.
Asatryan say it is difficult to assess to what extent the current state of the Chinese economy can affect the Armenian economy.
"Naturally, we are a small economy, and the impact of China's current situation on our economy may be smaller than on countries with large economies. However, we are a part of this world, and the effects will certainly be felt. How much, we can't say."
Asatryan says the Armenian economy must be diversified to suffer as little as possible. He believes it is necessary to reduce the share of ore in exports and to conquer new markets to alleviate dependence on China and other countries.
"The most important thing is to ensure the processing of copper concentrate on site. We export raw copper, which is processed overseas. If we could process the raw materials here, we would be more flexible."
Currently, the London Metal Exchange average price of one ton of copper is $5,700. For comparison, it was around $6,100 a month ago, reaching $6,300 in mid-January.
Copper prices on the London Metal Exchange (One ton; USD)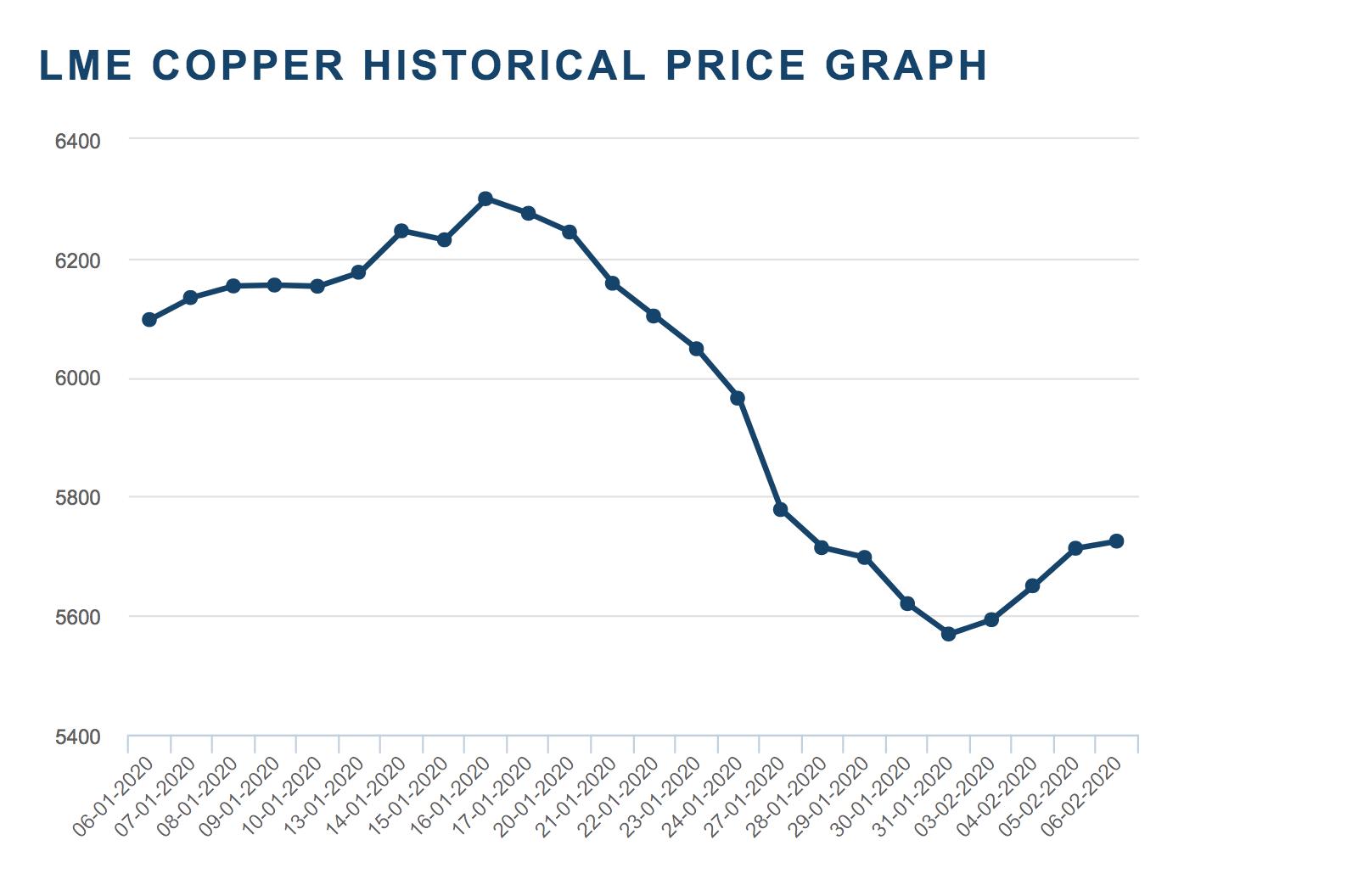 According to various estimates, the price of copper has declined by 10-12% compared to last December. Moody's, analyzing the dynamics of industrial metal prices, has not ruled out that the Chinese coronavirus epidemic could be a more serious threat to the world economy than the 2008-2009 financial crisis.
Trade turnover between Armenia and China increased in 2019
As of 2019, China is Armenia's second largest trading partner following Russia.
According to Armenia's Statistical Committee (SC), trade turnover between Armenia and China in 2019 was some $945 million, up 22.5% from the previous year.
Exports from Armenia to China totaled $194 million, growing by 80.7%.
Imports from China to Armenia totaled $ 751 million; up 13.1%.
The largest volume of trade between Armenia and China in the last ten years was recorded in 2019. This includes exports and imports.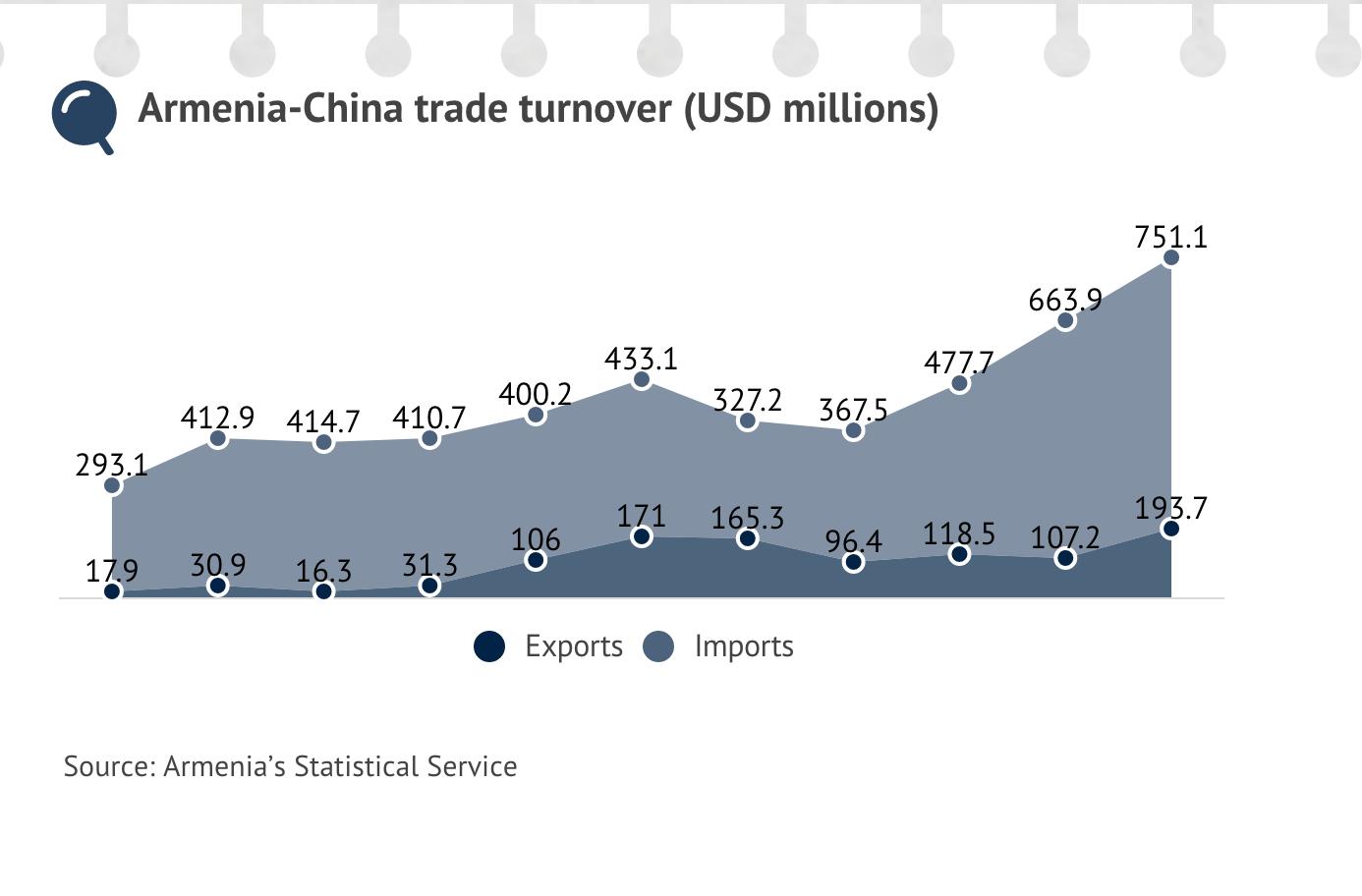 Although the Customs Service of Armenia hasn't yet released 2019 annual data, according to data for the first six months and of previous years shows that China buys mainly minerals from Armenia; mostly copper concentrate.
In January-June 2019, Armenia exported $91 million worth of goods to China, of which 94% was copper. Exports of copper from Armenia to China in the first half of this year almost doubled, to $85 million. And since Armenia has significantly increased copper production last year, it can be assumed that growth continued in the second half as well. That is to say, the increase in exports from Armenia to China is conditioned by the increase in copper volumes.
Armenia imports a variety of products from China, ranging from food to home appliances and clothing. We are talking about some 900 types of goods.
Mobile phones comprise the highest share (10%) of the $ 312 million imported from China to Armenia in the first half of 2019.
Oil prices can indirectly affect remittances from Russia to Armenia
Bagrat Asatryan notes that the drop of international oil prices, also conditioned by the Chinese factor, can also affect the Armenian economy.
On the one hand, it can have a positive impact on the price of gasoline, and on the other, it can have a negative impact on the money sent from Russia to Armenia.
There is an indirect link between private transfers from Russia to Armenia and world oil prices. The Russian economy is heavily dependent on world oil prices as it receives great revenue from its exports. As oil prices drop on the world market, the country's economy weakens, the amount of dollars drops, and the ruble devalues. This causes the amount of money sent by Armenians working in Russia to drop both in numbers and in value.
"International oil prices have fallen by 15-16% since the beginning of this year. This can have a positive effect on the price of gasoline. But there is also the danger of indirect influence. Russia may suffer from oil prices, from where Armenia receives significant money transfers. Oil is a key factor for Russia's economy. In other words, if oil prices fall, Russia's incomes will decrease, and this will also affect remittances from Russia to other countries," says Mr. Asatryan.
The best example of the indirect link between private transfers from Russia to Armenia and world oil prices was in 2015, when remittances from Russia to Armenia decreased by about $500 million.
The coronavirus can also impact investment and tourism
The coronavirus will also negatively impact tourism in Armenia, since the number of Chinese tourists visiting Armenia will decrease. It has already been announced that from February 1, 2020 to March 31, the visa-free regime for Armenian citizens of China will be suspended.
This situation also has a negative impact on the global investment environment, including Armenia. Due to the current situation, investors still abstain from large projects. Uncertainty is the first reason to 'freeze' investments.
In addition, the current state of China's economy may also affect Armenian-Chinese joint programs and other areas.
If you found a typo you can notify us by selecting the text area and pressing CTRL+Enter